/ Source: TODAY contributor
A 10-year-old Colorado boy has sworn off wheelies, bunny hops and other stunts he used to do on his BMX bike.
Getting stabbed in the gut and barely avoiding major organ damage from a 6-inch brake handle can do that to a guy.
As it is, Alex Romero told TODAY's Matt Lauer Wednesday in New York, he is still sore from being impaled by his own bike eight days ago near his Wellington, Colo., home.
A hop that went wrongIn a prerecorded report, Romero told NBC News that he and his friend, Tyson Ihfe, were practicing stunts on their bikes in the parking lot of a church three houses down from his home.
"We were on the curb and I did a wheelie, and then Alex did a wheelie and landed sideways," Ihfe told NBC.
"I tried to bunny-hop this curb and it was raining and my foot slipped off," Alex added.
He landed on the bike and felt the brake handle poke him in the right side, just above the hip. Alex didn't realize it was anything serious right away.
"At first I thought it just poked me, and then I looked down, and I saw my skin like stretching out," the 10-year-old recalled. "And then I started to freak out."
He had good reason to. The brake handle had punctured his abdominal wall and penetrated 6 inches inside him.
Friends in needAs Tyson ran to Alex's home to get his friend's parents, Ronnie and April Romero, a neighbor who is also a volunteer firefighter drove by, saw Alex, dialed 911, and stopped to help. Other firefighter neighbors also came to help.
Alex's parents ran to the parking lot. April Romero, who accompanied her son to TODAY, admitted she didn't handle the sight of her son's plight with a great deal of composure.
"I instantly went into panic mode," she said. "So the firefighters asked me to step away."
But when Ronnie Romero saw the situation, he reacted calmly; as he told a local newspaper, he didn't want to panic his son. As he reassured his son that he would be OK, Ronnie realized that it would not be a good idea to pull the brake handle out of the wound. Instead, acting on the advice of the firefighters, he got a tool kit from a neighbor and detached the handle from the handlebar, using a pair of pliers to cut the brake cable.
"We are very lucky to have some of our neighbors be firefighters, and they were out at the scene prior to my husband and I," April said. "My husband was the one that detached the bike while the ambulance was en route."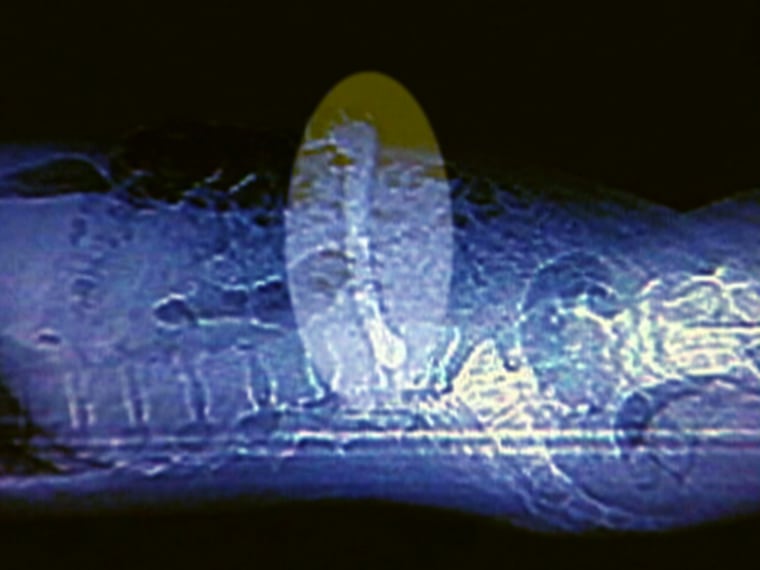 Alex, meanwhile, was not in excruciating pain, he recalled. "I was just mostly in shock," he told Lauer.
Stitches in time
Alex was put in an ambulance and transported to Poudre Valley Hospital in Fort Collins. His father rode in the ambulance while his distraught mother followed in a car driven by a friend.
At the hospital, trauma surgeons rushed Alex into a CAT scan, fearing that major organs had been damaged. But by great good luck — a miracle, his mother says — the handle missed his internal organs by mere centimeters.
According to the Fort Collins Coloradoan newspaper, while waiting for surgery, Alex, still in shock, asked his dad, "Can I just get some stitches so I can go play baseball tomorrow?"
It took 45 minutes of surgery to extract the brake handle and sew Alex back together. He spent several days in the hospital, and there won't be any baseball — or bike riding — for another six weeks.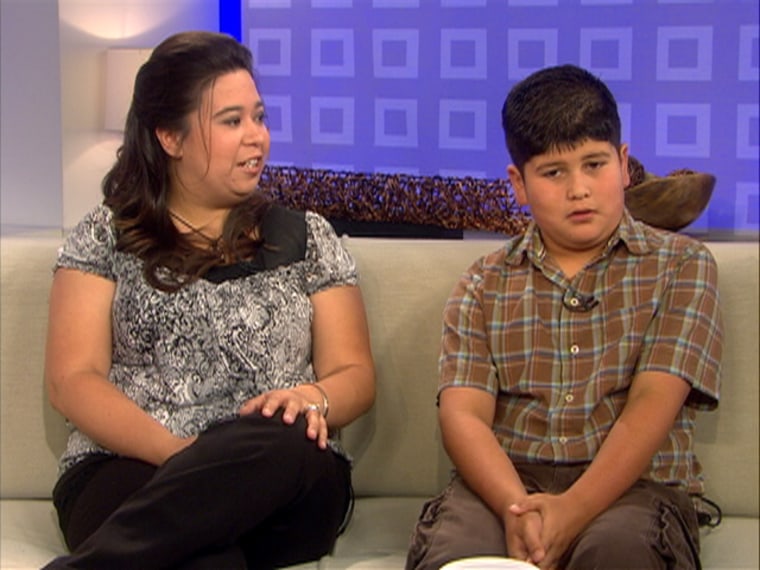 In the meantime, according to the newspaper, Alex has been researching his favorite book, "Guinness World Records," to see if there's a category for biggest bicycle part embedded in a human body.
Alex brought the bike handle in a plastic tub to the TODAY set to show Lauer. A close-up revealed that it still has dried blood on it, and Lauer suggested sending it on a trip through the dishwasher. Ronnie Romero told reporters in Colorado he'll get the handle engraved with Alex's name and the date of the accident, June 2.
Lauer asked Alex if he's going to do any more bunny hops and wheelies when he's cleared to get back on his bike.
"No," he said, shaking his head.
Added his mother with a laugh, "We decided I'll follow him in the car when he rides."