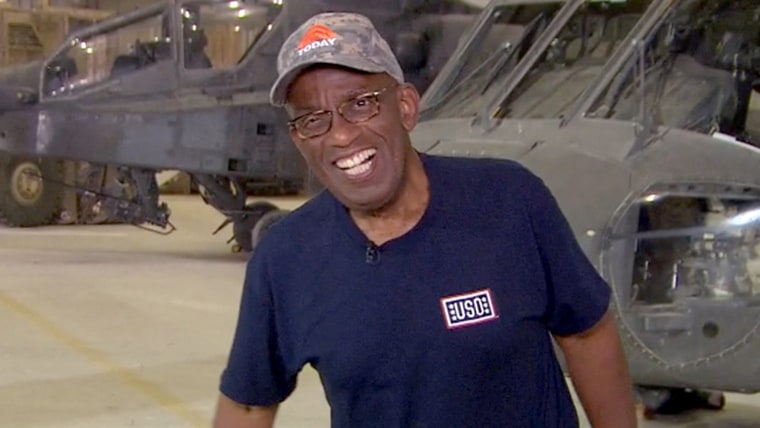 Update, Oct. 15: Lots of people emailed to ask about the cool camouflage hat with the TODAY logo that Al gave to soldiers in Afghanistan. If you want to buy the hat, visit this link. Net proceeds will go to support the USO and our troops.
To join Al in his mission to support the troops, visit his fundraising page at Crowdrise.com/Roker, where proceeds will go to support the USO and its programs for our troops and their families. 
Al Roker, Jay Leno, Craig Robinson, Iliza Shlesinger and Kevin Eubanks took the stage at the Bagram Airfield in Afghanistan last Wednesday to perform for more than 1,000 troops as part of the TODAY USO Comedy Tour. Filled with laughs, music and honoring the military, the first-ever TODAY comedy tour was a success. 
Here's your behind-the-scenes look:

Al, who emceed the event, teamed up with the United Services Organizations (USO) to organize the comedy show as part of TODAY's Shine a Light series, a campaign to support worthy causes throughout the year. Al's goal was to shine a light on our military troops and their sacrifice on behalf of the country, while also supporting the USO and its efforts to help servicemen and women, as well as their families.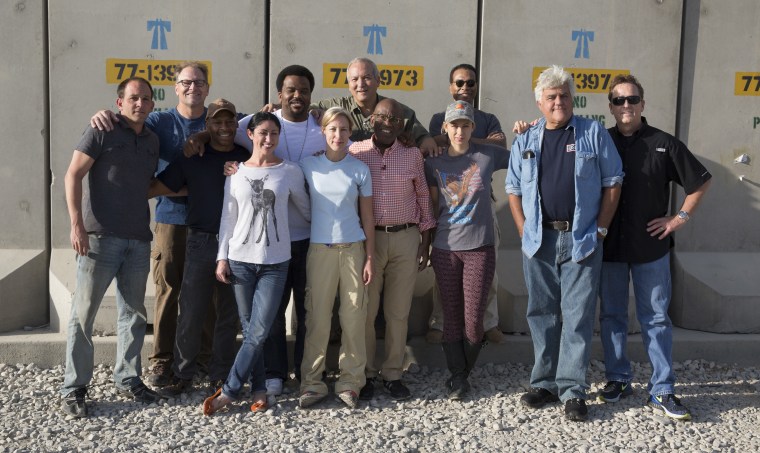 The visit did come with not-so-subtle reminders of the dangers the military faces overseas. Moments after Al and his comedic crew ended filming their last segment for TODAY, they had to unexpectedly rush into a nearby bunker as indirect rocket fire hit the surrounding area.

"First we heard a couple of siren blasts. We all had to get down," Al said about the experience. "Then we heard another sound and everyone said get into the bunker."
Fortunately, the base was given the all-clear just in time for the show. 
After Al warmed up the crowd and Kevin Eubanks played the guitar, Jay Leno took the stage.

"You know competitive eating is now a sport? This is the only country where eating 300 chicken wings makes you an athlete," Jay joked before turning the mic over to Iliza.
"There's something in the make up for a female brain that when we park the car, it's very rare that we park the car and we're like, boop, okay, I'm in spot 4S. Let me remember that. Let me be responsible for my choices," Iliza said. 
Craig Robinson wrapped up the show with a little tune from his experience in the bunker earlier. "I was at Bagram and a rocket fired on me today…" he sang.
While the night included loads of laughs and fun, Al and his team made sure to take the time to honor the audience filled with service men and women.  
"You are the men. You are the women," Al said. "You are the heartbeat of this country."
Amy Eley contributed to this post.