U.S. Olympic gymnast Aly Raisman delivered a powerful statement in court on Friday in which she condemned disgraced former team doctor Larry Nassar during his sentencing hearing for first-degree sexual misconduct.
Raisman, 23, made a surprise appearance at the court in Michigan to deliver the statement in person about Nassar, whom she has said sexually molested her under the guise of giving her medical treatment.
"Larry, you do realize now that we — this group of women you so heartlessly abused over such a long period of time — are now a force, and you are nothing. The tables have turned, Larry. We are here, we have our voices and we are not going anywhere,'' she said.
Several of Raisman's "Fierce Five" and "Final Five" Olympic teammates from the 2012 and 2016 gold medal-winning squads, including Simone Biles, Gabby Douglas and McKayla Maroney, have also come forward with stories of abuse by Nassar.
Saying she was "scared and nervous," Raisman was joined by Olympic teammate Jordyn Wieber as she spoke out against Nassar, who is currently in jail after pleading guilty to child pornography charges. Biles also tweeted her support for her teammate.
Raisman delivered the statement while staring down Nassar, and the courtroom broke out in applause when she finished.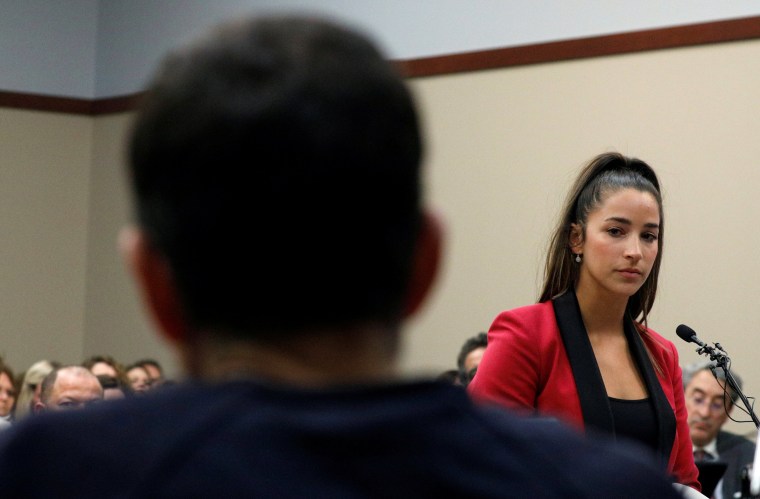 The former USA Gymnastics doctor has been accused by more than 100 women of sexually abusing them while claiming to be providing medical treatments. Raisman called Nassar "a monster" during an appearance on TODAY in November, which Maroney echoed in her personal statement that was read in court on Thursday.
"Your Honor, I ask you to give Larry the strongest possible sentence, which his actions deserve, for by doing so, you will send a message to him and to other abusers that they cannot get away with their horrible crimes,'' Raisman said. "They will be exposed for the evil they are, and they will be punished to the maximum extent of the law. Let this sentence strike fear in anyone who thinks it is OK to hurt another person. Abusers, your time is up. The survivors are here standing tall, and we are not going anywhere."
Raisman also urged structural changes so nothing like Nassar's abuse can happen again. USA Gymnastics announced Thursday it will no longer train gymnasts at the Karolyi Ranch in Texas, where many women said they were abused by Nassar.
"And please, your Honor, stress the need to investigate how this happened so that we can hold accountable those who empowered and enabled Larry Nassar, so we can repair and, once again, believe in this wonderful sport. My dream is that one day, everyone will know what the words 'me too' signify, but they will be educated and able to protect themselves from predators like Larry so that they will never, ever, ever have to say the words 'me too.'''
Follow TODAY.com writer Scott Stump on Twitter.