At 102, Jerry Emmett, is one of the few people in America who can still remember the excitement of women first gaining the universal right to vote.
"I was just was so happy when Arizona gave women the right to vote,'' Emmett told Peter Alexander on NBC Nightly News. "I think I was 8 years old, and we all went out and said 'Hooray!'''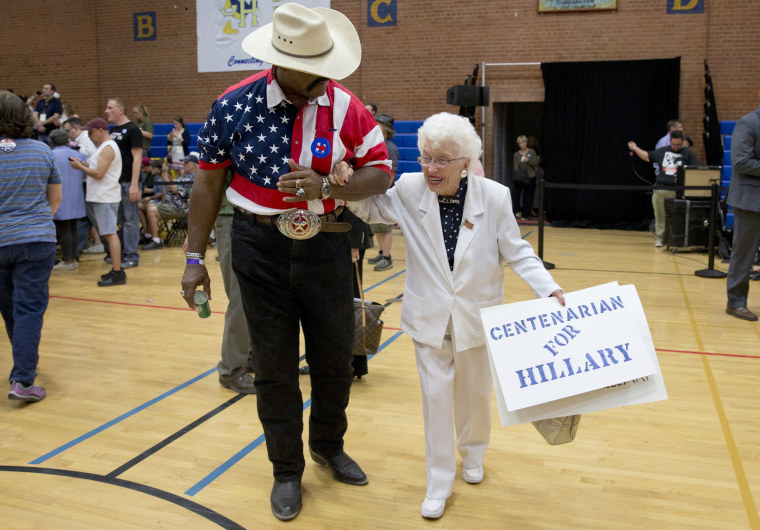 Emmett now is proud to be part of another chapter in history after she helped nominate the first female candidate for president from a major party.
RELATED: Can Trump win the presidency? 'Anything is possible,' Obama tells Savannah
An honorary delegate for Arizona, Emmett announced her vote for Hillary Clinton on the floor of the Democratic National Convention in Philadelphia on Tuesday night.
Her vote for Clinton came nearly 100 years after women gained the right to vote through the ratification of the 19th Amendment in 1920.
RELATED: Hillary Clinton becomes Democratic nominee, making history at DNC
"I surely didn't plan to live past 100 years old," Emmett told the Phoenix New Times. "When I did, and I saw all these things that were happening, it was like I had a shot in the arm."
Emmett is a die-hard Clinton fan. An entire room of her house is filled with mugs, photos, letters and more paraphernalia from Clinton's campaign, according to the Phoenix New Times.
She told NBC Nightly News that she can still remember when her mother voted for the first time, which led to Emmett's lifelong affinity for politics.
Her support for the Democratic Party started with President Franklin Delano Roosevelt and the New Deal.
She now hopes to see Clinton become the first female president in the fall, telling Alexander she could "die happy" if that comes to fruition.
"I'm strictly joined at the hip to Hillary Clinton, and I've admired her all of her life," Emmett told Phoenix New Times.
Follow TODAY.com writer Scott Stump on Twitter.