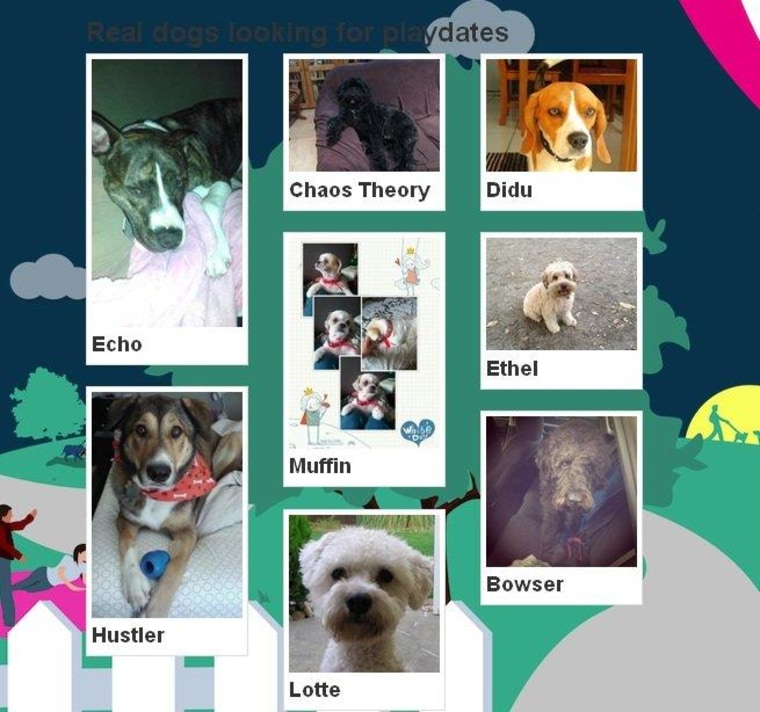 One day, when the Internet Hall of Fame mulls this recent technological leap, it'll have a tough time determining which coast truly universalized online dating for dogs.
New York City and San Francisco — the two towns where people care at least as much about their dogs as they do their children — are home to online startups that seek to fill the real world needs of the canine set.
On the East Coast, there's Matchpuppy, "a brand new way for you and your dog to meet new friends in your neighborhood," according to the site's homepage. It is currently in beta testing.
On the West Coast, Spotwag, "your alternative to a kennel or pet hotel," the homepage reads. "We transform your social network into a support network." (Despite its name, Spotwag also serves cats and, one assumes, other pets.)
Like Dogster, Doggyspace.com and others before them, both Matchpuppy and Spotwag capitalize on the totally scientific fact that one in 10 pets have social media profiles (at least according to this one UK survey from 2011). What sets these sites apart however is that they don't cater to humans who pretend to be their pets on Facebook, taking on the perceived personalities of their "fur babies."
Matchpuppy and Spotwag cater to the needs of the actual dogs, who are really not known for using the Internet — except in that one infamous New Yorker cartoon.
Describing MatchPuppy as the "OKCupid for for doggy playdates," Mashable notes that the "website matches up New York City dogs with furry companions according to size, age and energy level."
"This is a need in the market," MatchPuppy co-founder Michael Chiang told Mashable. "A lot of people who have small dogs would rather they have small dogs to play with. It can be used for puppy play date or it can be for breeding."
(Ahem. Regarding breeding, I feel compelled to remind the reader that there are other ways to get a great dog or cat, including combing sites such as Petfinder.com in order to locate super awesome pets out there that totally need homes. Just sayin'.)
Matching dogs by size and energy level is totally reasonable, especially in New York City, the only place MatchPuppy's beta currently serves. Despite NYC's packed population, it's a hard place to meet decent people, let alone suitable dogs. And as Mashable adds, MatchPuppy "would also be great for someone who travels a lot. Individuals can find other pet owners with similar dogs to babysit."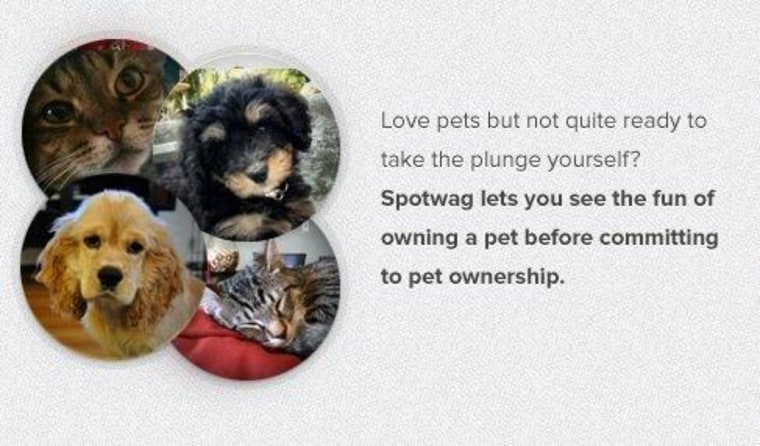 Finding appropriate dog sitters is exactly the point of Spotwag in San Francisco. Launching earlier this week, Spotwag goes through Facebook as an app, hunting for suitable pet sitters among people you already know. "Your pets are your family," the website points out. "So why leave them with just anyone?"
And why dump all that money on a kennel while entrusting your canine or kitty's care to a stranger? Spotwag suggests you provide some promised "Karma" for the future, or a nice gift instead. The options for "payment" are infinite. "Sometimes it's cash, but quite often it's a nice bottle of wine, a gift certificate for dinner or simply a returned favor when that friend needs something," co-founder Chris Wake told The Next Web.
Online dating for doggies is an awesome idea. As the owner of two Petfinder.com rescue pugs — as well as several others in the past and no doubt more in the future — I am forever combing the Internet for ways to keep them entertained. Often, puggie playdates I find on Meetup.com end in disappointing no-shows, and kennel stays make them crabby. I would definitely try a service that is dedicated to meeting these needs.
Both Matchpuppy and Spotwag provide pet owners like me with the social networking we love, and pets with the companionship they need. Like the Gottfried Leibniz/Isaac Newton controversy over who first turned regular old math into calculus, we may long argue over whether it was Matchpuppy or Spotwag that meaningfully expanded the social media dog paradigm.
Helen A.S. Popkin goes blah blah blah about the Internet. Tell her to get a real job on Twitter and/or Facebook. Also, Google+.
More on the annoying way we live now: