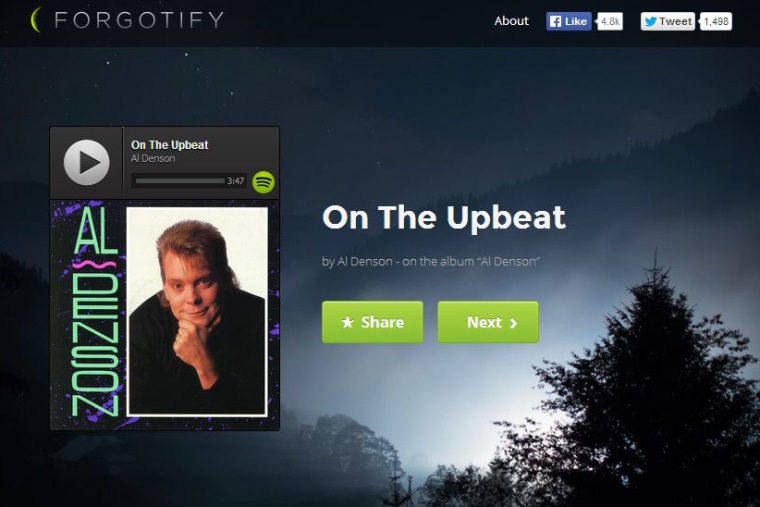 Spotify spends a lot of effort trying to get users to listen to music they have never heard before, including algorithms, recommendations from friends and Spotify radio.

The problem? There are a lot of songs on Spotify. Like, more than 20 million of them. Good thing Forgotify exists. The free app searches through the roughly 4 million songs that have never been played on Spotify before and serves them up to adventurous listeners. 
"We thought, 'What kind of weird stuff is out there that people could find?'" Nate Gagnon, one of the San Francisco-based creators of Forgotify, told NBC News. "It's a crazy testament to how many songs are on Spotify, period."
Gagnon was surprised by the diversity of songs he and his team discovered, from tribal chants to audio from an AA meeting. He describes it as a "weird, never-before-been-played Pandora."
I decided to try it out by heading to Forgotify.com and hitting the "Start listening" button. What I discovered were cuts from long-forgotten soundtracks, obscure rock songs from the '50s and plenty of international tunes. A brief look down the rabbit hole:

One of Gagnon's aims was to introduce people to new music because, he said, so many people just use Spotify to listen to songs that they already love. I certainly discovered some, um, interesting tracks. Thanks to Forgotify, I can now jam to smooth sounds of Czech crooner and amateur painter Karel Gott, who is still living the dream despite starting his career in 1958.
Gagnon and his partners created the app as a fun side project. They certainly didn't expect to get paid or have it become so popular only a day after it was released. It caught on with the public anyway. 
While Gagnon doesn't have any specifics on how many people have used Forgotify, the app currently has more than 5,500 Facebook "likes." There is, of course, one major flaw inherent to Forgotify.

"If it's successful, it shuts itself down," he said. "I think it's kind of cool that these random artists will receive a check for a fraction of a cent out of nowhere."
Keith Wagstaff writes about technology for NBC News. He previously covered technology for TIME's Techland and wrote about politics as a staff writer at TheWeek.com. You can follow him on Twitter at @kwagstaff and reach him by email at: Keith.Wagstaff@nbcuni.com