Recently in celebrity real estate, Pamela Anderson's Malibu home changed to a for-rent listing, Steve McQueen's former Idaho ranch hit the market and Alex Trebek's former custom home is for sale.

Pamela Anderson's Malibu home returns to rental market
When a home hops back and forth between the rental and for-sale markets, it could indicate that the price is too high, it's not the right time to sell or there simply isn't enough interest to close the deal. Pamela Anderson's Malibu home may be the exception.
"I put it on the market to see what it was like, but I most likely won't sell," she told the New York Post at an Obliphica Professional hair care event this April. "I had too many people interested … it scared me."
The "Baywatch" star first listed her home for rent last year, asking $50,000 a month. In February, she put it on the for-sale market with a $7.75 million asking price before recently relisting the home as a rental.
It's unclear whether Anderson hopes to ditch the poolside pad at 23445 Malibu Colony Road, Malibu, Calif. 90265 for good. According to Coldwell Banker's Carol Casey, assistant to listing agent Chris Cortazzo, the actress and model is open to some different scenarios.
The current listing is offering a long-term rental for $27,500 a month or a short-term summer rental for $45,000 a month through September. Casey said a lot of owners continue to try to sell their homes while renting them out as an additional source of income. If they get an interested long-term renter, they may try to work them into a sale.
Steve McQueen's former Idaho ranch for sale
Steve McQueen's best-known home is a sprawling property in Santa Paula, Calif. It's there that the "King of Cool" stashed his collection of cars, motorcycles and two planes — and married his third wife, Barbara Minty, in 1980.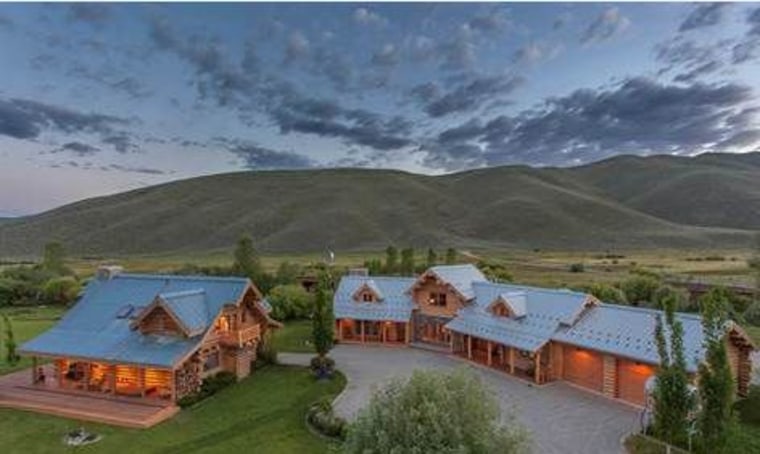 Like the "Bullitt" star, Minty also preferred to live on ranches and owned a few properties in Idaho. It was her love for the potato state that led McQueen to buy a ranch in Hailey, Idaho, coined "Crazy M Ranch," that the couple owned until 1999. The current owners recently listed the property for $7.4 million.
Nestled at the bottom of the Pioneer Mountains, the home at 100 Creek Cove Road, Hailey, Idaho 83333 sits on 500 acres and includes a 1.5-mile stretch of Big Wood River's East Fork. More of a compound than a single-family home, the property has a 2-bed, 2-bath log cabin built in 1990, an "annex" structure with living and storage space built in 2010, as well as a 4-car garage/workshop.
When McQueen was living on the property, the residences were much more rustic, according to the listing description. The current owners completed significant updates and renamed the home "Pioneer Moon Ranch."
For sale: 'Jeopardy' host Alex Trebek's former home
This home has 4 bedrooms, 4.5 baths and is located at 7966 Mulholland Dr., Los Angeles, Calif. 90046.

The answer: What is Alex Trebek's former home.
Trebek built the 5,554-square-foot Hollywood Hills residence in 1984, the same year he started hosting "Jeopardy!" He went on to sell the 2.05-acre compound 12 years later, but his name remains etched in the master closet.
Now back on the market for $3.995 million, the home's glitzy entertainment spaces and ultra-modern furnishings might not jive with Americans' image of the stoic, white-haired game-show host or its current owner, a foreign diplomat. But when Trebek lived here, an '80s bachelor pad wasn't out of the question — he had recently divorced his first wife and lived in the home for six years before marrying his current spouse, Jean.
Today, the home is filled with curvy red-velvet chairs, zebra-print pillows, a black jetted tub, fish tank, pool table, wet bar and gym.
Related: