In the '90s, it seemed like you couldn't visit a website without getting adware, those programs that bombard you with unwanted ads. Well, according to a new study from Google, U.C. Berkeley and other research institutions, adware is still going strong.
It found that 5.5 percent of IP addresses that visited Google sites were infected with some kind of adware. That comes out to more than 5.3 million IP addresses, which means tens of millions of people have to deal with these ad injectors.
We're not talking about the normal ads that Facebook and Google put on your screen. Instead, they are unwanted programs that take control of your browser and serve up annoying ads wherever you go on the Web.
These ads sometimes lead to major retailers like Target and Walmart, who pay for traffic to their websites, but don't always know where that traffic is coming from. That process can be hijacked by adware, sometimes making its creators millions of dollars in the process.
Anyone who has had to deal with a screen that looked like this probably already has experience with adware.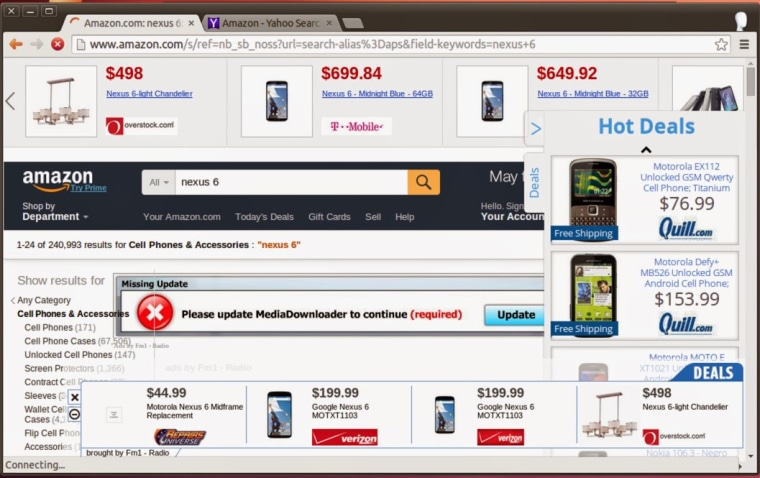 So, what can you do to protect yourself?
Prevent getting adware
The good news is that tech companies are building security tools into their software. Google's Safe Browsing feature helps stop people with Chrome, Firefox or Safari from visiting suspicious websites and downloading malicious software.
But there are other things that people can do to protect themselves. People should always update their browsers and operating system to the most recent version.
Being picky about what you download is another good strategy. Licensing agreements might be boring, but reading them can help screen out sketchy programs.
If a link or website looks off, it's best not to download anything from it. If a program flashes ads at you after you have installed it, don't click on the ads, recommends Symantec.
Overall, it's best to download from official sources, like Google or Windows. Unlike random websites, you know they are at least trying to remove adware from their offerings.
Remove adware
Your first option is to download software that will remove it for you. Avast is trusted and free. You could also pay for software packages from security firms like Bitdefender, Symantec and Kaspersky.
Chrome users with Windows can use Google's software removal tool. Apple gives instructions on how to delete malicious programs, and Windows also details how people can manually remove adware.
Once the offending programs are gone, it's best to reset your browser settings, whether you use Chrome, Firefox, Internet Explorer or Safari.
One last piece of advice: Don't feel bad. As the study pointed out, there is "no simple solution" to this problem that has affected tens of millions of people. It's also up to e-commerce sites to terminate relationships with ad injectors and for other tech companies to build more robust defenses. But it also doesn't hurt for users to be careful.