One of life's certainties is that job interviews are nerve-wracking. But are job seekers prepared for the tough questions that may be coming their way?
Even the most prepared candidate can show up for a meet and greet that goes slightly off the rails. According to a survey released Thursday by job resource website Glassdoor, the standard "So, tell me about yourself" interview discussion has evolved, so candidates need to brace themselves for the unexpected.
For example, one candidate in the survey seeking employment as a mechanical design engineer at Apple told Glassdoor they were asked: "If you are in a boat with a boulder and you drop that boulder into the lake, how does the water level before and after you drop the boulder in the lake compare?"
RELATED: Why Mary Tyler Moore remains an icon for working women everywhere
Meanwhile, a software administrator candidate at Blizzard Entertainment reported being asked, "Sell me on one idea, and then sell me on the opposite of that idea." No pressure there.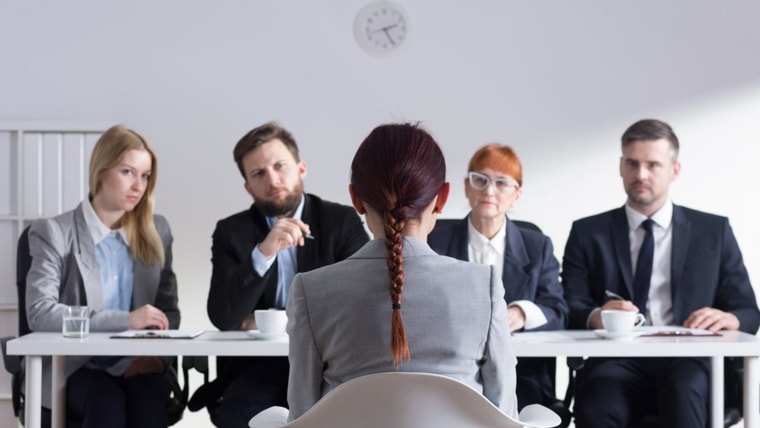 In order to gather this data, Glassdoor used questions shared by job candidates from Jan. 16, 2016 to Jan. 15, 2017. In addition, Glassdoor indicated that stress factors for job seekers include the number of interview screens, company size, and a candidate's education (those with advanced degrees said they had harder interview experiences) and age (older workers reported significantly more difficult job interviews).
RELATED: Facebook asks job applicants this million-dollar question
Glassdoor also found that gender did not play into the difficulty factor, meaning employers processed their male and female candidates the same way.
However, if a job seeker finds themselves sweating it out at an interview, this could be a very good thing. It turns out that regardless of the job, a tough interview can be good for both the employer and employee. Glassdoor found that a 10 percent more difficult job interview process resulted in 2.6 percent higher employee satisfaction later on. Glassdoor attributes it to the employers' gauge as to whether or not a candidate is a "good fit," with good matches lead to higher productivity and satisfaction.
RELATED: I was fired for refusing to wear high heels at work — now I'm fighting back
Job seekers sweating it out the night before can also heed the advice from Glassdoor to make a mental list of compelling questions they would like to ask during an interview. Similarly, candidates should practice their answers out loud with a friend or in front of a mirror.
Glassdoor gathered a total of 27 uncanny interview questions. Here are a few more colorful questions that came up during job interviews for certain organizations:
How many fire hydrants are there in Los Angeles County? —software engineer, Disney Interactive Studios
How many happy birthday posts do you think Facebook gets in one day? —sales operations, Facebook
Throw your resume aside and tell me what makes you you. —sales executive, Zillow
If you were a Muppet, which character would you be? —donor family advocate, LifeNet Health
How do you explain a vending machine to someone who hasn't seen or used one before? —global data analyst, Bloomberg LP
Estimate how many employees in the next building —data scientist, Risk Management Solutions
What part of the newspaper do you read first? What does this say about you? —audit, BDO USA
Give me 48 cents using six coins. Tell me quantity and value of the six coins. —human resource manager, Wintec
You have been asked to lead a multimillion dollar, multiyear grant that will be supported across several companies and universities. How do you start? —research scientist, Ford Motor Company
Write an equation to optimize the marketing spend between Facebook and Twitter campaigns. —analyst (data science), Uber