A visit to an orphanage during their recent trip to China has led the Duggars to consider expanding their brood to 20.
But Michelle and husband Jim Bob Duggar, stars of TLC's "19 Kids and Counting," say they are waiting for God to decide whether they should pursue that option.
"We are open to the idea of adoption," Michelle Duggar told People magazine. "We are praying about it, and we will see what God has in store. Love for children has been placed on our hearts."
The couple visited the Chinese orphanage while touring Beijing for the three-part TLC special, "19 Kids & Counting: Duggars Do Asia."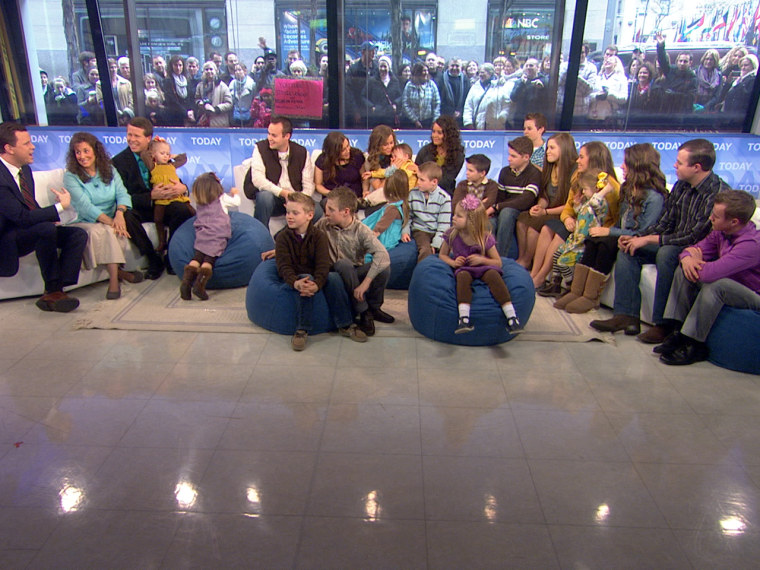 Last year, Michelle Duggar opened up to TODAY about the pain of suffering a miscarriage in December 2011. The girl, whom they named Jubilee, would have been the couple's 20th child.

At the time, Michelle said that while her childbearing days may be finished, she and her husband were open to having additional children "if God saw fit to bless us with more."
She said her children have pushed their parents to have more kids, but that she and her husband will ultimately leave that decision up to God.
"We have friends that have adopted children who are a great influence in our lives, and we have talked about their experiences. So it's something we've considered. We have to know for sure that is what God wants for us to do," she said in her interview with People. "When he gives us a child [through pregnancy], there is no doubt in our minds that is what He wants, but when it comes to adoption, we would have to know for sure that was His will."
In addition to their own children, the Duggars have two grandchildren and are expecting a third.