The photograph shows a shirtless man, clutching an infant to his breast much as a nursing mother would. Beside him is a message: "Project Breastfeeding. If I Could, I Would."
"I decided that the best way to get the conversation started was to get the men involved," says Hector Cruz, founder of Project Breastfeeding. "There is nothing out there for men [about breast-feeding]. I wanted to change that." 
These photographs, a twist on slick ads, are part of a project Cruz started to educate men about breast-feeding. After his wife, Nicole, gave birth to their daughter Sophia on Oct. 11, 2013, she struggled with breast-feeding. Suddenly, Cruz became immersed in a world of nipple guards and latching problems, and he felt helpless and confused. 
A 2013 CDC report notes that women are more successful at nursing when fathers support them. The report also finds that dads who know more about breast-feeding are better able to encourage their wives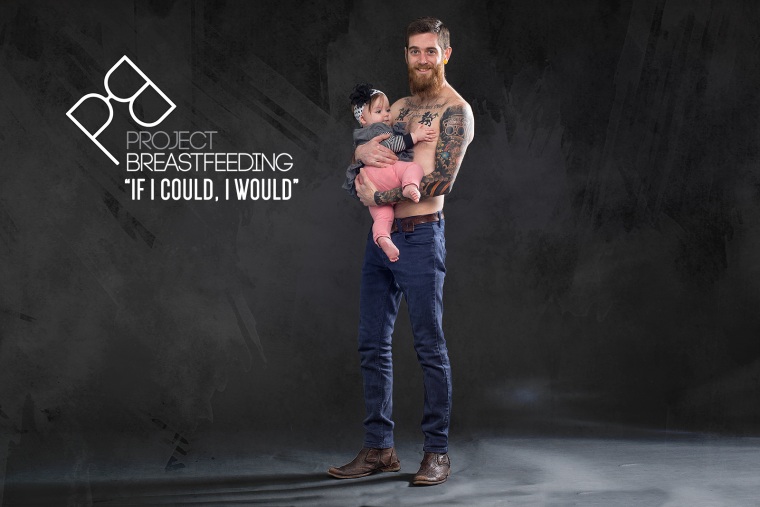 Cruz hired a lactation consultant to help his wife and daughter. He soon realized that most of the information about breast-feeding targeted mothers.
So Cruz, a professional photographer, asked a few fathers if they would pose as if breast-feeding their children. His goal: raise enough money to use the photos for billboards around his hometown of Clarksville, Tenn. 
But first, Cruz had to find subjects. Alan Bartlett's wife, Rebecca, exclusively breast-fed the couple's two daughters, so he felt very passionate about it. When Cruz asked if he would pose, Bartlett immediately said yes.
"I think that men posing with their child in a similar way as women breast-feeding … shows the support that men have for their wives," he says.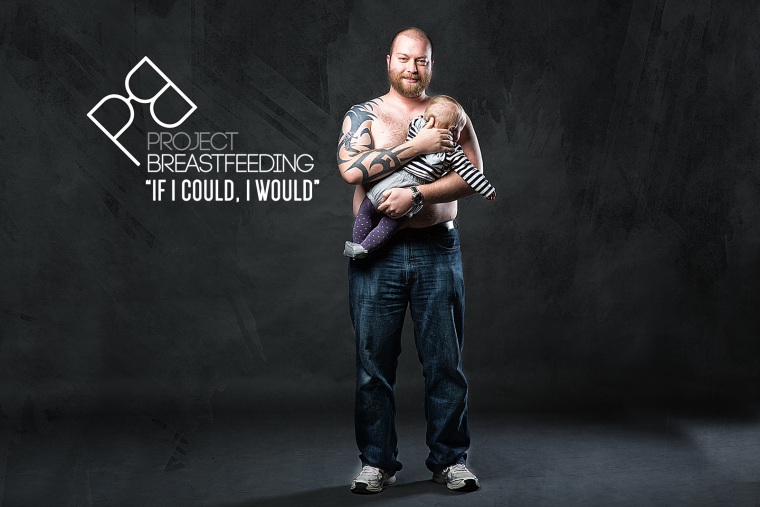 Bartlett, an IT specialist who works in Fort Campbell, Ky., didn't feel self-conscious posing topless and mimicking breast-feeding with his daughter, Avalee. The 9-month-old squirmed a lot, making the photo shoot tricky, but it felt as natural as holding her. He enjoyed being able to make a public statement supporting his wife.

"Really understanding how my wife's body works, helps me to understand my children and their developmental and physical needs and makes me a better father," Bartlett says.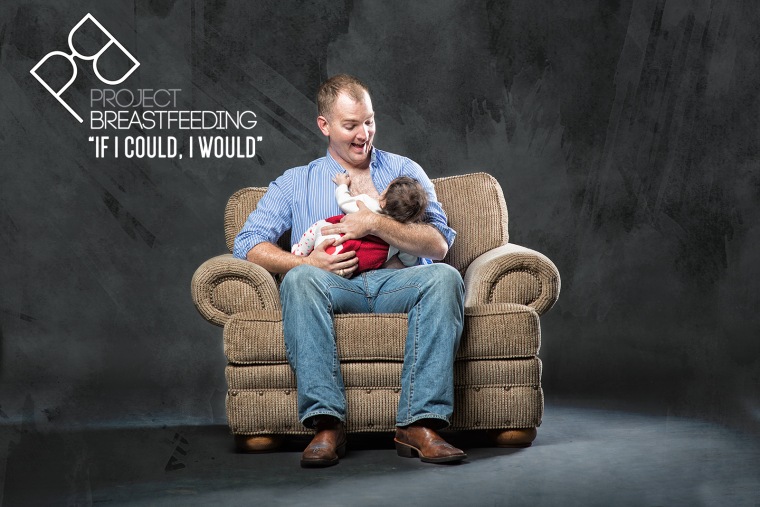 While Cruz's original intention was to post a billboard, his photography project has become so popular that people across the country are now asking if Cruz will photograph them. When these families contact him, he says the fathers tell him how they wish they understood more about breast-feeding.
"[There are] a lot of dads who are excited to see the project," Cruz says. "A lot of the guys who are pro- breast-feeding feel like they have a voice. The pictures just allowed the conversation to start." 
Cruz now plans to start a nonprofit dedicated to educating dads about breast-feeding.
"We actually have really good questions and we want to know [about breast-feeding]," he says. "Every guy wants to be a good father and good husband and we don't know how to do that. I want every guy to have a place to go."