Cierra and Frank Smith of Cleveland, Ohio, will have an easy time remembering their newborn's birthday. The 7-lb, 7-ounce healthy baby girl was born at 12:12 p.m. on 12-12-12.
With such a notable birthdate, it's  no surprise the Smiths gave their daughter a memorable name, one for the ages, if you will.  Meet Forever Cierra Cotrice Smith, who her mom describes as having "not too much" black hair, brown eyes and "chubby cheeks."
Cierra Smith, 27, said her due date was originally December 18, but a C-section was planned at Cleveland Clinic for this morning. The procedure was scheduled for 11:30 a.m., and baby Forever arrived at the auspicious time of 12:12 p.m. "I didn't care if it happened [at that time], as long as she came out healthy," says Smith, who works as a bank teller.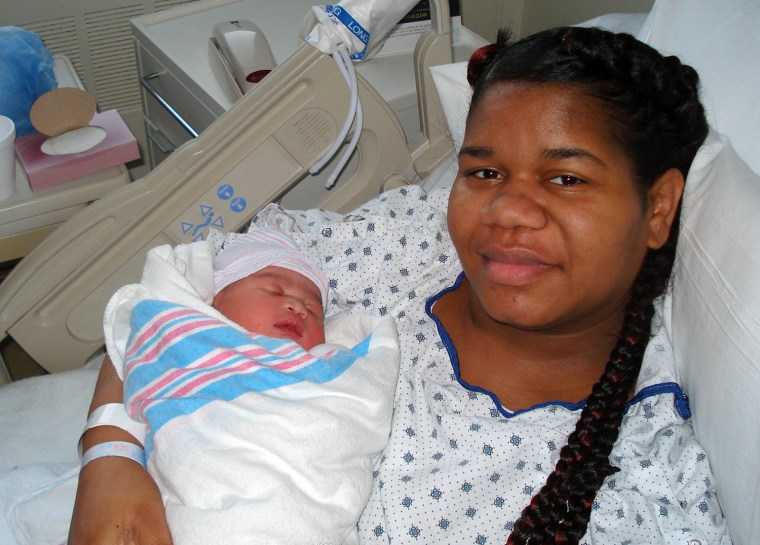 As for her daughter's name, Smith says it's something of a family tradition. Her 2-year-old son is named Caden Franklin Douglas Smith -- the first initial is the same as hers and the middle two names belong to her husband.

When they learned they were having a daughter, the Smiths wanted a "cute and different" name beginning with "F" to represent dad Frank, who picked the name Forever, with middle names Cierra Cotrice after mom.
Before today, the number 12 didn't really have a significance for the Smith family. But now it does. The baby's grandmother used the digits to play the lottery today and Cierra Smith believes 12 will always be her daughter's lucky  number.