We use our refrigerators daily, but what if we told you there were a few easy ways to create even more interior space and cut down on the cleaning?
Recently, we stumbled upon three very smart hacks that help create more space, keep shelves cleaner and keep food contents organized. Use one, two or all of these tips, and you'll start seeing this appliance in a whole new light.
Want more great tips delivered straight to your inbox? Sign up for TODAY's Everyday Solutions newsletter!
How to organize your refrigerator
Tip #1: Add decorative shelf liners — they make cleanup easy!
DIY shelf liners add instant style and simplify cleaning. Yes, really! Creating these pretty and practical inserts is easy, too. Here's how:
Measure fridge shelves
Cut decorative mats to size
Fit onto shelves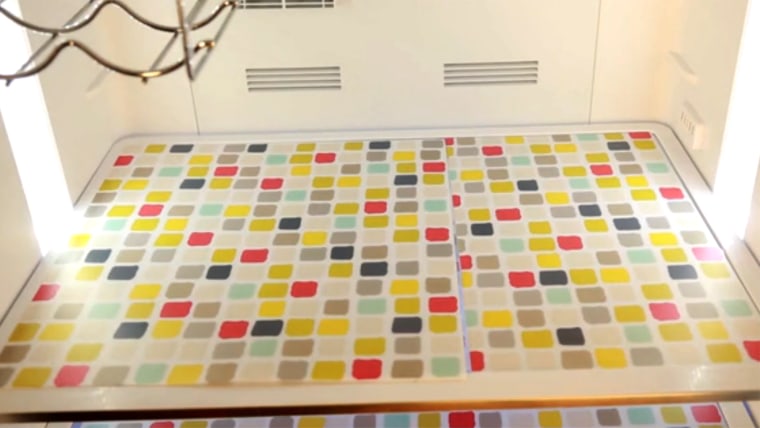 Every time you pull open your fridge door, you'll be greeted with a splash of color. What's more, it will be much easier to catch every drip, spill or mess. Just take the insert out and wash with warm soapy water, dry, and return it to the fridge shelf.
Tip #2: Use your fridge door to keep track of your grocery list
If you're always forgetting your grocery shopping list, you may find this hack super helpful. Just turn the front of your fridge into a dry erase board! Of course, be sure to test this idea out in an inconspicuous area before scribbling all over the front of your refrigerator door.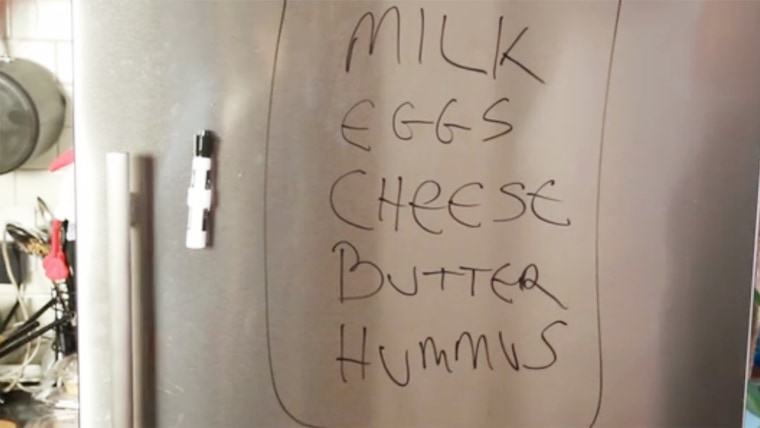 Here's how to do it: First, tack up a dry erase marker on or near your fridge. Then, whenever you're running low on butter or hummus or fancy cheeses or Nutella, just write a reminder to yourself on the front of the fridge. Right before you make a trip to the store, snap a photo of your "grocery list" with your phone and you're set! Just remember to wipe your fridge door clean for next time.
Tip #3: Utilize unused space ... for beer!
If you're a fan of beer (or any bottled beverage), this will help create more space on fridge shelves. We invested in a pair of heavy-duty magnets specifically created to hold beer bottles in place by their bottle caps.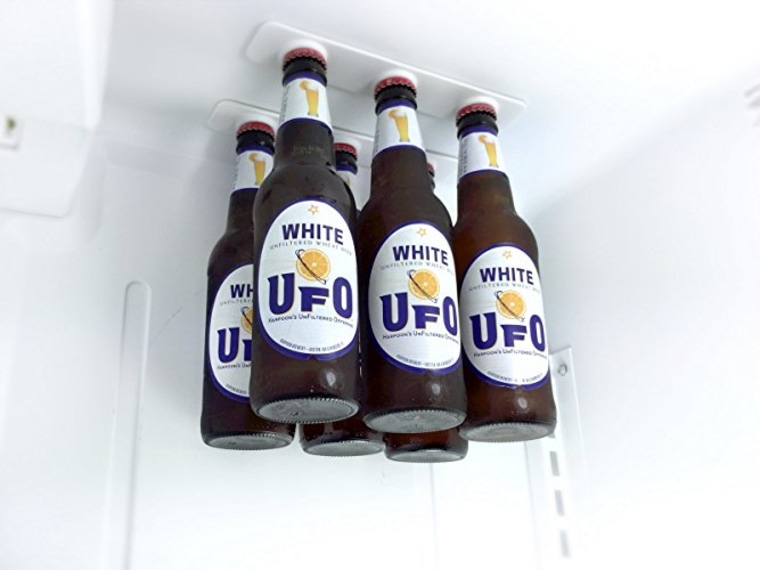 With these super-strong magnets in place, bottles hang vertically from the underside of an upper shelf, freeing up necessary space below. They really make a difference when it comes to fridge real estate!
(Or you could try this brilliant binder clip method below).
This story was originally published Nov. 7, 2016.