Wrangler has a new place to roam — the plaza!
Thanks to Jonathan and Drew Scott, hosts of HGTV's "Property Brothers," TODAY's Puppy With a Purpose has a new plaza play space to roam, explore and practice his skills as a guide dog-in-training.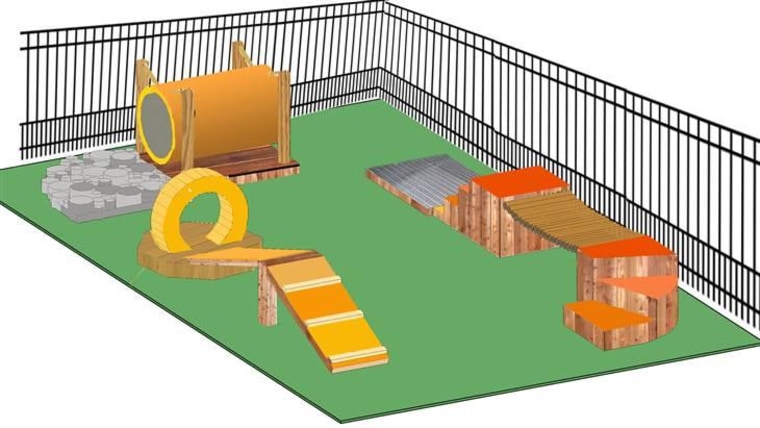 The Scott brothers knew just how to go about creating the space: They built a dog run for Jonathan's dogs in their shared Las Vegas home, and Wrangler's new fun-filled area looks like a dog's dream. But it's not just for fun and games. Each component serves a purpose, too.
The variety of surfaces throughout the area help Wrangler become comfortable walking over different textures, while the stairs serve as practice for getting up and down with ease. The tunnel and hoop help Wrangler with spatial awareness, and the overall space helps him decompress and maintain a positive emotional state.
Wrangler won't the be only dog to to enjoy the new play space. Once he outgrows his training needs, it will be donated to Guiding Eyes for the Blind for other dogs.
If you have the backyard space to build a dog park for your pooch, Jonathan and Drew have a few tips. Here's what to know:
Place your dog's space away from any outdoor entertainment area, but in a spot that is within view of a door or window so that you can keep an eye on the dog.
Some good things to include are shade, a feeding/watering station, a restroom area, a digging area, an obstacle course and room to run and play.
Make sure to keep toxic plants out of the area, as well as ground covers that can harbor bacteria.