There will be a lot of silver tinsel and gold in the White House this Christmas season thanks to the first lady.
Melania Trump gave a sneak peek of the theme of this year's holiday decorations at 1600 Pennsylvania Avenue, and it's clear that she opted for a more traditional motif which includes 53 Christmas trees festooned with more than 12,000 ornaments and 18,000 lights, according to her office.
The biggest of those trees, an 18-foot fir, will grace the Blue Room complete with ornaments bearing the seals of all 50 states, as well as of the U.S. territories, a tradition for the official White House Christmas Tree that the Trump family will continue, the Associated Press reported.
The nod to tradition is quite intentional. This year's theme is "Time-Honored Traditions," which the White House said pays respect to 200 years of holiday traditions in the mansion.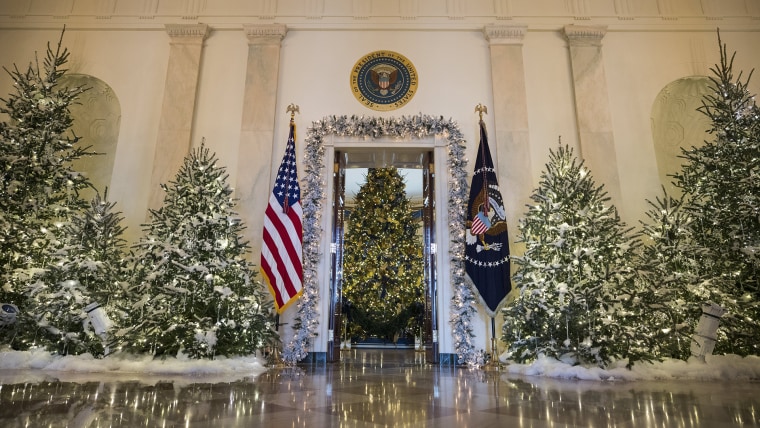 There are, however, some new flourishes - including wreaths hanging from the exterior of every window. A framed family Christmas card on display reads, "Merry Christmas and Happy New Year" and is signed by President Trump, his wife and their 11-year-old son, Baron.
A 350-pound gingerbread house replica of the White House will also be on display in the he State Dining Room.
On Monday, the first lady's office showed off the decorations for journalists and children from a nearby military base — with a one-minute highlight video posted to her Twitter feed. The displays are the work of more than 150 volunteers who spent 1,600 hours during the long holiday weekend, according to the AP.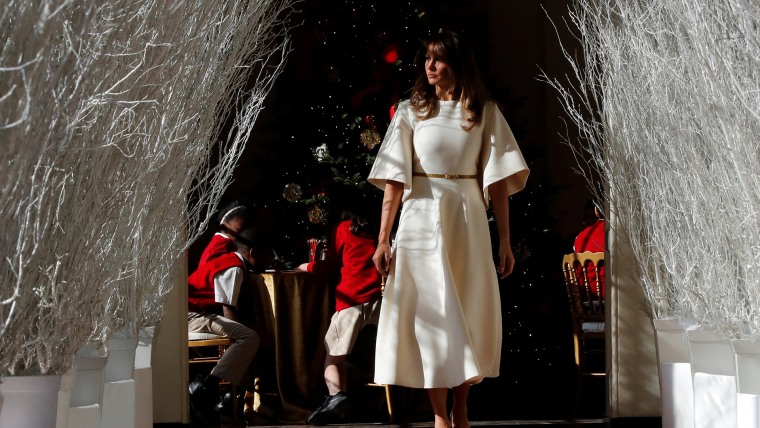 "The President, Barron, and I are very excited for our first Christmas in the White House," Melania Trump said in a statement. "As with many families across the country, holiday traditions are very important to us. I hope when visiting the People's House this year, visitors will get a sense of being home for the holidays."