Jill Martin has helped fill your closet with fabulous finds from bargain shopping, and now, she's letting you peek inside hers.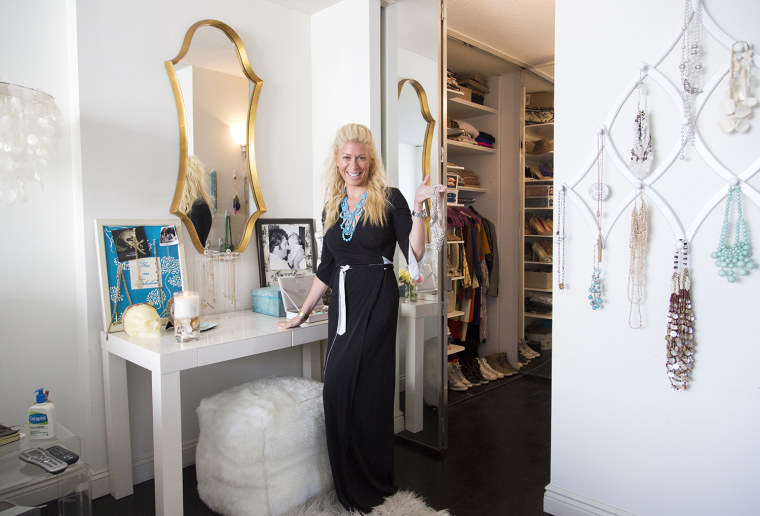 As part of TODAY's original series "At Home with TODAY," Jill is welcoming you inside her Manhattan home to show you her favorite spot in the one-bedroom apartment — her closet.

RELATED: Let Jill Martin help with your organization goals! Join our #startTODAY teams
"I try to make everything happy," Jill said about how she styled the vanity and closet in the home she has lived in since 2004. With top-notch organization, a hearty collection of accessories and family mementos tucked in throughout, it's easy to see why this corner in her apartment makes her smile.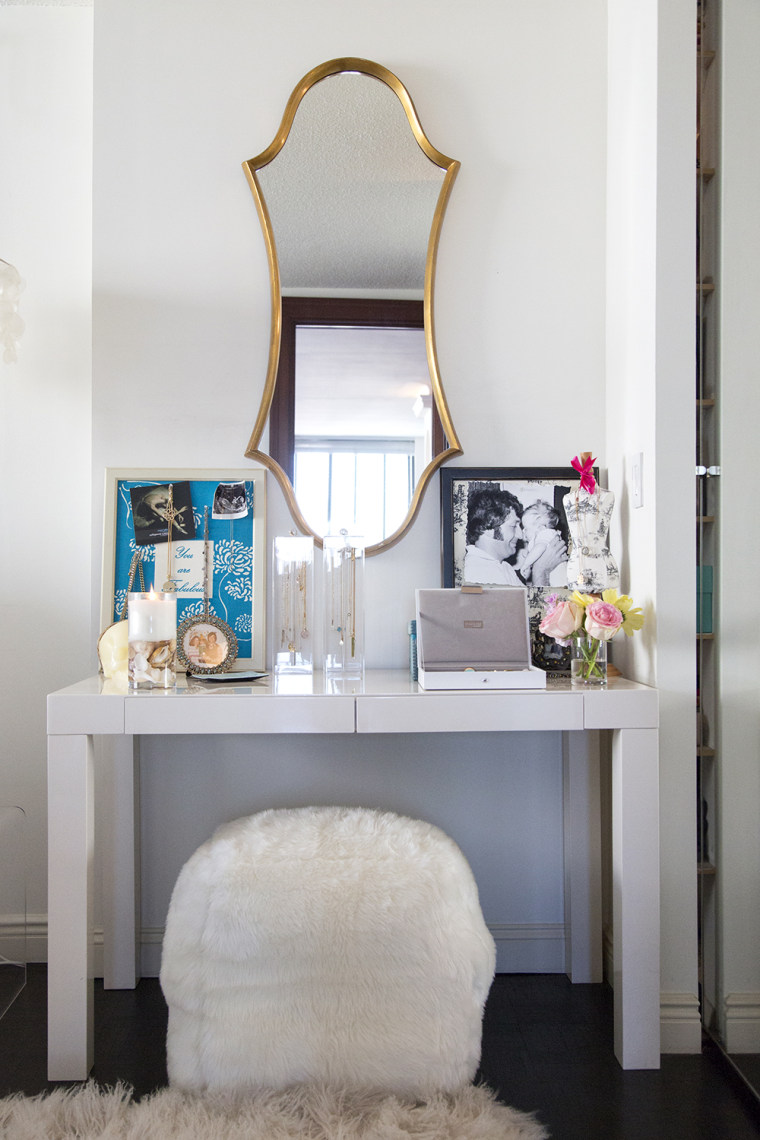 "Something I'm proud of is that I'm super organized,' she said. "I believe you should start your day organized and anything you can control in our chaotic lives, you should."

One area of precise organization is Jill's vanity, which includes a white desk filled with carefully selected items to reflect her personality, including a skull ("I have an edgy side") and pictures of her family.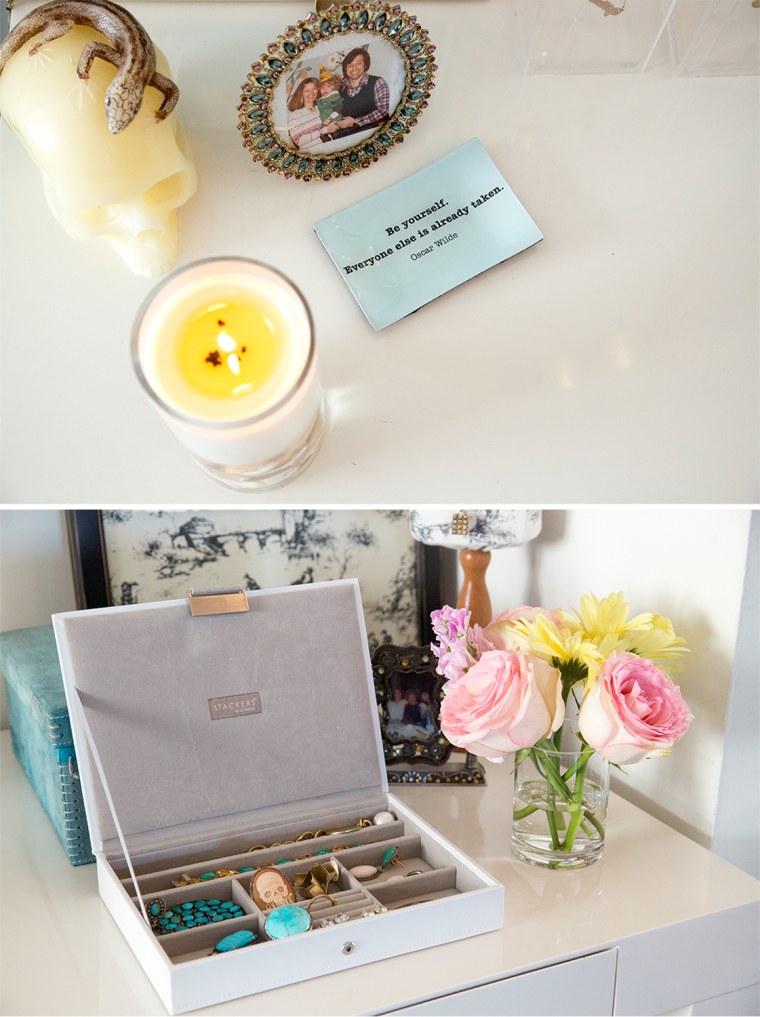 "My family is the most important thing to me so I have pictures of my family always," she said. Her desk includes cork boards that display her family pictures, including one of Jill's dad holding her as an infant and an ultrasound photo of her best friend's baby.

RELATED: At Home with TODAY: Jenna Bush Hager takes you inside daughter Mila's nursery
"I always want that close to me," she said.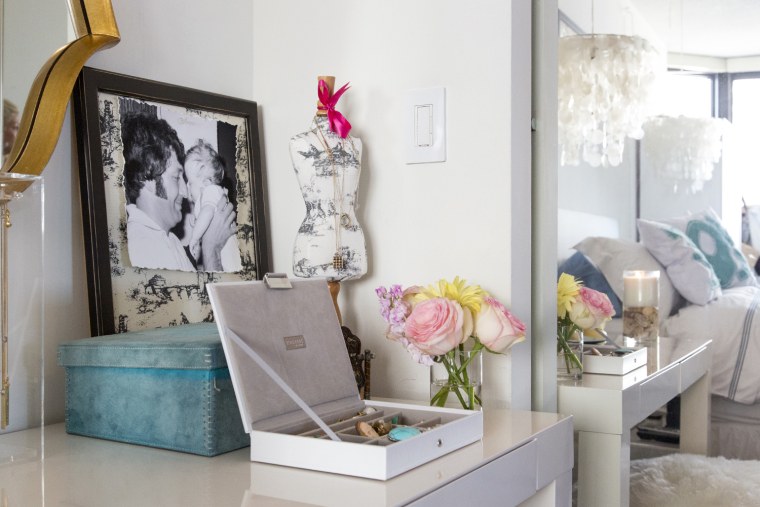 Also serving as a reminder of loved ones is her grandma's brass mirror, which now hangs above Jill's desk.

"Every time I look in the mirror, I think of Grandma Annie," she said. "I'm so grateful to have it."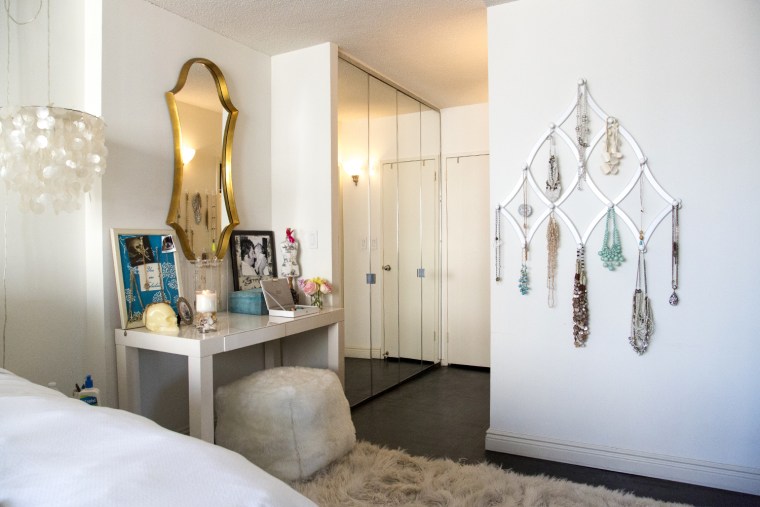 Jill had to get creative with her vast collection of accessories due to the limited storage space in her apartment. The style correspondent put her DIY skills to the test by using Command Hooks to hold necklaces on one wall and a re-purposed hat rack to hold necklaces on another.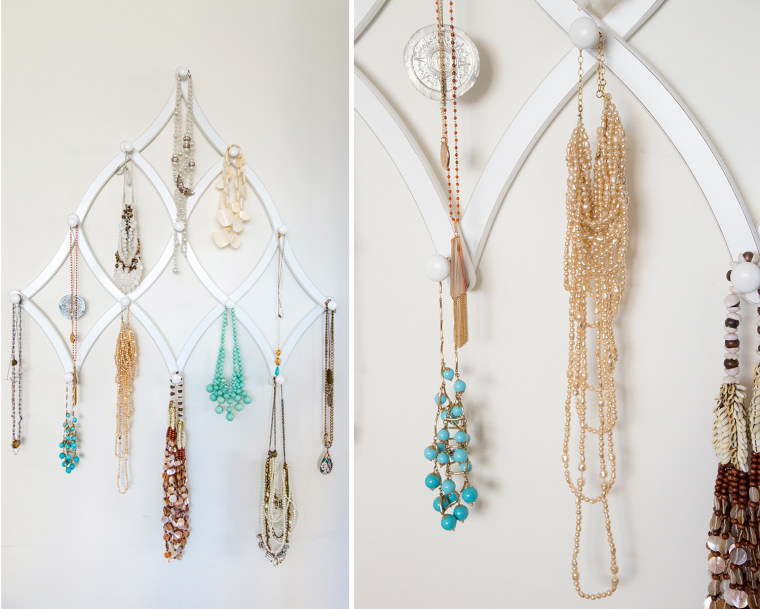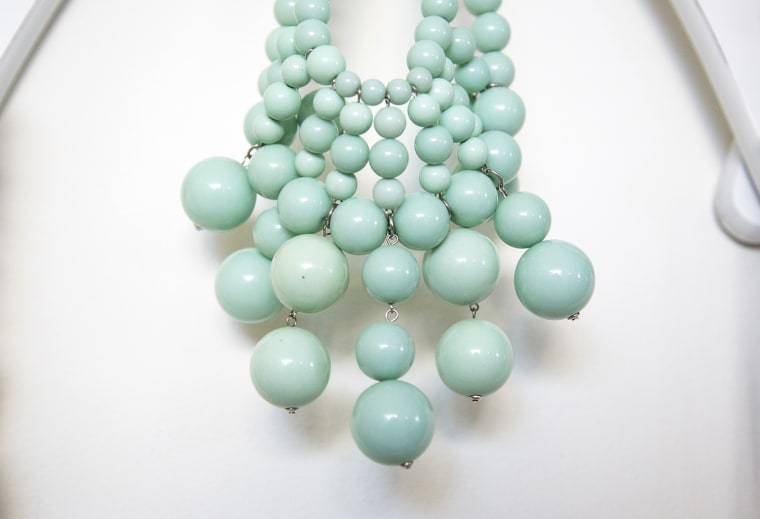 "My theory is if you don't see it, you're not going to wear it," she said. "This way allows my necklaces and chunky bracelets to be art and I can see every single thing."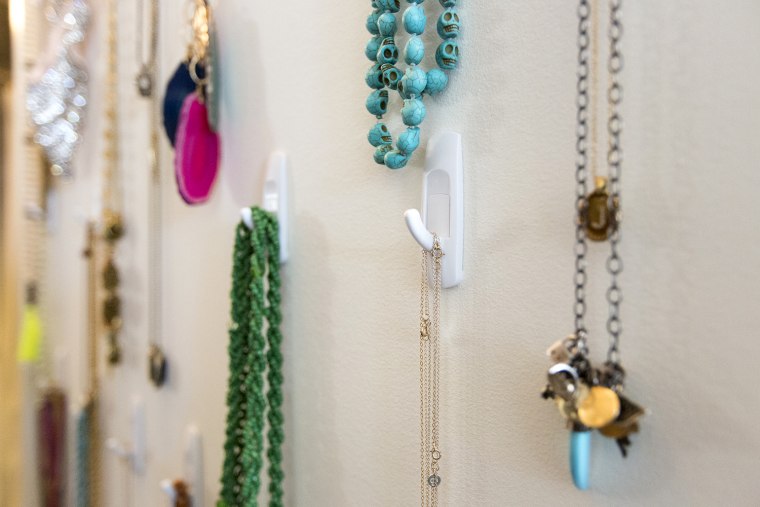 Across from one of Jill's jewelry walls is — cue the "Hallelujah Chorus" — Jill's closet, which is home to the 100 pairs of shoes that she has been collecting for over a decade.

Related: At Home with TODAY: Natalie Morales welcomes you inside her New Jersey kitchen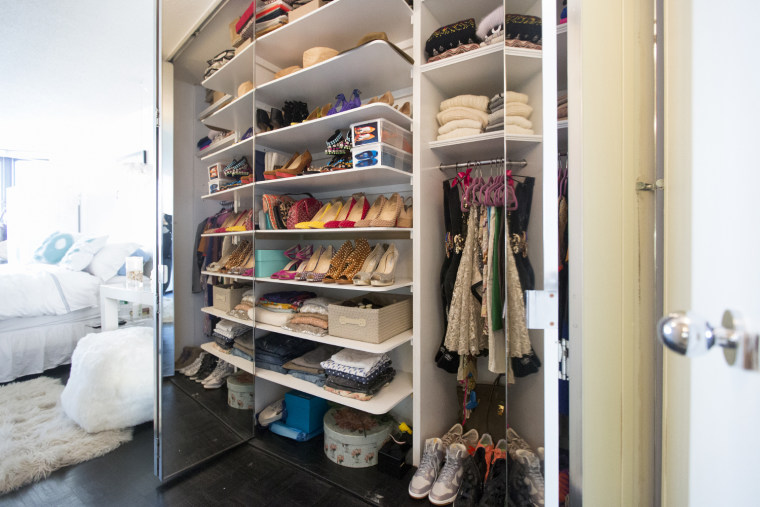 "Some pairs are $40 and some are more expensive, but it's what I save up for," Jill said, adding that several of the shoes came from consignment shops and that she even purchased a few pairs for herself that were used on Ambush Makeovers. Each shoe is carefully lined up on her shelves, while a select few are tucked away in clear shoe containers.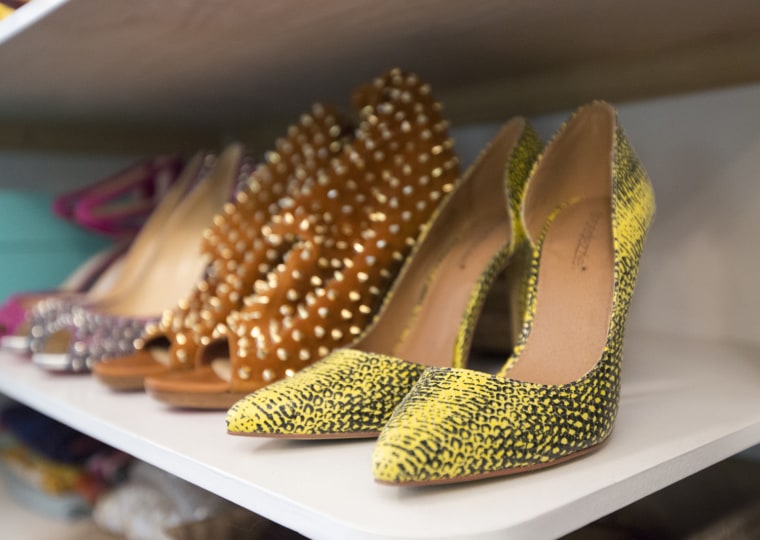 Next to the shoes hang her "going out" clothes ("If you see me around town, I'm usually in white T-shirts and jeans which are folded in my dresser"). By hanging her clothes on slim hangers, and stashing less-used accessories in a hanging jewelry organizer, Jill saves space and gets a splash of color every time she opens her closet drawers.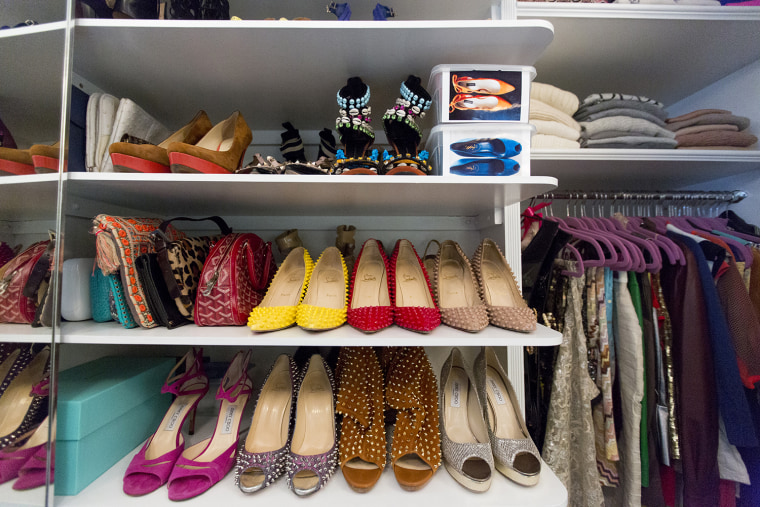 Whether it's the family touches in her vanity area, DIY jewelry walls or her super-organized shoe shelves and matching hangers, Jill's proud to be able to see the space every day and know it reflects her sweet and sassy self.
"If you came into my apartment, I feel like you would know my personality," she said. "Without me here, you'd say 'OK, I get this girl.'"