Our editors independently selected these items because we think you will enjoy them and might like them at these prices. If you purchase something through our links, we may earn a commission. Pricing and availability are accurate as of publish time. Learn more about Shop TODAY.
If you live in an apartment or other small space, you know how hard it can be to fit Christmas decorations in your living room. Sometimes there's hardly enough room for a stocking, let alone a big bulky Douglas Fir. But there's one holiday decorating trend that could change that.
Meet the half Christmas tree. It's an artificial tree that's been cut in half from top to bottom so that it can be pushed flat against a wall or in a corner.
Minnesota Pine Westbrook 7.5' Green Artificial Half Christmas Tree with Stand, $157, Wayfair.com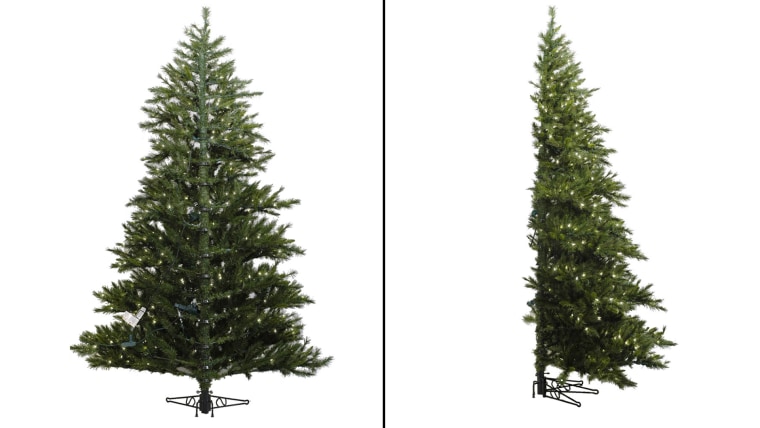 There's clearly a market for this — according to a spokesperson for Wayfair.com, these products have seen a 150 percent lift year-over-year.
Wayfair, in fact, has a whole section dedicated to these types of trees on its web site. The trees cost anywhere between $45 to $200 and beyond, depending on the brand and size.
Other retailers have them as well. Just Google "half Christmas trees" and you'll see a bunch of options available at places like Target, Walmart and Home Depot.
However, if you don't want to buy a new one, you can always hack the artificial one you already own. The trick is to only build out the front so that the back can be positioned flush against a wall.
And if it's not space you're after, but pet-proofing, perhaps a half Christmas tree in the opposite direction would work best. Some dog and cat owners are choosing to skip building out the bottom of the trees to prevent ornament mishaps.
Another quirky holiday trend this year? Half-lit trees. What probably started out as a mistake of not having enough lights to fill a tree has turned into a rather odd decor practice. Soon enough retailers will probably be selling strings of bulbs that only light up half the tree.