When two bombs exploded during last year's Boston Marathon, David Seymour and Peter Souhleris, the stars of A&E's "Flipping Boston," felt they had to do something. The duo — who own the property buying-and-selling company CityLight Homes featured on the show — decided to use their skills and house-flipping know-how to benefit a pair of victims featured in Saturday's new episode.
In a clip that A&E is sharing exclusively with TODAY.com, viewers meet engaged couple Paul Norden and Jacqui Webb, who were seriously injured. Norden lost his right leg, while Webb suffered third-degree burns and still has shrapnel embedded in her body. She also nearly lost a leg.
Souhleris said that the day after the bombing, he went to the Christian Angel Smile Foundation, a non-profit he started in 2007, to start taking donations for victims of the tragedy.

"We didn't know who we were going to help ... we just wanted to do something," he said. "We raised over $20,000."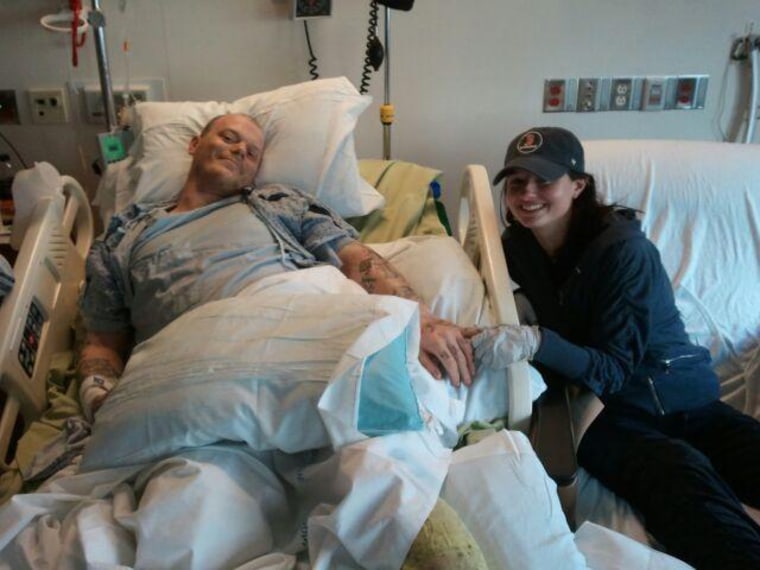 The money eventually went to renovating Norden's house — a three-story New England colonial-style home — to help make it easier for him to get around. The "Flipping Boston" stars said they learned about Norden and Webb on social media sites, and chose them to help.
According to Souhleris, they originally didn't plan for this renovation to be shown on "Flipping Boston." "We just wanted to help some people," he said. But they're happy they went ahead and documented the project because Norden and Webb ended up being "huge" benefactors.
That's because of all the people — laborers, contractors and folks who contributed products and materials — who came out of the woodwork to lend a hand with the project.

"The amount of folks that wanted to step up and help was phenomenal," Seymour, who was employed as a firefighter in Massachusetts on 9/11, told us. "(It) really and truly is a testament to what is good about the human spirit. It was an army of good. ... (We were able) to show the rest of the world that it's OK to do something good, to do something for someone. It's not always about lining your own pockets."

Souhleris said that the renovations — which included retrofitting the bathroom to make it more easily accessible with or without a wheelchair, a custom kitchen, man cave, elevator and more — to Norden's home came to "probably more than $100,000 worth of product and labor." 
For comparison, for one of CityLight Homes' projects featured on the show, the "average reno can be anything from $75,000 to $150,000," according to the duo, and it would all be paid for by their business. For Norden's renovation, all labor and materials were donated.

The project came with some new challenges for the house flippers too. Souhleris, who hadn't before done any design work with handicap access in mind, said that Norden's injury definitely impacted the design aspect.

"The design challenge for me was to make it a universal design ... but yet didn't scream out to him, remind him of that injury that day," the designer said. "What I liked about (Norden's) spirit was he didn't want this accident to get the best of him. He didn't want it to be like, 'So I'm going to have to design my house now where it's not what I normally would've had.'"

But the project was worth their time and effort.

"I can say without any reservations whatsoever that was the best present they've ever opened," Seymour said. "Their gratitude was evident," and viewers will be able to see Norden and Webb's joy when their renovated home is revealed to them on the show.

"I would definitely say there's a box of tissues needed," Seymour said of the emotional episode.
And it wasn't only the newly engaged couple who were delighted by the outcome of the project. 
"I got more joy and more contentment and sense of self out of doing this than cashing a large check at the bank," Seymour added. "At the end of the day, there is nothing better."
This special episode of "Flipping Boston" airs at noon, April 26 on A&E.