"When people walk in, the thing I'm waiting to hear is, 'Oh, wow,'" Ronnie Nassar told TODAY Home of the fully furnished house he put up for sale in Detroit, Michigan. "It's just three little letters, but if I can get that, I've done my job."
And can we just say: W-O-W! Nassar's home, known as "Lion Gate Estate," is definitely unlike any other we've ever seen.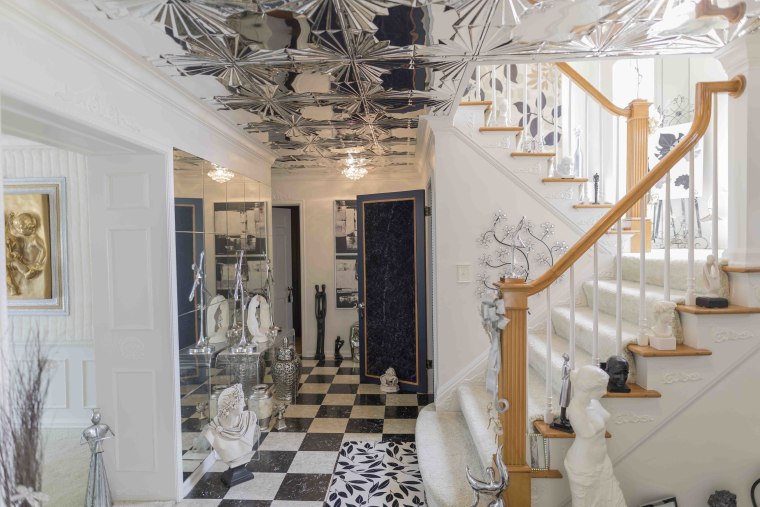 Nassar's family has owned the house since the 1950s. "We had gone to look at the house across the street. They wouldn't let children come in, so I was outside and this one was under construction," said Nassar, 68. "Boy, I thought it was a pretty house. So I pointed it out to my dad, and he wrote a letter to see if the owner was interested in selling."
As it turned out, the owner was looking to sell — and when Nassar's family looked into the history of the property, they found that the plot of land shared a birthday with Nassar. The house was meant to be!
"I've lived other places, but this has always been home," he said.
Nassar moved back in after his father passed away in 2008. "The real estate market had gone sour, and the house sat here empty," Nassar explained. "I thought, let's bring the house back to life. I'm here, I'm going to have fun with this."
Nassar, an artist and industrial designer, set out to create something that was both extraordinary to look at and intensely personal. "A lot of it is just my taste," he said of the unique decor that has caught the eye of many on social media. "I love art deco, cabaret influences, movie star posters and movie memorabilia ... I'm a car person, so I love having my collections on display. I like color. I like diversity."
"I find it an entertaining place to live," Nassar continued. "You know, you walk by something and after a while, you don't pay attention. This house, you pay attention! Every inch has something to look at. It's a museum, really."
The private backyard, complete with a pool, cabana and outdoor shower, is a favorite feature of Nassar's — especially in the summer. "My friend said, 'You've created your own private oasis,' and I agree," Nassar said. "That's what everybody's home should be, when you think about it. This is where we experience our lives."
So why on earth would Nassar leave? After recently being diagnosed with early-onset Alzheimer's, he hopes to see his "private oasis" through to new owners who will love it as he has.
"It's been such a happy house — always filled with good times." said Nassar. "I would hope that others would find the happiness and joy I've found through the years with my family."
"(My home) inspires my day. It's been the nicest place to wake up to," he added. "To allow others to enjoy that ... what a nice way to live life."