It's summertime, which means it's the perfect opportunity to try out new workouts – ones that are interesting enough to hold your fitness attention, yet not so zany that you recoil back onto your treadmill routine. Below are five new-ish trends worthy of a sneaker (or boat shoe) lace up: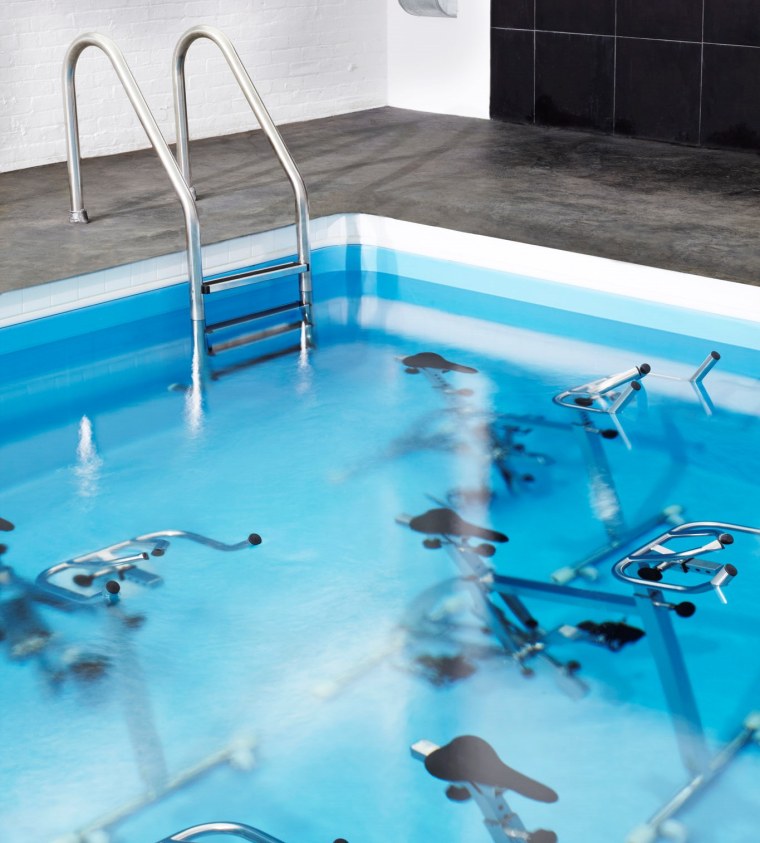 Dive in
Cycling and relaxing in a pool might sound like the polar opposites, but a new impact-free class manages to blend the two into a harmonious, refreshing workout. Making a major splash in Europe (and supposedly, in Beyonce's baby-weight loss routine), aqua cycling submerges stationary bikes in a pool, with attendees – strapped in jelly water shoes – pedaling in the water as resistance. But it's not just cycling – you simultaneously work on ab, core and arm exercises, even sometimes going so far as securing your feet up by the handlebars and leaning backwards behind your bike.
It's unlike nothing you've tried, and that's a good thing. The water adds a cooling, soothing element to help keep your heart rate down and you likely won't even notice how hard you've been working till you leave the pool. (New York, aquastudiony.com)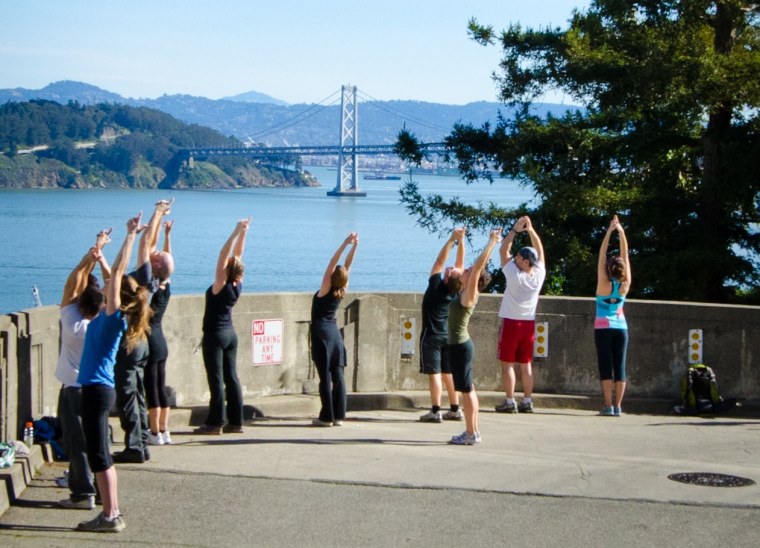 Take a hike
There's a zillion different types of yoga these days (see: with a stand up paddle board, for the face, in the air), but one of the latest variations takes best advantage of summer sightseeing. Yoga hiking invites devotees to explore cities and parks at a brisk pace, while striking a pose every so often.
Hiking Yoga founder Eric Kipp, previously a tour guide in Hawaii and Alaska, wanted to expand the practice out of the studio and into people's lives. "It combines two of my greatest passions," Kipp told TODAY.com of yoga hiking, held in San Francisco, New York, Austin and several other cities. "Most cardio is by nature repetitive and usually one dimensional. Yoga unlocks and frees the body to balance, feel more open, and enhance performance of cardio." The interval training – roughly 2/3 hiking and 1/3 yoga, with the yoga split into stations every quarter of the hike – is meant to seamlessly blend the two together, all while enjoying a great view. (Nationwide, hikingyoga.com)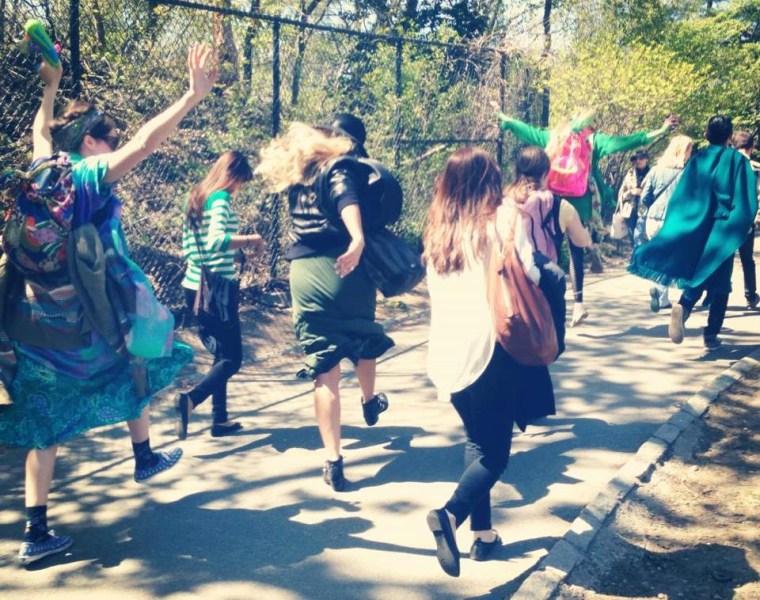 Skip to it
By now you've surely witnessed the magic that is Prancersise, and understand the beauty of skipping awkwardly in public. One fitness club takes it to the next level by actually braving the trend … in public. Billed as a "fearless workout to paint the streets of NYC with positivity," members use skipping as a half hour cardio workout. They travel in packs (like a happy kid gang) and frolick within the city while a speaker blasts hot indie favorites. Nervous? That's exactly why you should try it, says founder Michelle Joni Lapidos. "It's the best reason to come – it's why many people do come," Lapidos told TODAY.com. "Once you start skipping with the group, you will shed a layer of self-consciousness."
Lapidos says members feel bolder and more confident after joining in the club, having conquered the cynical streets of Manhattan. "You will feel powerful, liberated, and you will wink at yourself in the mirror thinking, 'What shall I take on next?'" (New York City, MichelleJonisSkippingClub)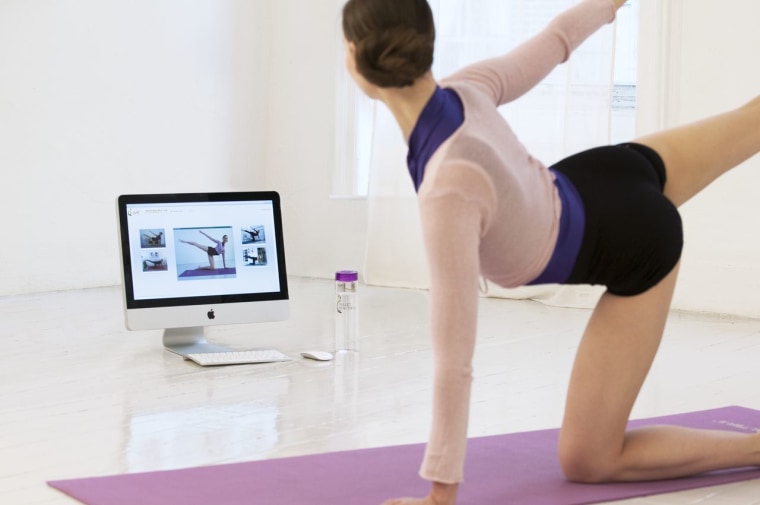 Make a pointe
You saw how hard Natalie Portman worked in "Black Swan" – and now that elegantly grueling routine has been adjusted into a workout, from the Oscar winner's personal trainer, no less. Ballerina Mary Helen Bowers, founder and star of "Ballet Beautiful", created a power fitness regimen that will kick your tush into plié gear with ballet-inspired crunches, arm pulses ("swan arms"), and inner thigh and leg lifts meant to lengthen, tone and improve posture. After many of her clients – including Victoria's Secret Angels – needed their routines while traveling, Bowers launched live streaming classes and personalized online workouts that make fitting in exercise a barre breeze. Get tu-tu it. (Classes available online, balletbeautiful.com)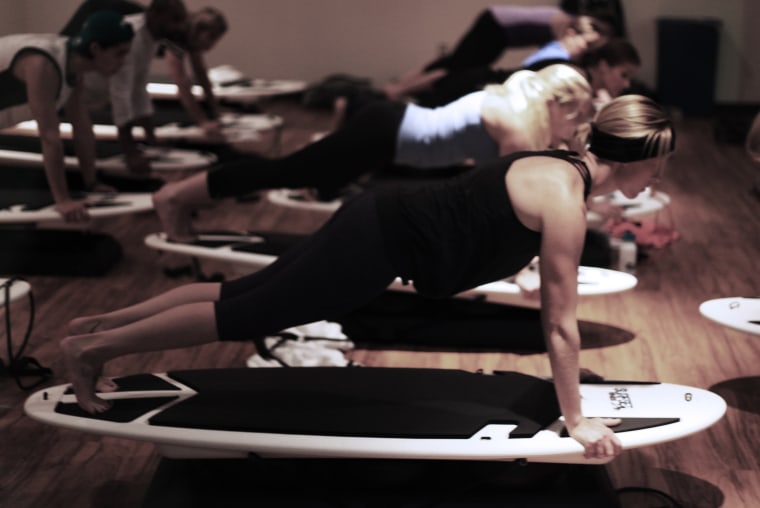 Surf's up
Who has the time to monitor waves, slather on sunscreen and drag a board to the beach? (That would be a workout in it of itself). Get the benefits of surfing without the sandy hassle with SurfSET classes, which rely on a stationary board to mimick paddling, popping up and balancing on the water. In this high-paced 45 minute class, you'll work on your core, legs and lower back to attain that strong, lean muscular body surfers are envied for. (Nationwide, surfsetfitness.com)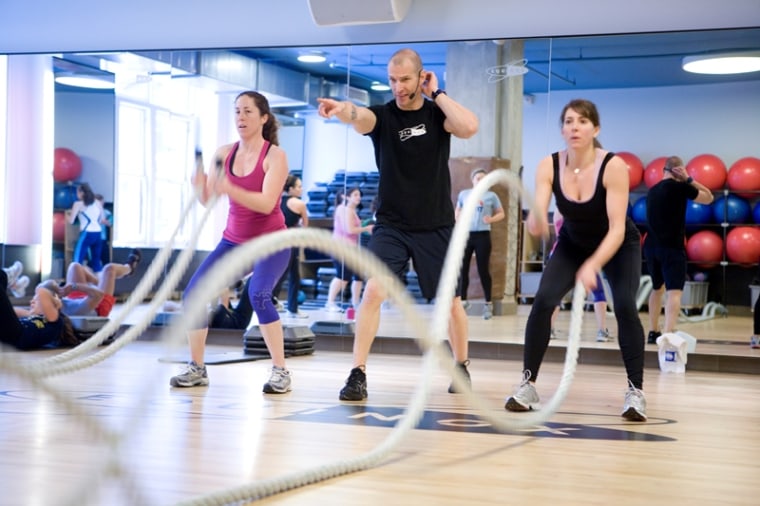 Getting roped in
Get some non-stop action with Equinox's fun Whipped! Class, which revolves around several different boot camp-esque stations, featuring medicine balls, weights, and the kicker – kettlebells anchored to thick, long ropes. The goal? Squat and latch unto the ropes, then swing up and down in a wave-like motion – which looks easier than it actually is. (They ain't light.)
"The great thing about Whipped! is that the focus is on making it high intensity but not high impact," Rachel Buschert, a fitness instructor at Equinox, told TODAY.com. "Your legs are active via squatting, the upper body must whip the rope, your core must stabilize your trunk, and because of the weight of rope and speed you move it at, it is also very cardiovascular." You can, quite literally, get whipped into shape. (Nationwide, equinox.com)