Over the Fourth of July holiday, Ashley Summers, 35, her two children and husband went boating on a nearby lake. For three days, they enjoyed long days on the water. On the fourth day, Summers felt incredibly thirsty and drank four bottles of water in about 20 minutes. Suddenly, her head started spinning.
"Her husband Cody told me that on the drive home she had her head in her hands when she leaned over into her lap because she felt dizzy," Devon Miller, 51, Summers' brother from Des Moines, Iowa, tells TODAY.com. "She was walking across the garage into the house, and she passed out and never really woke up."
Just days later, Summers died of water intoxication her family says.
"I had no idea," Miller says. "I didn't know that if you drank too much water in a short amount of time that it could actually kill you."
A few days on the water leads to dehydration 
Summers loved being near the water and took advantage of the lakes close to where she and her husband lived in Monticello, Indiana. For the long holiday weekend, they spent several days boating on the lake.
"They were out on the boat Saturday, Sunday, Monday and then Tuesday," Miller says.
While they were busy and "having a good time," Summers didn't drink enough water. On Tuesday, she woke up with a headache and vowed to drink water throughout the day. She also ate some sandwiches and snacks. Later that afternoon, she texted her parents and said, "The sun is really getting to me today and the heat because I'm starting to feel lightheaded, and I still have this headache," Miller says his parents recalled to him. He adds that their parents encouraged her to go home. Still feeling incredibly thirsty, Summers drank bottle after bottle of water. Miller learned what happened to his sister from texts and phone calls from his brother-in-law, his siblings and his parents.
"She drank four bottles of water in that 20-minute time period until they got back to shore," Miller says his brother-in-law told him. "She commented that her toes were feeling a little tingly and numb." On the drive home, Summers felt dizzy and eventually passed out at home. Her husband began performing CPR — he felt unsure if she were breathing — and her 8-year-old daughter called 911. An ambulance rushed her to the local emergency room where a CT scan revealed her brain was swollen. At about 9:30 p.m., Miller received a call from his sister, Holly.
"Holly was like, 'Ashley is in the hospital. She's got brain swelling and they don't know what caused it. They're not sure what they can do to stop it and it's not looking good,'" Miller recalls.
Her doctors believed that drinking too much water in a short period time caused her brain cells to swell. Miller kept hoping doctors could treat it and the family would eventually be joking about Summers overdoing it with water.
"At this point, I'm thinking she's going to be fine," he says. "(I thought) by the weekend she'll be back home and we'll be poking her in the ribs, saying 'You gave us quite a scare there.'"
Doctors transferred her to another hospital with a neurosurgeon on staff and they ran more tests and brain scans on her.
"Every time they did a brain scan it would come back with just nothing there," Miller says. "No activity. No response. No nothing."
At one point, doctors tried taking her off life support to see if she'd wake up but she never did. On July 6, doctors declared Summers dead. Summers was an organ donor, and the hospital organized a donor walk where loved ones said a final goodbye before doctors removed her organs. At least 50 people attended.
"The one small silver lining was with the organ donation is they were able to harvest her heart, her lungs, her kidneys, her liver and some of her long bone tissue," Miller says. "So, five people are getting a second lease on life because of her." 
What is water intoxication?
Most people don't think of drinking water as dangerous — and for the most part, it's not. But drinking too much water can become problematic when people guzzle huge quantities too quickly.  
"Water toxicity is when somebody drinks too much water over too short of a period of time to the point where they disrupt this salt/water balance with have throughout our bodies," Dr. Blake Froberg, a toxicologist at IU Health in Indiana, who wasn't involved in treating Summers, tells TODAY.com. "The worst effects being when that salt/water balance is disrupted in the cells in the brain. It can cause swelling in those cells, which then leads to swelling of the whole brain."
That increased pressure in the brain can cause people to act differently, like they were intoxicated in some cases, have seizures and can be fatal "in the worst-case scenario." While this sounds scary, death from water toxicity is "rare," Froberg says.
Symptoms can include:
Feeling unwell
Nausea
Vomiting
Muscle cramping and aches
More "worrisome" signs include:
Severe headache
Changes in mental state
Seizure
"It's a little bit challenging because the symptoms can be a little bit nondescript," Froberg says.
There's no set amount of water people should drink in a day. It varies by a person's size, gender and activity levels. Typically, men need about four liters of fluid every 24 hours and women need about 3 liters of fluid. Foods, such as fruit and vegetables, have water in them so people also consume water by eating, too.
"People probably get into a lot more trouble if they are drinking their daily amount in an hour," Froberg says.
It also becomes a problem when people become dehydrated and try to overcompensate by drinking extra water quickly. If it's hot or people notice they're dehydrated they can avoid water intoxication by enjoying a sports drink —which has electrolytes in it to keep the electrolytes in body in balance — or by eating and drinking at the same time. The sodium in the food can also help.
"Drinking some water is totally fine. Again, this is a rare condition," Froberg says. "If you feel like you're having to drink multiple bottles of water or you feel like having to drink very quickly to keep up with your hydration that's when you want to think about, 'OK, am I also getting some salt, some potassium as well?'"
Making sure to drink water regularly throughout the day can also help people avoid water intoxication. If people suspect that they or a loved one is experiencing water intoxication they should go to the emergency room where IV fluids can be used to restore the proper electrolyte and water balance in the body. Froberg says people can also call the national poison hotline, 1-800-222-1222 to ask the experts questions.
A legacy of generosity
Summers always loved children and centered her career around them. She owned her own daycare before closing it down and working at another one prior to her death. She was also a mom to two daughters, who are 8 and 3 and coached their softball team, a sport she loved. Miller was gratified to meet all the families with fond memories of Summers.
"They just had the kindest things to say, the most wonderful stories," he says. "It was very heartwarming to know that Ashley had a been a good influence to so many people."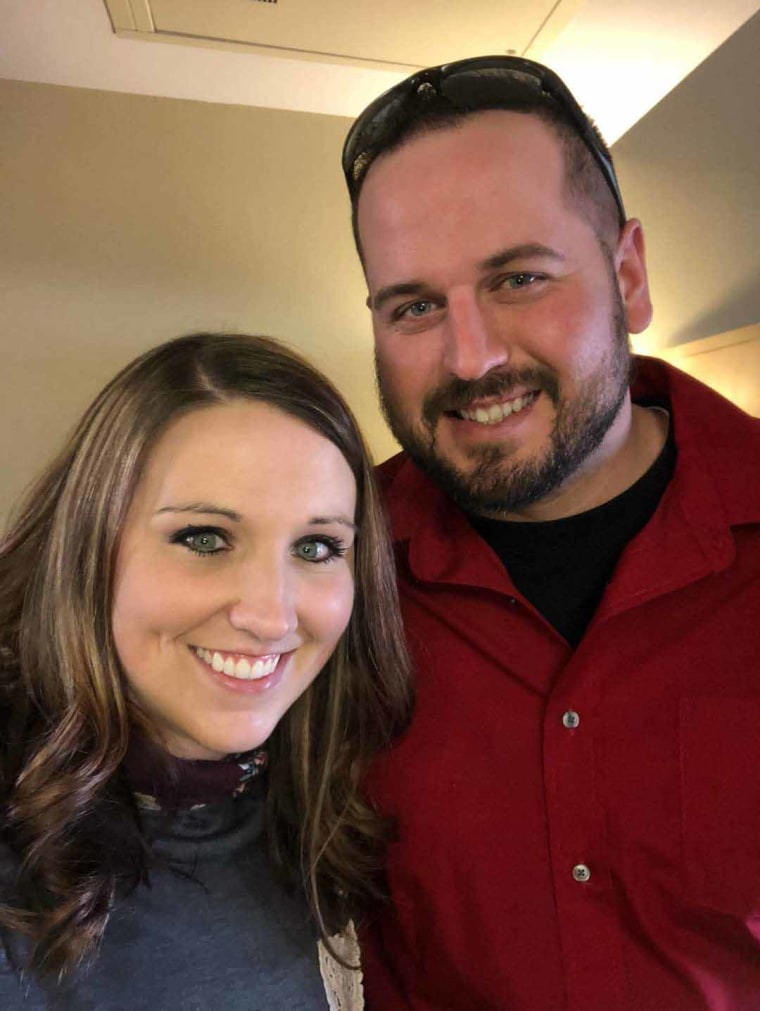 Helping others through organ donation was also consistent with who Summers was, her brother says. Now, her husband and daughters are struggling with sadness and the reality of life with only one income and a pile of medical bills.
"They're going through the grief right now, just feeling the loss and the pain," Miller says. "The family's big and we're very, very close … there's definitely going to be a hole in the family."
Miller wants to share her story to raise awareness of water intoxication.
"Something that the neurosurgeon said was, 'If she would have drank a (sports drink) or some other drink that's high in electrolytes, she would probably be alive today,'" he says. "That's the takeaway that I want a lot of other people to have as well — if you're feeling thirsty or dehydrated and you drink a glass of water … and it doesn't quench your thirst, maybe that would be the lightbulb to say, 'Hey maybe I need to go find a (sports drink).'"