A billboard advertising a plastic surgeon's services got its own facelift after it was vandalized by someone hitting back at its message.
The sign, put up by Ann Arbor Plastic Surgery in Jackson, Michigan, originally proclaimed "Friends don't let friends muffin top" — a phrase to describe excess flesh spilling over a person's waistband — and featured a photo of two muffins wearing jeans.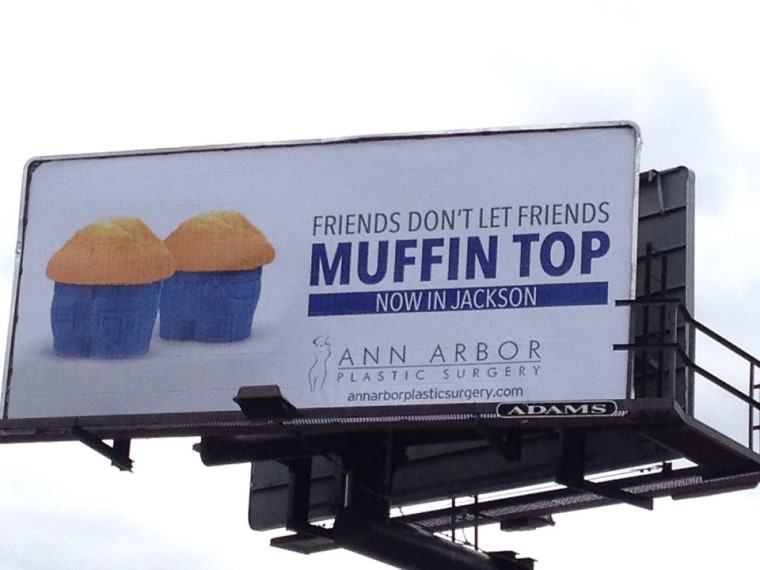 But over the weekend, someone spray painted the phrase "You're beautiful!" on top of the billboard and embellished the muffins with smiley faces, while also adding a giant "X" over the slogan, as MLive first reported.
Dr. Pramit Malhotra, director of Ann Arbor Plastic Surgery, said his office was surprised that the community took issue with the sign.

"Some people felt that it was an attack on people who are overweight, and that certainly wasn't the intention," Malhotra told TODAY.com. "It was meant to be light-hearted and (directed at) people who are looking to make positive self-image changes."
The company does not plan to replace the sign, Malhotra said. It's also rethinking its advertising strategy in the area to better suit the tastes of the community, he added.

This is the second time Ann Arbor Plastic Surgery has gotten criticism for one of its billboards in Jackson. Earlier this year, the company apologized for an ad that featured two coffee cups — a small one with the letter "B" on it and a much larger cup with the letter "D" — with the slogan, "Size matters."
That billboard was removed in April and replaced with the "muffin top" ad a few weeks later.
When the company asked Facebook readers what they thought about the new billboard, the comments ranged from "Love it!" to "Tasteless and rude!"
"Gross fat-shaming is unoriginal and hurtful. Why don't you advertise what you can actually do instead of trying to shame people into using your services?" one commenter wrote.

But others defended the billboard.

"I'm not insulted — it's all in good humor. It's nice to have plastic surgery as an option," a woman wrote.
The company responded with a comment of its own, urging critics to see the lighter side of the ad: "Plastic surgery is not for everyone. This ad is not to offend anyone. It's simply to get people to chuckle."

Ads picturing a flabby midsection may be particularly sensitive for people concerned about their appearance. The stomach is the body part men and women worry about most, according to the TODAY/AOL Ideal to Real Body Image Survey.
Still, some are embracing their not-so-tight abs with humor and love. A Toronto woman recently went viral with a music video dedicated to her "Muffin Top."