Less than a week after Matthew Perry's death, a new endeavor has been created in his honor.
On Nov. 3, the Matthew Perry Foundation was announced to help people struggling with addiction.
"The Matthew Perry Foundation is the realization of Matthew's enduring commitment to helping others struggling with the disease of addiction," reads a statement on the website. "It will honor his legacy and be guided by his own words and experiences and driven by his passion for making a difference in as many lives as possible."
The website also features a quote Perry made in 2022 on the "Q With Tom Power" podcast while promoting his memoir, "Friends, Lovers, and the Big Terrible Thing," that has been making the rounds since his death at the age of 54 on Oct. 28.
"When I die, I don't want 'Friends' to be the first thing that's mentioned — I want helping others to be the first thing that's mentioned," the quote reads. "And I'm going to live the rest of my life proving that."
The Matthew Perry Foundation is a donor-advised fund sponsored and maintained by National Philanthropic Trust.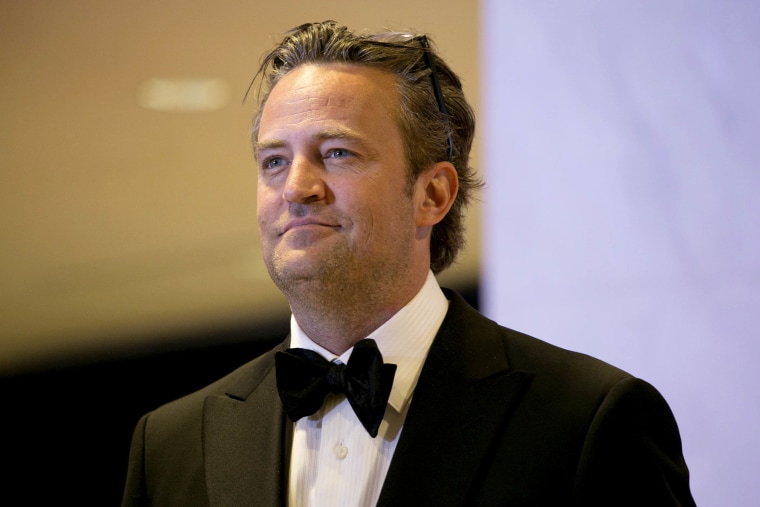 Perry had been very candid about how he grappled with addiction during his life.
In his memoir, the actor pulled no punches when explaining how much time he had spent in rehab, even noting he was living in a facility while shooting the famed episode where Chandler and Monica get married.
"I have lived half my life in one form or another of treatment center or sober living house. Which is fine when you are twenty-four years old, less fine when you are forty-two years old. Now I was forty-nine, still struggling to get this monkey off my back," he wrote in his book.
His "Friends" family has also spoken out since his death about his sobriety.
"We were so proud of him these last couple of years that he was making a remarkable recovery," Jim Burrows, who directed several "Friends" episodes, told TODAY in an interview that aired Nov. 2.
"Friends" co-creator Marta Kauffman also said Perry had grown from dealing with his addiction and wanted to use his experience to do good.
"He learned things throughout this, and what he learned more than anything is that he wants to help other addicts. And it gave him purpose," she told TODAY in an interview that aired Nov. 1.