A wheeled walker for "old people" helped provide a lighthearted moment for country singer Joey Feek just days after entering hospice care.
Rory, her husband and Joey + Rory bandmate, wrote that she's literally pushing to make every moment count during her remaining days with stage IV cervical cancer.
RELATED: Terminally ill man has wish granted, sees new 'Star Wars' film in advance
"A walker with wheels and a seat was delivered here yesterday and when we pulled it out for her this morning, Joey just laughed and said "I can't use that…it's for old people,'" Rory wrote Thursday on his "This Life I Live" blog. "Then she grabbed the handles and pushed herself out of the room."
RELATED: Hope to It: Giving wigs - and confidence - to cancer patients
Joey then headed over to the couple's 1-year-old daughter, Indiana.
"When she reached little Indiana playing with toys on the living room rug, she said, 'Come on, Indy. Mama will take you for a ride,'" Rory wrote. "So I helped Indy onto the seat, and Joey pushed her across the living room, through the kitchen, around the island and table, and back to her toys. Indy grinned ear-to-ear and so did we."
Rory has been updating loved ones and fans about his family's journey through his blog.
RELATED: How a football community helped a mom face breast cancer
"I want my wife to be remembered," he wrote Thursday. "By me. By others who love her even though they've never met her. I guess that's why I write this blog."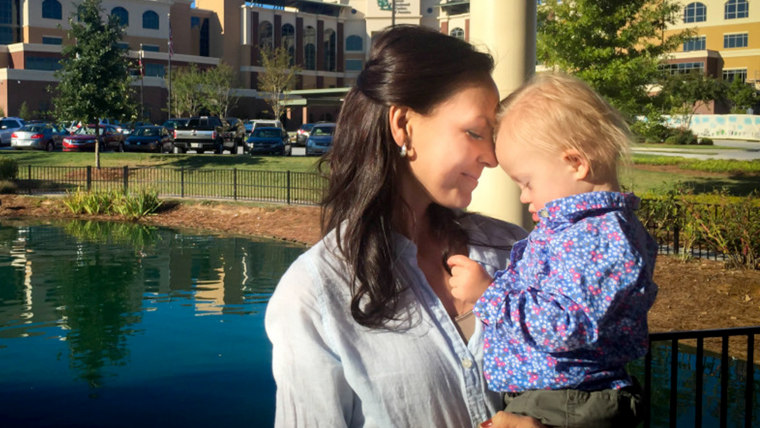 Earlier this week, he said that hospice had been arranged for Joey, 40, who had come to peace with her cancer battle.
"We need to concentrate now on helping her be comfortable," he said in the post, noting that a hospital bed had been ordered. "Not the answer we hoped for... but the answer he has given us."
In addition to Indiana, the couple have two other children, Heidi and Hopie. Joey has already said her goodbyes to the girls, Rory said.