Monkeypox pictures aren't for the faint of heart, but they can help identify monkeypox symptoms amid the outbreak of the virus, which the Biden administration declared a public health emergency on Thursday.
"We're prepared to take our response to the next level in addressing this virus and we urge every American to take monkeypox seriously and to take responsibility to help us tackle this virus," Department of Health and Human Services Secretary Xavier Becerra said in a Thursday press briefing.
Last month, the World Health Organization declared monkeypox a public health emergency of international concern, its highest alert. Since 2007, only six other outbreaks have received that title: COVID-19, Zika, H1N1 flu, polio and Ebola twice, NBC News reported.
Cases in the U.S. and around the world are rising rapidly. U.S. cases of monkeypox or orthopoxvirus (monkeypox's family of viruses) have reached over 8,900, according to the Centers for Disease Control and Prevention. The states with the highest case rates are currently: New York with 1,960 cases; California with 1,310 and Florida with 936.
Overall, monkeypox has been confirmed in 49 states, Puerto Rico and the District of Columbia, per the CDC. The only state that does not have confirmed monkeypox cases is Wyoming. At least five monkeypox cases have been diagnosed in the U.S. in children: two in California, one in Washington, D.C., and two in Indiana.
RELATED: How at risk are kids in the monkeypox outbreak?
Around the world, over 29,800 cases have been reported in 81 countries where the virus, endemic to Central and West Africa, isn't normally found.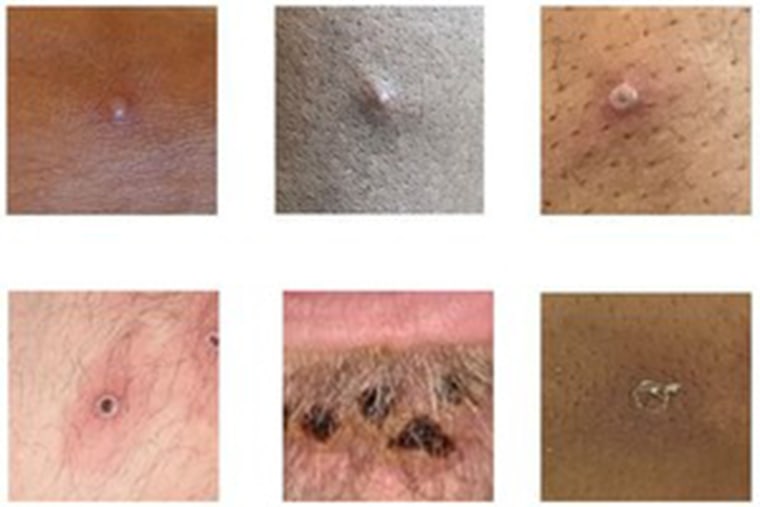 U.S. officials declaring the outbreak a public health emergency will ideally lead to more emergency funds, health agencies collecting more data and easier access to vaccines and treatments. Meanwhile, WHO's declaration means the United Nations agency recommends a coordinated international response to prevent the outbreak from escalating into a pandemic.
So far in the outbreak, at least 10 people have died, according to the Center for Infectious Disease Research and Policy. Four of these have been in countries where the virus isn't normally found: Brazil, India and Spain. About 10% of cases have required hospitalization to manage the pain of the lesions caused by the virus, WHO's director-general said at a press briefing last month.
Monkeypox pictures and timeline
Monkeypox is a rare disease that's usually found in Central and West Africa. There are two types of monkeypox virus, according to the CDC: West African and Congo Basin. The current outbreak is the West African type, which has a survival rate of 99% and is much less lethal than the Congo Basin type, with its 10% fatality rate.
Monkeypox symptoms usually start to appear one to two weeks after exposure, but the incubation period can be as short as five days or as long as 21 days, according to the CDC.
In this outbreak, symptoms have sometimes looked different from "the classical clinical picture for monkeypox," WHO has said. Historically, monkeypox has started with flu-like symptoms, such as fever, before a rash appears, which usually has started on the face before spreading to the hands and rest of the body.

However, the most common symptoms in this monkeypox outbreak have included: lesions around the genital and anus, fever, swollen lymph nodes, oral sores and pain when swallowing, according to WHO. In this outbreak, rashes around the anus and genitals have not always spread to other parts of the body, and rashes have often appeared before other symptoms like fever.
A recent study in the journal BMJ found that almost half of the 197 participants, all of whom had tested positive for monkeypox, had lesions on the skin or mucus membranes as their only symptom, or their systemic symptoms, like fever, appeared after the lesions. The study authors also noted the "predilection" of the lesions to the genital and anal areas, as well as in and around the mouth and throat. Also, some patients had solitary lesions that did not spread.
The study authors theorized that these differences may be due to the virus spreading from sex and the rash popping up where the virus entered the body as the first symptom. Most cases in the outbreak have been tied to sex between men, another study found.
The first U.S. monkeypox case was in May in a Massachusetts man who'd traveled to Canada, and his rash first appeared around his anus and genitals, according to a June CDC report. Also this past May, a New York City resident was treated for an oral lesion and rash around the anus initially presumed to be a common sexually transmitted infection. Another monkeypox patient in New York City told TODAY that their symptoms started out like the flu before sores appeared on the face and anus.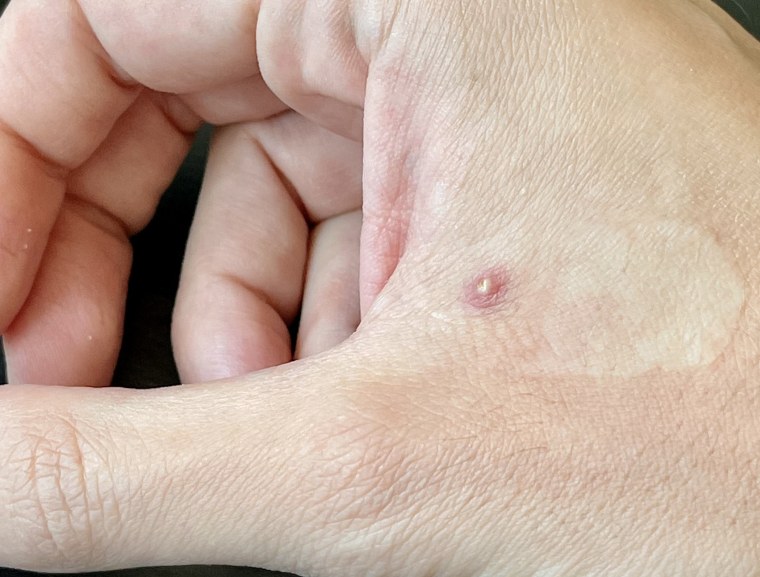 Prior to this pandemic, monkeypox symptoms usually began with fever, headache, back aches and lethargy lasting one to two days, explained Rosamund Lewis, WHO's head smallpox secretariat. Traditionally, next a rash will appear, which starts as red discoloration in the skin. It usually starts on the face and then progresses to the arms and legs, then hands and feet, and then the rest of the body. This phase also lasts one to two days. Next comes what are referred to as papules, when the rash becomes raised on the skin, instead of flat. This also lasts one to two days.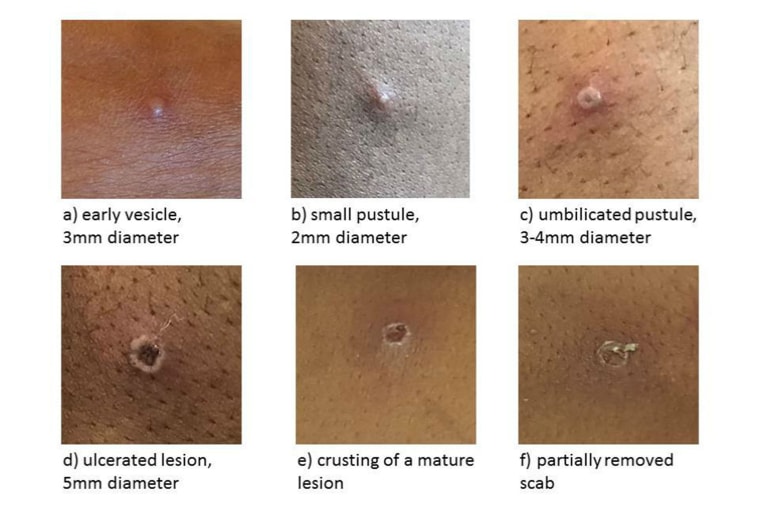 Next is the vesicle phase, or as Lewis called them, "blisters," when lesions are raised and filled with clear fluid, usually starting on the fourth or fifth day of symptoms and lasting another one to two days.
Vesicles are followed by pustules, when the blisters "fill with a whitish fluid that looks like pus," Lewis said, usually around the sixth or seventh day of symptoms. According to the CDC, they're usually "firm to the touch," develop a dent in the center (called an umbilication) and last an additional five to seven days. (The BMJ study on symptoms in the current monkeypox outbreak noted that some participants' lesions did not become pustular or ulcerated.)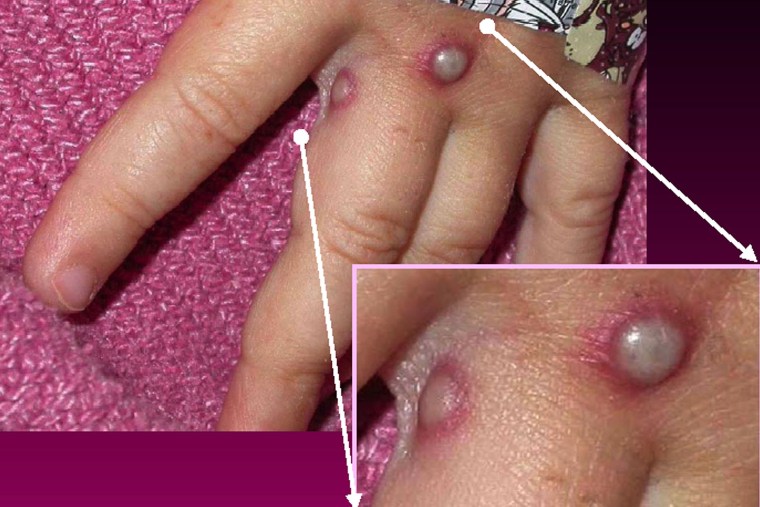 After about two weeks of symptoms, the lesions then start to crust and scab over, and the scabs last for another week before falling off. Scars and skin discoloration may persist after the scabs are gone, but you're no longer contagious after the scabs have all fallen off.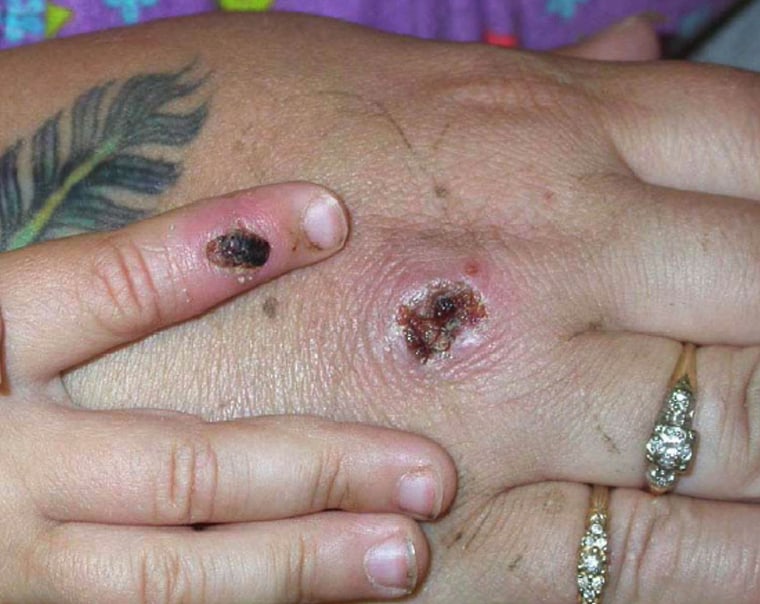 The CDC is in encouraging anyone who develops a new, unexplained rash on any part of the body, regardless of the presence of fever or chills, to seek medical attention immediately and avoid contact with others.
Monkeypox symptoms and transmission
Monkeypox symptoms are similar to those of smallpox, including fever, headaches, muscle aches, chills exhaustion and a rash similar to pimples or blisters, which can pop up on the face, in the mouth, on the hands, feet, chest, genitals or anus. But monkeypox is much less contagious than smallpox. There is no specific treatment for monkeypox, but the smallpox vaccine, antivirals and other treatments can be used to control an outbreak.
The CDC released a statement clarifying how the monkeypox virus spreads. "The virus is not known to linger in the air and is not transmitted during short periods of shared airspace," unlike COVID and measles, the statement explained.
It added that the virus spreads through direct contact with the sores or bodily fluids of someone infected with monkeypox or materials that have come in contact with bodily fluids or sores of an infected person. It may also spread through prolonged, close face-to-face contact through large respiratory droplets, which fall quickly to the ground. Airborne transmission of monkeypox, meaning through aerosols that linger in the air, has not been reported, but droplet transmission has been.
In cases of monkeypox from close contact between two people, it's difficult to know exactly how the virus spreads because it can be either due to skin-to-skin contact in a sexual situation or face-to-face contact and droplets. Monkeypox can spread during sex, kissing, cuddling, or touching parts of the body with sores. The virus can also spread from animals to humans through a bite or scratch, by handling wild game or using products made from infected animals.
To prevent the spread of monkeypox, the CDC recommends:
Avoiding skin-to-skin contact with people who have a rash that looks like monkeypox
Not touching the rash or scabs of person with monkeypox
Not kissing, hugging, cuddling or having sex with someone with monkeypox
Not sharing eating utensils or cups with a person with monkeypox
Not touching bedding, towels or clothing of a person with monkeypox
Monkeypox virus outbreak 2022
The multi-country outbreak, which the World Health Organization has been tracking since May, has not yet been linked to any areas where the virus is usually found.
"This is the first time we're seeing cases across many countries at the same time in people who have not traveled to the to the endemic regions in Africa," Lewis said in May when asked why there's so much concern now even though the disease has been around for at least 40 years.
The current outbreak is being primarily driven by sex between men, according to one of the first peer-reviewed papers analyzing recent cases. In New York City, the epicenter for the virus in the U.S., nine woman have been reported to have the virus, compared to 1,522 in men, according to NYC Health. In the BMJ study, all 197 participants identified as men, and 196 identified as gay; 96% reported recent sexual contact.
"The clinical presentation of these infections suggest that sexual transmission, not just close physical contact, may be helping spread the virus among this population," Jennifer Nuzzo, an epidemiologist at Brown University, told NBC News.
But it's important to note that anyone can get monkeypox through close contact and that it's "not a gay disease," Andy Seale, adviser to WHO's HIV, hepatitis and sexually transmitted infection programs, said early on in the outbreak. More recently, the WHO stressed that there's no evidence to suggest the outbreak will stay within the community of men who have sex within men, CNBC reported.
"This really might be the canary in the mine that's alerting to us a new disease threat that could spread to other groups," Dr. Catherine Smallwood, senior emergency officer at WHO, told CNBC.
The U.S. government has been criticized for its response to the monkeypox outbreak, it has recently been increasing its efforts to address it. There's currently a limited supply of vaccines that protect against monkeypox, but more will be available in the coming weeks and months, according to the CDC. The U.S. has also ramped up its monkeypox testing capacity, thanks to collaborations with some of the biggest commercial labs, like Labcorp.
The CDC recommends anyone exposed to monkeypox or with an increased risk of exposure, like people who work with monkeypox lab samples, be vaccinated against the disease. However, eligibility for the monkeypox vaccine depends on where you live; in New York City, for example, any nonbinary or transgender gender person, or man who has sex with men, who's had multiple or anonymous sex partners within the past 14 days qualifies. Contact your local health department to find out if you qualify for a vaccine.
If you're concerned that you've been exposed to monkeypox or have monkeypox symptoms, visit a heath care provider, per the CDC. If you believe you have monkeypox symptoms, you should also avoid contact with other people and animals until you test negative.