Dole has issued a recall for its Sesame Asian Chopped Salad Kit distributed in nine states due to possible undeclared allergens.
The dressing and topping kit designed for a different Dole product has egg in it and was "unintentionally used during a portion of the production of the salad," according to a release by the Food and Drug Administration.
Watch TODAY All Day! Get the best news, information and inspiration from TODAY, all day long.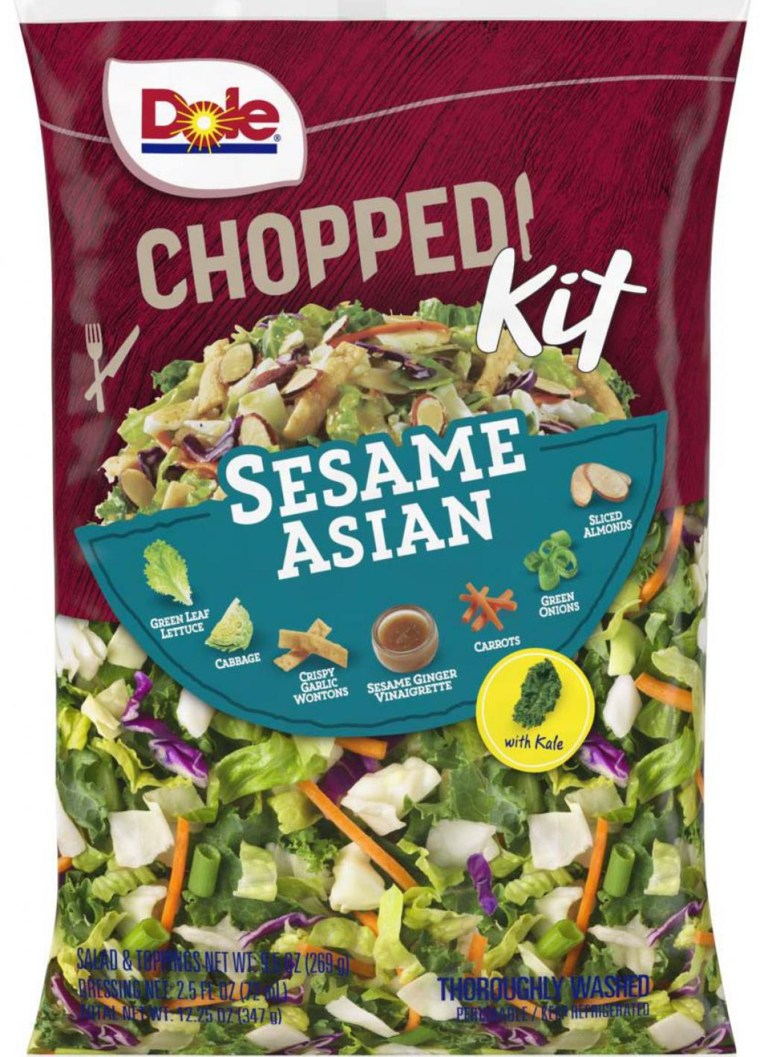 The recall affects 7,200 bags of the salad across the entire distribution, a Dole spokesman told TODAY.
No illnesses or allergic reactions have been reported as a result of the salad, according to the FDA. People with an egg allergy could have a serious or life-threatening reaction if they consume the product.
The recalled salad bags were distributed in Arkansas, California, Idaho, Kansas, Oklahoma, Missouri, Oregon, Texas and Utah.
The recalled lot code numbers are B364016 and B364017, the expiration date is 1/15/2021 and the UPC code is 0-71430-00035-9. The product lot code and expiration date can be found on the upper right corner of each bag and the UPC code is in the bottom right corner.
No other Dole products are part of the recall. Consumers are advised to discard any of the product subject to the recall and can call the Dole Consumer Center at 1-800-356-3111 with any questions.
The recall comes after Dole issued a voluntary recall for Dole Organic Romaine Hearts three-packs with harvested-on dates of Oct. 23 and Oct. 26 and 12-ounce bags of Wild Harvest Organic Romaine Hearts with the same harvested-on dates in November after a routine test of one package of the romaine hearts yielded a positive result for E. coli.