During a power outage in Detroit last week, Kristi Marie Earley got just the lift she needed when a friendly police officer stepped in to help her navigate a flight of stairs.
Earley, who has multiple sclerosis, was contemplating how to get down the front staircase at the Frank Murphy Hall of Justice on Dec. 2 when Deputy Sheriff Mark Bennetts of the Wayne County Sheriff's Department offered his help, which she accepted. He scooped her up and carried her down to the car that was waiting for her, in a sweet moment that was captured on video and shared widely online.
Earley, 39, a mother of two from Brownstown Township, Mich., had initially tried to make it on her own but was glad for the help once she realized it might be a little much. 

"I was very appreciative," Earley told TODAY.com. "They were actually upset with me because I walked down 11 flights of stairs to get to the main floor before the officer carried me out. What I hope comes out of this is that more people are aware of MS and that they quit knocking all these cops, who do great work." 

"Generally speaking, I try to do anything I can for anyone who needs the help,'' Bennetts told TODAY.com. "My partner was sitting with her in the building, we saw the car pull up, and she had noticeable trouble standing up. I stabilized her to get her out the door, but when we got to the steps, she chuckled and said, 'I don't know if I can make it down the steps,' so once I had her permission I picked her up and helped her down." 
Earley said multiple officers sat with her as her cousin, Tracey Barr, pulled the car around in front of the building to pick her up before Bennetts gave her a lift down the stairs. Earley was in the building conducting some business when the power outage occurred and had already walked down almost a dozen flights of stairs, pausing to take breaks because of fatigue and pain. Earley was diagnosed with multiple sclerosis, a disease of the central nervous system that can cause fatigue, pain in the torso, and vision problems, in 2000.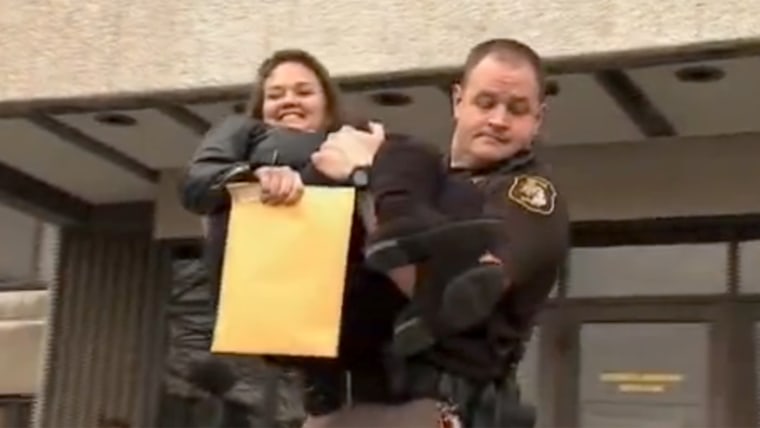 "Every single sheriff who was down there was super nice and super helpful,'' she said. 

"It's humbling,'' Bennetts said of the reaction online, where the story garnered numerous comments when posted by Fox 2 Detroit. "I don't feel deserving of the attention because me doing that pales in comparison to what my partners do every day on the street."
Earley didn't even get Bennetts' name after he helped her, but she was thankful for the lift and gave him a handshake before getting in the car. She was later upset by Facebook comments that claimed the video was orchestrated by the sheriff's department for positive publicity. 
"There were so many negative comments like 'It was only because he was on camera,''' Earley said. "He didn't know he was going to be on camera. None of us did. A lot of other sheriffs were helping other people, and they didn't get on camera."
Earley now hopes to meet with Bennetts and thank him again.