Here is some news that may (or may not) shock you, pun totally intended: Those muddy obstacle course races everyone seems to be doing lately can be dangerous, especially when they involve obstacles charged with 10,000 volts of electricity, emergency physicians say.

Doctors confirmed this in a series of case studies looking at the injuries that happened during a Tough Mudder event in Philadelphia earlier this year. Of the 38 racers treated in the emergency department over that weekend in June, about half suffered electrical injuries.
That's because this particular event features two obstacles that require runners to brave their way through electroshock: There's the Electric Eel, in which participants "slide on stomach through frigid water or along layer of ice while shocks hang overhead," and there's Electroshock Therapy, in which they "run through a field of live wires (up to 10,000 V)."
"The types of injuries were ones that we had never seen before at a social gathering or sports-related event, the electrical injuries in particular," says Dr. Marna Rayl Greenberg, director of emergency medicine research at Lehigh Valley Hospital in Allentown, Pa. "I have been practicing for over 20 years, and I have never seen an event that shocked people. It took me a while to understand what was happening to them."
Endurance obstacle course races — or MOB (mud, obstacles, beer) runs, as they're sometimes called — have exploded in popularity in the last few years. Take the Tough Mudder: Since it started in 2010, the 10- to 12-mile race has expanded from three to 35 locations, and has had 700,000 participants worldwide. But there's also the Warrior Dash and the Diva Dash, and even a 48-hour event called The Death Race (you can find out more about that one at www.youmaydie.com).
The perceived danger, obviously, is part of the appeal: People enter these things to prove to themselves that they can withstand discomfort, and conquer their own fear, for the duration of the race. It's similar to the reasons people enter marathons, or triathlons, or ultramarathons. But the difference, Greenberg says, is that you can train your body to prepare for a race marathon — but there's not exactly a safe way to prepare for being shocked with 10,000 volts.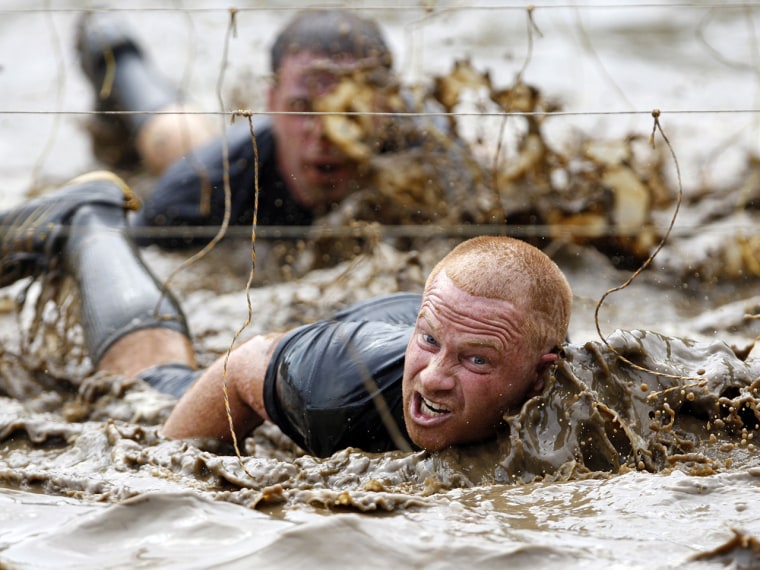 The authors decided to put the series of five case studies together after their weekend in the emergency department, when they saw 38 people injured during the weekend's Tough Mudder in Philadelphia in June. The patients ranged in age from 18- to 46-years-old; 22 were men and 16 were women.

"One of the patients, 18-years-old, experienced 13 shocks — he essentially had a heart attack, inflammation of the heart. It was a warm day, and they'd already been through mud and heat and sweat," Greenberg says.
Tough Mudder declined to comment on this story, although its website says participants are allowed to skip obstacles."Anyone who is at risk of our electric-related obstacles (due to medical concerns) or cannot swim (and would have a difficult time in water) is strongly advised to skip these obstacles, as safety is held at a premium at Tough Mudder."
But electrical injury expert Michael Morse is very curious to know how the 10,000 volts in the race are actually created. "It could be capacitive discharge; it could be static shock," Morse says. "What I can tell you is they're not delivering 10,000 volts through a power line; that would kill people."

Even the static shocks created by rubbing your feet across the carpet carry a few thousand volts, Morse explains, it's just that the shock dissipates very quickly. He thinks the Tough Mudder electroshocks must be created from something similar.
"It's high voltage, but the energy from the shock must dissipate extremely rapidly," says Morse, a professor in the University of San Diego's Shiley-Marcos School of Engineering. "This is the only way I could see them doing this without causing injury, or without causing a lot of injury.
"The problem is that humans are highly variable," Morse says.
Adding water and mud to the equation also increases the risk of electrical injury. Skin resistance, our natural protection to electricity, is highest when our skin is dry. "When you make skin wet, resistance plummets, which increases the risk of electrical injury dramatically," Morse says.
One of the case studies was of a 31-year-old man, who had "possible seizure activity" at the event. And a 41-year-old man was admitted to the emergency department after fainting at the race; he'd suffered a head injury and had electrical burns on his face.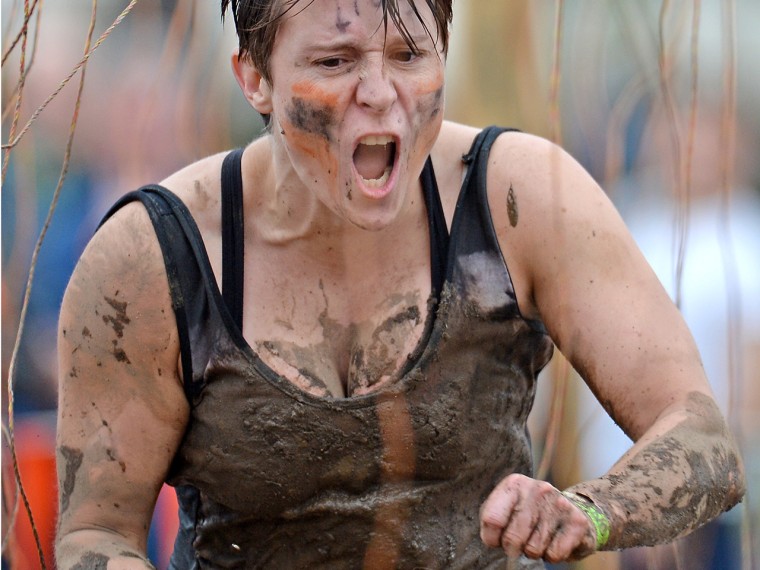 But if running and training for obstacle course races have become your favorite way of staying fit, you don't have to stop. Dr. Howard Mell, spokesman for the American College of Emergency Physicians, says the electrical shocks will make participants uncomfortable, but they're not strong enough to be dangerous. 

"It almost has that haunted house effect to it -- it appears to be more dangerous than it really is," says Mell, who is training for a Tough Mudder next year. (He did suffer an injury during his training — a stress fracture while running, which, he says, beautifully illustrates the idea that accidents can and do happen during any athletic endeavor.) "There's no question that the race is designed to create discomfort, and the idea of it is, 'Hey, I can overcome this.'"
He suggests that participants make sure any race they take on — mud run or a local 5k — has proper medical personnel at the event. "You want paramedics for scrapes and bruises, and CPR-trained personnel there for advanced life support," he says. Make sure to have a copy of any important medical information about yourself with you during the race in case you suffer a problem — there's usually an area to write those kinds of details on the back of the race bib.
And definitely don't take one of these endurance events on without training first.
"While the study author is accurate in saying you can't really train for something like the electrical shock itself, you can train for the skills you need to make it through," says Jessica Matthews, an exercise physiologist with the American Council on Exercise. 
For the Electric Eel obstacle in the Tough Mudder, Matthews recommends stomach crawls, and she designed a workout for TODAY.com: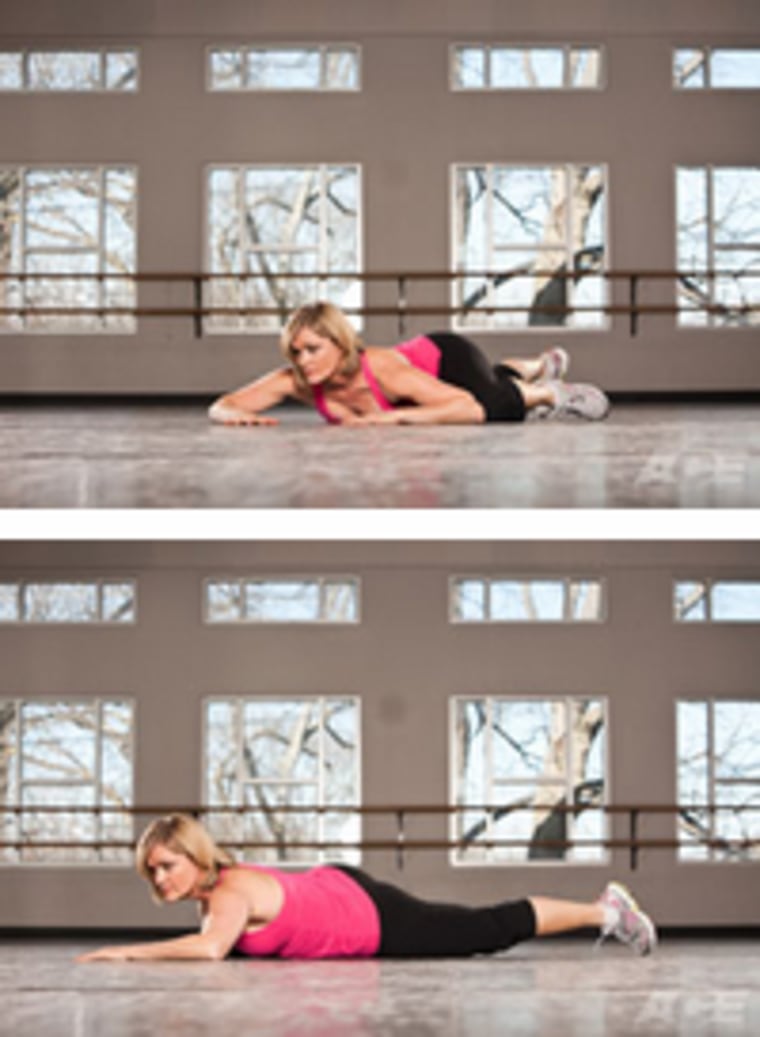 1. To perform this move, lie on your stomach placing your hands in front of your shoulders, turning your fingers to face one another with your elbows bent and forearms resting on the floor.

2. Keeping your core engaged and your shoulder blades pulled back and down, slide your left knee forward, bending your knee as you move it out to the side of your body until its level with your hips.
3. At the same time, slide your right arm forward while keep your elbow bent. Start by covering a distance of 30 feet, alternating moving opposite limbs forward — right leg and left arm, then left leg and right arm — keeping your body on the floor the entire time. (Some rotation of your torso will naturally occur with this movement, but just keep in mind that on race day high voltage will be overhead.)