There are a lot of over-the-top rainbow burgers out there, but there's a reason that this one is special and caught the attention of social media this week. That's because it's a stupendous comfort food tribute to beloved actor Gene Wilder, star of "Willy Wonka and the Chocolate Factory," who passed away on August 28.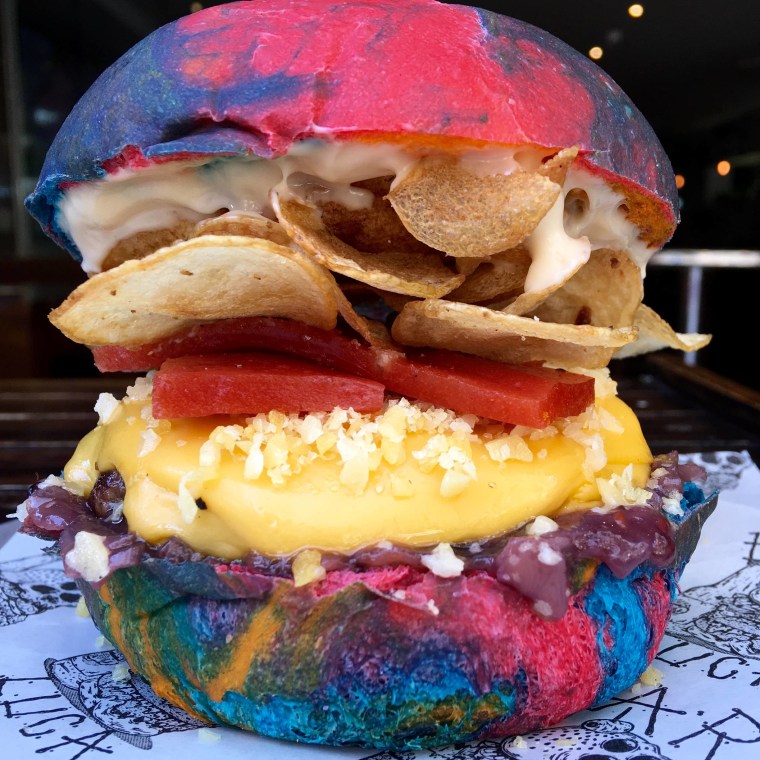 The brainchild of Sarah Robbins, head chef at Bar Luca in Sydney, Australia, the burger is inspired by the three-course dinner bubblegum that turns the film's precocious character Violet Beauregarde into a life-size blueberry. In case you need a refresher, the experimental little piece of gum that Violet shoves in her mouth without permission starts off by tasting like tomato soup, then roast beef and a baked potato and finally blueberry pie and cream. The rest is movie magic history.
RELATED: Gene Wilder dies at 83 — here are 5 of his best movie moments
According to Robbins, her creation, called the Beauregard burger, consists of "Tomato Soup Jelly, B L Beef Pattie, Popping Cheese, Fried Potatoes, Blueberry & Onion Jelly, and WONKA Sauce on a Rainbow Milk Bun."
Huh? The Beauregard burger is so out-there that TODAY Food had to get Robbins to give us the breakdown, layer by layer: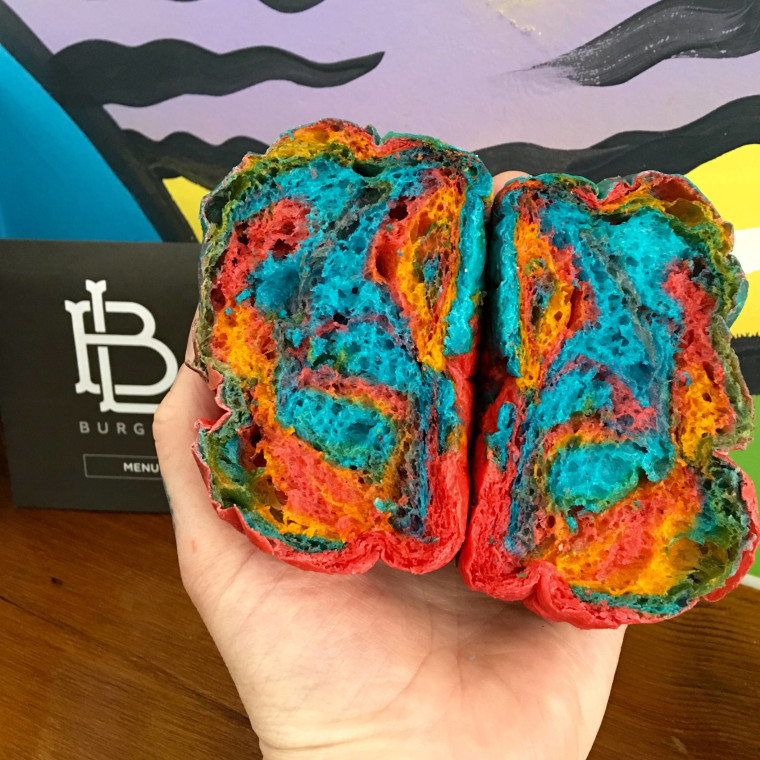 Rainbow Milk Bun: "It's a top secret creation by our amazing baker at St. Malo Bakery in Crows Nest. We worked with them to create it exclusively for us. We will feature it again on a special."
Tomato Soup Jelly: "This is a savory jelly with the flavor of tomato soup."
B L Beef Pattie: "The burger is a blend of brisket and chuck that's ground and pressed fresh daily and char-grilled."
Popping Cheese: "We use a high-melt American cheese. Once the cheese has melted onto the burger, we sprinkle unflavored popping candy on top."
Fried Potatoes: "These are thinly sliced house-made potato chips."
Blueberry and Onion Jelly: Think onion relish flavored with blueberries.
WONKA Sauce: "It's a creamy and tart sauce made with white balsamic and blueberry mayonnaise."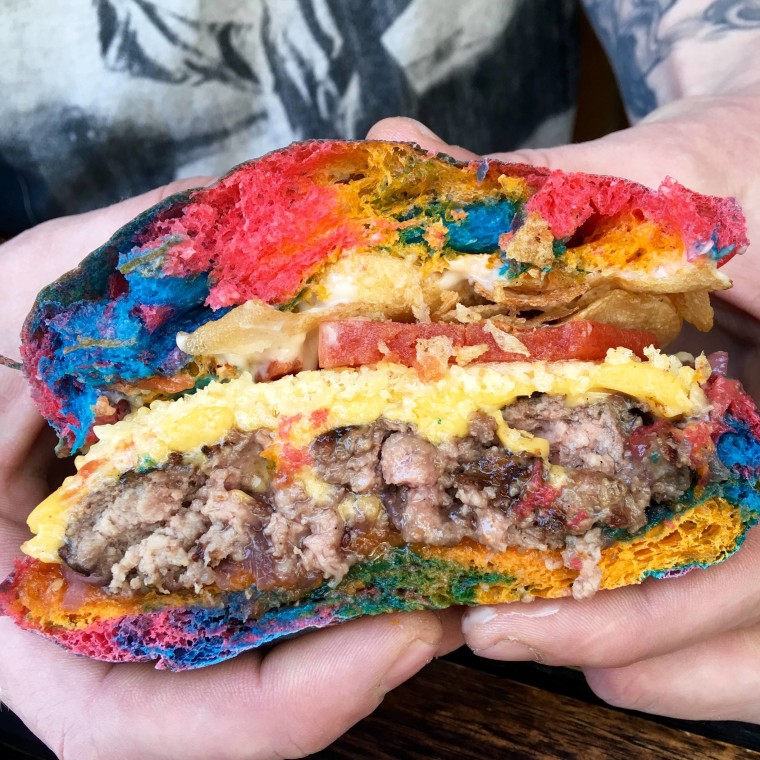 Wow. That's a mouthful...and sort of spectacular and crazy at the same time.
But, here's the best part: there's a golden ticket inside!
"We have one ticket each day at each of our three venues hidden in one lucky burger, the winner can come in the following week with a friend for a free burger and drink and they then go into the draw to win one of our VIP key rings which will give the winner free burgers for 12 months!" Robbins told TODAY Food.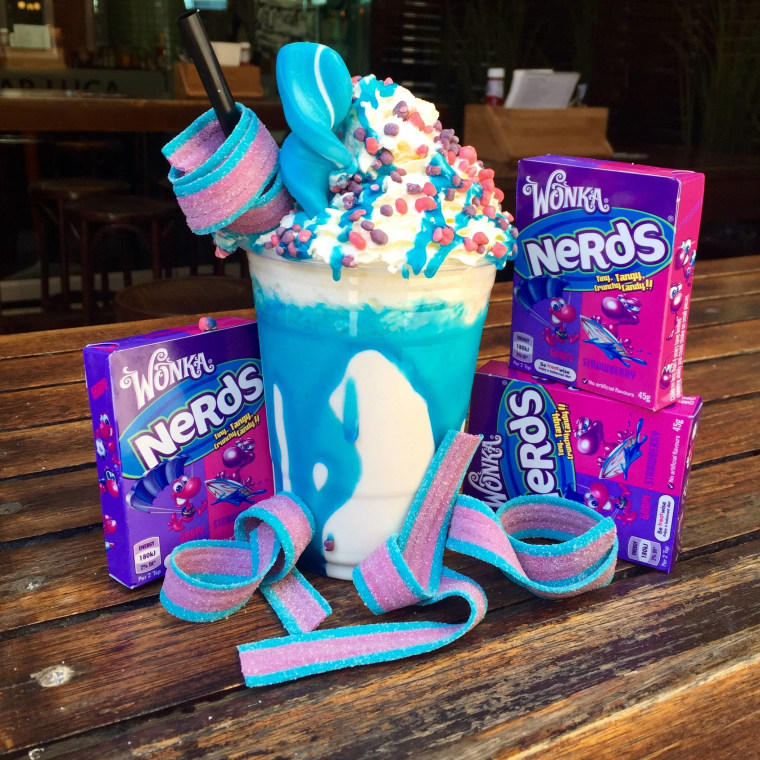 So what do you drink to wash down a Beauregard burger? An Augustus Bloop, of course.
Named after Augustus Gloop, another character in the movie, the Augustus Bloop is the restaurant's "Blooberry" (aka blueberry) milkshake that's topped with whipped cream, tangy Wonka Nerds candies, pink and blue sour candy ribbons and a blue twirly lollipop.
Together, the Beauregard and Augustus Bloop are about as kooky a pairing as you can get, but as Willy Wonka himself said, "A little nonsense now and then is relished by the wisest men."