You've heard of veggie burgers. Cauliflower steaks. Jackfruit pulled "pork." Even eggplant "bacon."
But now, here to up the creative, plant-based-meat-substitute ante, is watermelon "ham."
Chef Will Horowitz at Ducks Eatery, a totally non-vegan restaurant in Manhattan's East Village, is serving this kooky creation that looks a lot like a smoked ham but, you know, isn't. It's a watermelon, we promise.
And it's causing quite a stir on the internet — because, well, just look at it. On the outside, it looks like a perfectly browned, juicy roast and then, as it's carved into, it looks like that roast is extremely undercooked and pretty bloody.
When people find out they're actually looking at a watermelon, as you can imagine, they felt betrayed:
When TODAY Food asked Horowitz why, oh why, he would think to smoke a watermelon to make it appear like a ham, he said he just wanted to experiment. He loves meat (his menu contains plenty of meat-centric dishes with beef, duck, pork and goat), but likes to experiment with other stuff. And he wants to have interesting options for everyone — including non-meat eaters. He's not a big fan of lab-grown meat alternatives like the Impossible or Beyond Burger; instead, he likes to use fruit to mimic meat, so aside from the watermelon "ham," he has a very popular cantaloupe burger on his menu which is created using a very similar process as the watermelon.
To make the controversial dish, Horowitz cuts off the melon's rind, brines it for four days in a combination of salt, Oakwood ash, togarashi (a Japanese chile pepper spice), tamari, fennel seed, garlic and water. It's rinsed, dried for five hours, then put into the smoker for six to eight hours. The ash in the brine gives it a shocking skin-like texture. He scores the "skin" and bastes it in olive oil, rosemary and its own juices until it's nice and brown on the outside. He then carves the roast tableside to reveal that perfectly pink interior.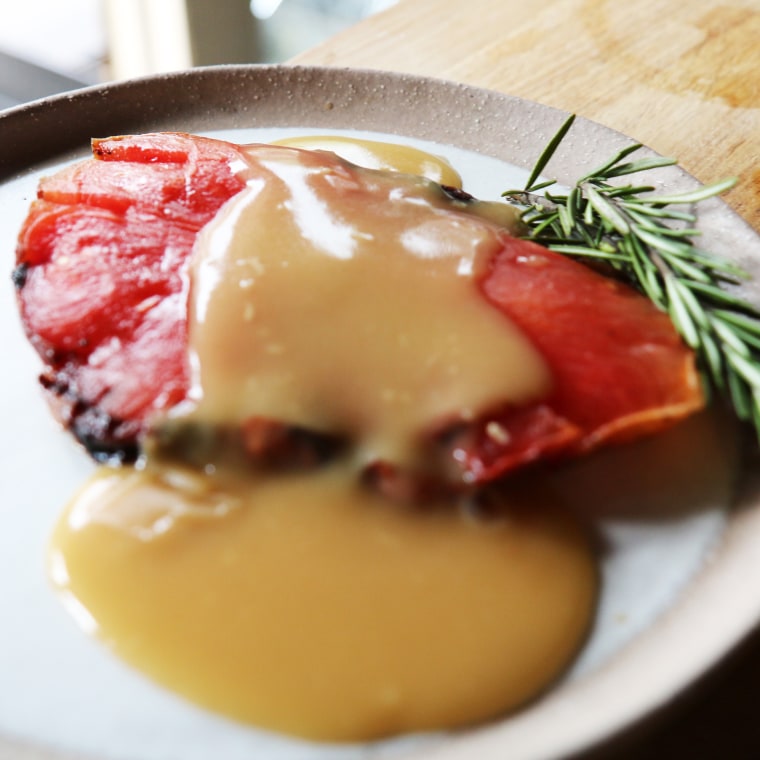 All that time and labor gives this melon a pretty hefty price tag of $75.
How does it taste, though? Well, it's a little confusing. Since it's such a convincing optical illusion, you still expect it to taste like meat, so when you take a bite, it's a shock. It tastes like very smoky watermelon, and it's still juicy, but not watery. The "skin" is weirdly meat-like, but it also reminded me of super-roasted tomato skin. It was sweet, but the spices and gravy (made with flour from the watermelon pan drippings) gave it some nice saltiness. I would eat it again — but as a side. It would go very well with a bite of steak, or, you know, ham.
If you want to go to Ducks Eatery and try it out for yourself, make sure to call the restaurant to order it in advance. They require a week's notice if you want to throw down $75 for (let's be real) a pretty sick Instagram post.