Ingredients
2

tablespoons olive oil, divided

1/2

cup white onion, diced

3

cloves garlic, minced

2

cans black beans, drained

10

medium button mushrooms, stems removed

1

teaspoon cumin

1

teaspoon salt

1/2

teaspoon pepper

1

egg
1/2

cup cooked brown rice

1

cup whole wheat bread crumbs

1/4

cup Sriracha

1/2

cup mayonnaise

4

whole wheat buns

6

leaves Bibb lettuce

1

tomato, sliced

1

avocado, sliced
Chef notes
TODAY's Al Roker may make a mean patty melt, BBQ brisket and rack of ribs, but he's also makes a great veggie burger. A mixture of black beans and mushrooms forms the base of his hearty and filling patties that are topped with a creamy and spicy Sriracha mayo. Serve the burgers with Al's Baked Sweet Potato Fries and you've got fast, easy and delicious meatless dinner for four.
Preparation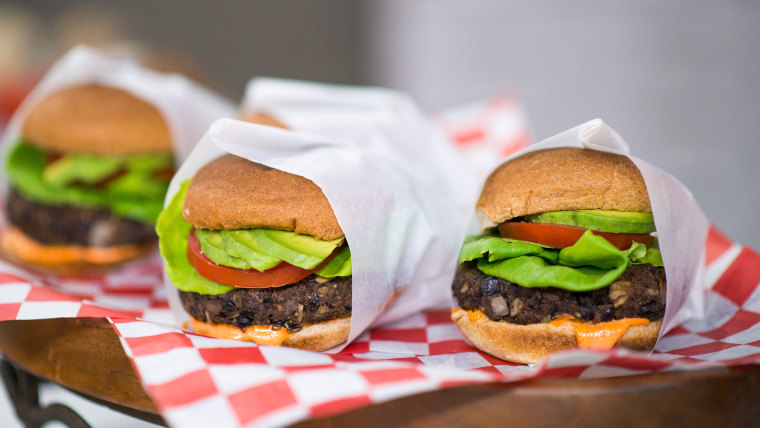 1.
In a large non-stick skillet, add 1 tablespoon of the olive oil and sauté the garlic and onion until cooked. Set aside.
2.
In a food processor, add 1 can of the drained black beans and the mushrooms. Pulse five to six times. The mixture should be slightly chunky.
3.
In a large bowl, combine the bean and mushroom mixture, cooked onions and garlic, second can of drained black beans, cumin, salt and pepper, egg, brown rice and whole wheat bread crumbs. Mix together until combined and then form into 4 burger patties.
4.
Preheat the oven to 350°.
5.
In a non-stick skillet, heat the remaining 1 tablespoon of olive oil. Add the patties and brown them on both sides. Place the burgers in the oven and cook until the center is cooked through, about 10 to 15 minutes.
6.
In a small bowl, add the Sriracha and mayonnaise. Stir to combine.
7.
To build each burger, smear the Sriracha mayo on the bottom buns , then add the burger, lettuce, tomato, avocado and top bun.
8.
Serve with Al's Baked Sweet Potato Fries and extra Sriracha mayo on the side.