While most of us wouldn't speak to a stranger in a restaurant or on the bus, the grocery store is a natural place to strike up a conversation. And supermarket shopping can tell us a lot about a person — and open up the road to more conversation. "The grocery store is one of my absolute favorite places to meet someone," says dating expert and star of E!'s Famously Single, Laurel House. "The key, though, is being purposeful in making a connection (in addition to buying groceries)."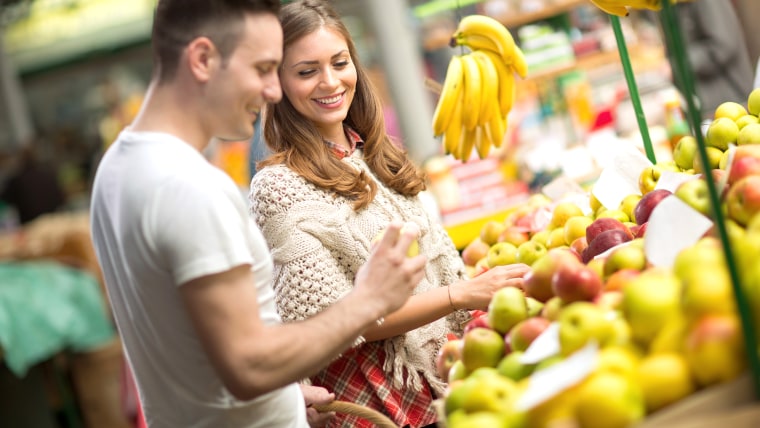 If you are looking to find your mate in a supermarket, here are seven tips to keep in mind.
1. Choose the right department
Certain parts of the supermarket are better than others for starting conversations with strangers. "The produce aisle, meat department, deli and while standing in line at the checkout are most ideal," says Antonia Hall, a psychologist and the author of The Ultimate Guide to a Multi-Orgasmic Life. "Avoid the personal care department. No one wants to have to tell friends they met someone while choosing toilet paper."
RELATED: 12 basic rules to find love
2. Be approachable
Simply being open to meeting somebody is a great first step to making it happen. "Don't put pressure on yourself to leave with a date, or even a phone number," says Hall. "It's just about starting to make an initial connection — eye contact, a smile." So how do you do that? Be approachable — and presentable. "That doesn't mean you need to be dressed up to go out on the town, but you should pull yourself together. Have a positive attitude and smile. That doesn't mean you should walk around with this plastic smile on your face, but you should be excluding some level of positivity," says House.
3. Put your phone away
One of the main reasons why people have a hard time connecting in real life is because they are obsessed with their cyber social life. "That guy who you've been talking to on Match.com might be right next to you right now!" says House. "So put your phone away. Stop using it as a crutch. It is not a wingman!"
RELATED: Attention pizza lovers: Domino's now has a pizza wedding registry
4. Be attentive to detail
First, check for wedding bands or other signs that this person is single. "You can learn a lot from what's in someone's basket," says Hall. You can usually pretty easily assess if the person is cooking for one or a family. "Are there frozen dinners? If they're buying a package of sausages or one steak, the odds are in your favor that they're single. But if they're buying lots of kitchen staples and family packs of meat the chances of their being taken are greater," says Hall. "Notice if they seem open to approach," adds Hall. Making eye contact and smiling is a great start.
5. Keep cool
If you look nervous or uncomfortable you could hurt your chances to connect. "Your demeanor should be easy going and friendly," says Hall. And don't wait too long to start talking. If you are standing still in one place watching someone without talking it'll start to feel creepy for them. "You need to keep moving along, looking for your opportunity, then get in there and make contact," says Hall.
6. Start a conversation
Start by acknowledging what they are looking at, then ask a question about it. For example, if the person is looking at broccoli, you could say: "I cook for myself almost every night, and while I'm great at steak, vegetables are my weakness. How are you planning on preparing that broccoli?" When you ask someone a question and they give you advice or information, they are investing in you and they automatically feel more connected to you, says House, who adds that doing this will automatically make people feel more connected.
"Share something about yourself that is related to what you are talking about, and ask another question that expands the conversation… because you don't want to have a whole conversation centered around broccoli," says House. In broccoli scenario, you're first sharing something about yourself (you cook every night), then engaging the person by asking a question. "Once she delivers the answer, then it's your opportunity to continue the conversation, maybe ask what her favorite food is, what type of drink she pairs with it, or where she likes to go out to eat when she isn't cooking for herself," says House.
RELATED: The best time to go to the grocery story — and the worst
7. Seal the deal
Once contact is established and you've chatted for a few minutes, it's time to take it to the next level and invite them out. Tell them you enjoyed chatting and set up the next conversation offering your phone number, or asking for theirs. "Would you like to grab coffee sometime?" may not be original, but it works.
Once you've made a connection, who knows where it'll go from there. How great would it be to meet your future mate doing something you were going to have to do anyway? No complicated dating profile required.