America's largest grocery retailer is taking a major leap into the home delivery space.
On Tuesday, Walmart announced that it plans to expand its online delivery service to 100 metro areas by the end of 2018. To compete with the likes of Amazon, personal shoppers will pack up digital orders in store and the company will use various third party delivery services (like Uber) to complete the drop offs.
Unlike Amazon's delivery service, Walmart's doesn't require a subscription but each order must meet a minimum price of $30, plus each delivery will cost $9.95. All orders can be placed online and, if placed within a certain window, can be delivered the same day, Walmart spokeswoman Molly Blakeman told TODAY Food. She added that same day delivery can be guaranteed as long as orders are placed by 1 p.m. since personal shoppers will be packing carts through the early evening.
To power the online shopping program, Walmart will hire thousands of new personal shoppers to add to the existing team of 18,000 currently employed by the company. Blakeman said all personal shoppers go through an "extensive" training program for three weeks to learn more about the store's produce and meat inventory.
These same shoppers also execute Walmart's growing grocery pickup service, which is currently in 1,200 stores, with 1,000 new locations being added this year. Grocery pickup allows customers to shop online and then pick up their pre-packed goods at no extra charge.
To get groceries from store to door, the retailer is partnering with crowd-sourced delivery services, such as Uber and Lyft. According to Blakeman, more third-parties will be brought aboard as delivery is offered in more places.
While Amazon currently offers same-day delivery from Whole Foods stores in big cities, Blakeman told TODAY Food that Walmart's expansion will include large cities, their suburbs, plus several smaller markets. The service will remain in its current test cities (Dallas, Phoenix, Denver; San Jose, California; Tampa, Florida and Orlando, Florida), and be expanded to their surrounding metro areas this week.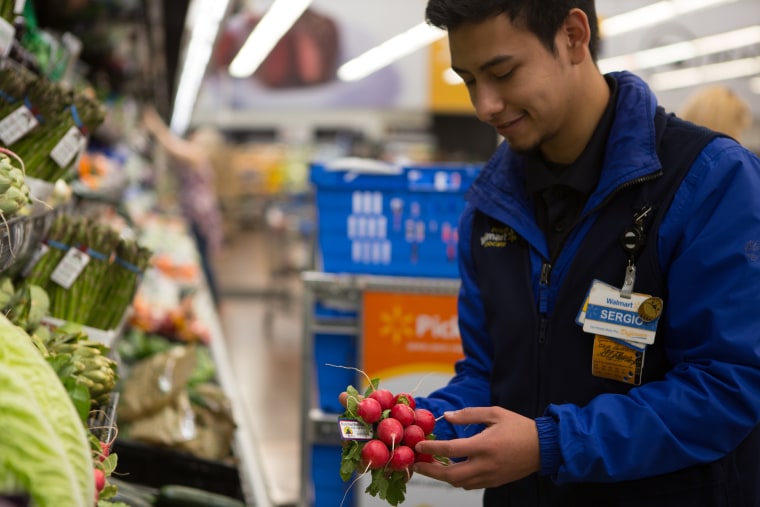 Walmart will announce new locations as the service continues to roll out nationwide and customers can check whether their zip code is covered online. Not sure about getting groceries delivered? Walmart is hoping customers will try out the new service by using the promo code "FRESHCAR" to waive the delivery fee from their first order.
TODAY has affiliate relationships, so we may get a small share of the revenue from your purchases. Items are sold by the retailer, not by TODAY. All prices are subject to change and items could sell out based on the merchant's inventory.