Like a returning hero who has been away for a while and is now being recognized for his past achievements, the Twinkie has returned amid fanfare and hoopla. Mascot Twinkie the Kid even came out of mothballs to join Al Roker and the TODAY anchors as they hailed the cream-filled snack cake's triumphal comeback Monday. Long live the new Twinkie!
But the latest incarnation of the snack is considerably changed from the Twinkies I taste-tested as an executive for Continental Baking (which eventually became Hostess Brands) from 1973 to 1983. In those days, Twinkies had a three-day shelf life, after which they were shipped back to one of dozens of bakeries around the country and sold from the bakery's thrift store at a reduced price.
The new Twinkie, in contrast, has a 45-day shelf life, as does most of its competition. So the question is: How does it taste? Will kids (and their parents) still like it as much as in generations past, when Twinkies were the top-selling snack food in all of America?
To find out, I headed to a store Monday morning. A Hostess Bakery representative was there, putting up a display of Twinkies, Hostess Cup Cakes and Donettes (there weren't any Ho Hos or Ding Dongs, other Hostess treats of yore). The product had been delivered to the store in a small truck like the one that came to the TODAY plaza Monday morning, but the Hostess representative told me that within a week or two, the retailer I visited would be shipping Hostess products from its own warehouse; Hostess would not be making deliveries to individual stores.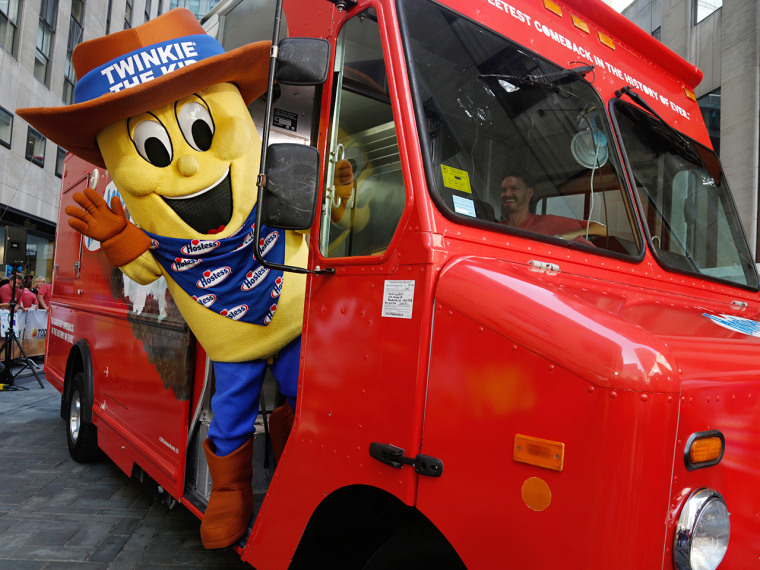 When I took my two boxes of Twinkies to the checkout, the cashier exclaimed, "They're back!" Then I went home, sat down at the kitchen table and tried my first Twinkie in eight months.
It didn't look any different than the previous version. The golden yellow color was the same as it had been, and it didn't smell any different. The cream filling was white and very smooth, and as creamy and sweet as ever. The sponge cake looked pretty much as it always had, but it was drier and not as soft.
The new Twinkie seemed to have less chemical aftertaste than the version that disappeared from shelves eight months ago: a bit surprising, since the shelf life has been extended from 14 days to 45. But the cake wasn't as fresh-tasting as the version I remember from my days at Continental Baking.
Still, it was a reasonable facsimile of the cream-filled snack cake that generations of moms packed in their kids' lunches, and I feel certain America will take the new Twinkie into its heart as it did the original more than 80 years ago.
But I can't help wondering: Will they taste as good when they're 45 days old?