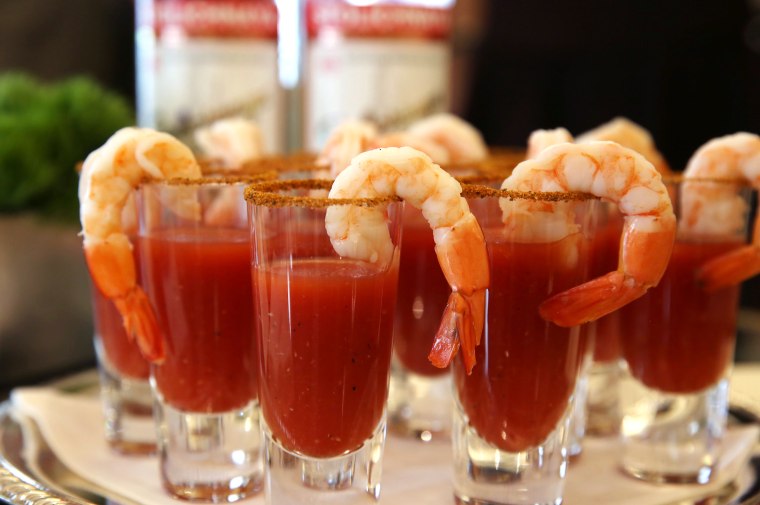 Barbecues aren't the only places where you'll find smoke these days: Chefs are adding this distinctive flavor to everything from vegetables to desserts, and it's even showing up on cocktail menus. Ambitious bars like the Alembic in San Francisco now feature splashes of peaty Islay Scotch in custom-mixed drinks like the Vasco de Gama, a spicy bourbon-and-apple drink. Bartenders are also using house-smoked fruits like the hickory-smoked peaches that go into the Stunt Double cocktail at Apotheke in New York City. Want to copy the trend at home? Here are some easy ways to do it. 
One trick is to use smoked salts. Mark Bitterman, author of Salted: A Manifesto and co-owner of The Meadow—specialty shops in New York City and Portland, Oregon, that carry an extensive selection of salts— recommends alder smoked salt for garnishing margaritas; its flavor will give the drink a smoky kick without overwhelming the citrus. For an extra hint of smokiness, replace the tequila with mezcal.
In Bloody Marys, Bitterman loves to add Oaxacan sal de guasano, a specialty salt he calls the "bartenders' secret favorite." It's blended with arbol and pasilla chiles. For a supermarket substitution, stir up to 1 tablespoon sauce from a can of chipotles in adobo into your favorite Bloody Mary recipe; it will add an extra dimension of flavor and provide a smoky, spicy counterpoint to garnishes like juicy shrimp or salty caperberries. 
To get a sweeter but still smoky taste into cocktails like the classic Cosmopolitan, you can rim the glass with smoked sugar (available on Amazon) instead of salt. The raw sugar is smoked in bourbon barrels until it gets a crème brulee-like flavor. 
Charred fruit garnishes are another eye-catching way to sneak some smoke into your drink. Marc Murphy, chef and owner of Landmarc in New York, serves a Burnt Orange Negroni that gets its heat from fresh oranges charred on a grill or grill pan. "The charring releases the delicious citrus oils and adds a depth of smoky flavor that pairs perfectly with the Negroni," he says.
Making the drink at home is simple. First, says Murphy, "Place the orange over medium heat until it starts to turn black, then rotate until the entire fruit has color on it." Then add a slice of the charred orange, along with three tablespoons Bombay Sapphire gin, two tablespoons sweet vermouth, one tablespoon each of simple syrup and Aperol, a half-tablespoon lemon juice, and a dash of bitters to an ice-filled cocktail shaker. Seal, shake and pour into an ice-filled rocks glass.