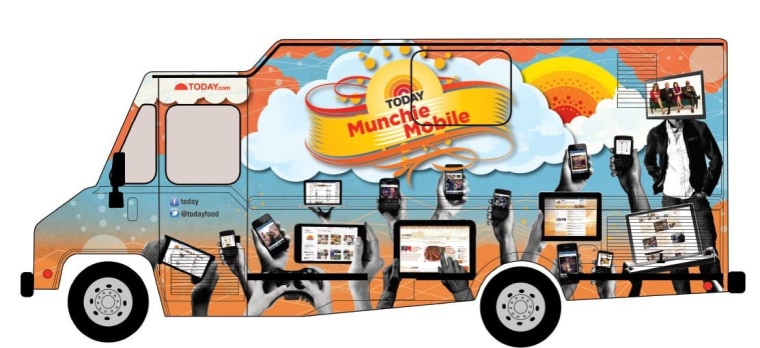 Got the munchies? There's a snack for that! Check out our muncherrific menu options, and stop by and see us!
TODAY Munchie Mobiles are in Austin, Texas for the South by Southwest® (SXSW) Interactive Conference from March 9-13. So come by our food trucks, where Mashable will be joining us, and make us your a.m. meet-up destination (and score some FREE food to get your day started!).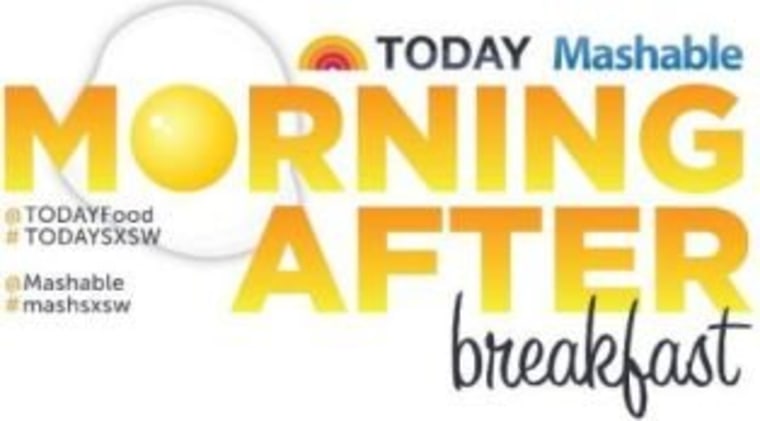 And don't worry, we'll be serving the same delicious eats late night as well, because well, any time of day is the right time for breakfast!
The TODAY Munchie Mobiles will serve southwestern-inspired fare prepared by popular Austin-based chef Eric Silverstein. The winning recipe from the TODAY Home Chef Challenge: Southwestern Edition created by Austin natives Julie Munroe and Ryan Schierling, will also be featured on the food trucks. TODAY.com's food editor Vidya Rao will also explore what's trending in the Austin food scene and where to get more yummy, free nosh.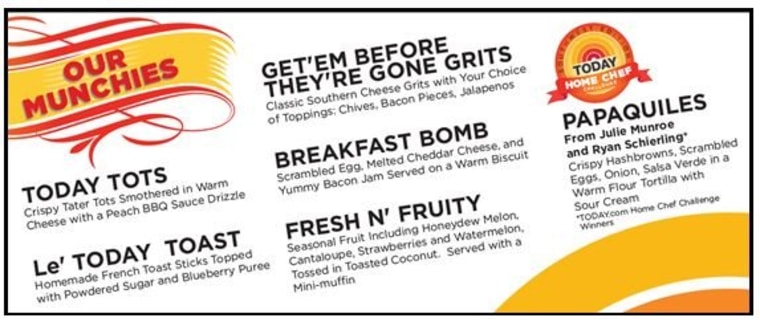 TODAY at SXSW (#TODAYSXSW) Highlights:
Treat your taste buds. Enjoy free breakfast – and free late night snacks. The TODAY Munchie Mobiles offer a full menu and will be conveniently located close to the action. From March 9-12, visit the food trucks from 10 p.m.-2 a.m. on 6th Street. From March 10-13, visit the food trucks from 8 a.m.-Noon in front of the downtown Austin Marriott (located one block from the Convention Center).
Recharge. The food trucks will offer charging stations for your mobile devices so your phone can recharge while you do.
Free food finder. Follow @TODAYFood on Twitter to hear about the latest dish and the best that SXSW has to offer on a budget.
Tasty Photos. Share mouthwatering food photos from SXSW. Tweet your great food photos using the hashtag: #TODAYSXSW and they will be featured on TODAY.com.
To get the latest dish from SXSW and anytime, stay connected to TODAY Food on Twitter, Facebook, Pinterest and Instagram.
Here's the location and schedule for the Munchie Mobiles! Let us know you're coming!
Morning meals at Marriott in Downtown Austin (300 E. 4th Street):
Saturday, March 10: 8 a.m. – 1 p.m.
Sunday, March 11: 8 a.m. – 12 p.m.
Monday, March 12: 8 a.m. – 12 p.m.
Tuesday, March 13: 8 a.m. – 12 p.m.
Evening eats at Wilson Brown Productions (522 East 6th Street):
Friday, March 9: 10 p.m. – 2 a.m.
Saturday, March 10: 10 p.m. – 2 a.m.
Sunday, March 11: 10 p.m. – 2 a.m.
Monday, March 12: 10 p.m. – 2 a.m.
More on TODAY at SXSW: