We think of drinking pink in warm weather, but with the carefree days of summer nearly behind us, don't put away that rosé wine away just yet. It is a top pick in the fall due to its flexibility, affordability and visual appeal. Here's what you need to know about rosé wines and 10 suggestions for your next shopping trip.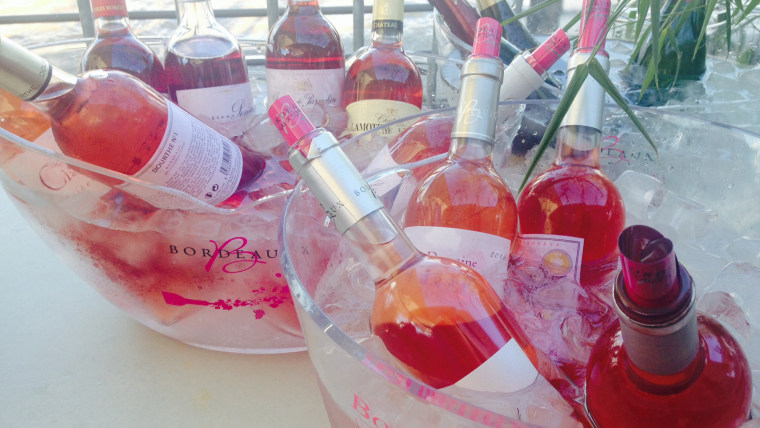 Pink from red

Most rosé is made by crushing red grapes and allowing the fresh juice to remain in contact with the purple grape skins for a short time. Which grape varieties are used and how long the juice soaks with the skins gives rosés their telltale color and style. Lighter versions can be made from grapes like Pinot Noir, Grenache and Tempranillo, while deeper-hued, fuller-bodied wines hail from varieties such as Syrah, Cabernet Sauvignon and Zinfandel.
Dish it up

From brunch to lunch wines, cocktail hour sipping to dinner options, rosé is the answer. Because pink wines are made with red grapes but in a white wine style, they swing both ways when tackling the table. In other words, rosés pair as easily with delicate fish dishes as with rich meaty ones.
When it comes to serving, chill your pinks down. This brings out the fruity notes and tames the alcohol. I put my bottles in a bucket or sink filled with half ice and half water for 20 to 30 minutes. I am also not above putting an ice cube or two in my glass and often make my own pink cubes with leftover rosé. It's the perfect way to keep my glass cool without diluting the wine. 
Take a trip
Drinking rosé is a virtual visit around the wine world. From New York to California, South America to Europe and Australia to New Zealand, you can find high-quality global pinks.
Famous spots to look for on a label include the regions of Rioja and Navarra in Spain, the southern French areas of Bandol, Tavel and Côtes de Provence, and Bordeaux in France. This iconic place is thought of primarily for expensive reds, but my hidden gem recommendation is Bordeaux rosé. Producers are making lighter-styled versions dubbed simply "rosé" while their unique "clairet" (pronounced clare-ahy) styles are darker and more similar to a light red.
Shopping list

Light and Refreshing:
2013 Chateau Pey La Tour, Bordeaux Rosé, France $13
Hailing from the scenic Entre-Deux-Mers area of Bordeaux, this blend of Cabernet Sauvignon, Merlot and Cabernet Franc grapes is crisp and lively.

2013 Charles & Charles Rosé, Columbia Valley, Washington $10
Winemakers Charles Smith and Charles Biehler have a motto: "It's just wine, drink it." You will want to drink two bottles of this grown-up juice.

2013 Marc Roman Rosé, France $10
This wine is light, bright and simply fun to drink. With lip-smacking freshness and an easy-open screwcap, it's a top party pick.

2013 Ontañón Clarete, Rioja, Spain $12
A unique wine with a salmon hue blends mostly white Viura grapes with a dash of red Tempranillo. It's floral-scented elegance makes the wine an ideal pick for patio sipping.

Medium-bodied and Juicy:  
2013 Chateau Penin, Bordeaux Rosé, France $14
Winemaker Patrick Carteyron crafts some of Bordeaux's best rosés including this deliciously complex yet succulent pink. It's one of my current favorites and a wine to seek out.

2013 Domain de Nizas Rosé, Languedoc, France $17
A traditional combination of southern French varieties such as Syrah, Grenache and Mourvedre, the modern-styled pink is class in a glass.  
2013 El Coto Rosado, Rioja, Spain $13
Hailing from vineyards high in Rioja, this wine is made in a style to please every palate. Fresh and juicy but with some fleshy qualities, it goes beachside to tableside with ease.

Powerful and spicy:
2013 Montes "Cherub" Rosé of Syrah, Colchagua Valley, Chile $15
Winemaking icon, Aurelio Montes, captures the fun of pink wines with Cherub. The whimsical angel label grabs your attention, but it's the lush rosé that makes you smile.

2012 Chateau Penin Clairet, Bordeaux, France $14
For red drinkers who don't like rosé, this hearty wine will have them seeing and drinking pink. A deeper, darker dry rosé based upon Merlot, it shines with grilled or braised meats.
2013 Pedroncelli Dry Rosé of Zinfandel, Dry Creek Valley, Sonoma County, California $12
Don't think sweet when you see Zinfandel on the label. Pedroncelli is an historic producer of the classic red grape and makes this dry pink version that will impress for less.