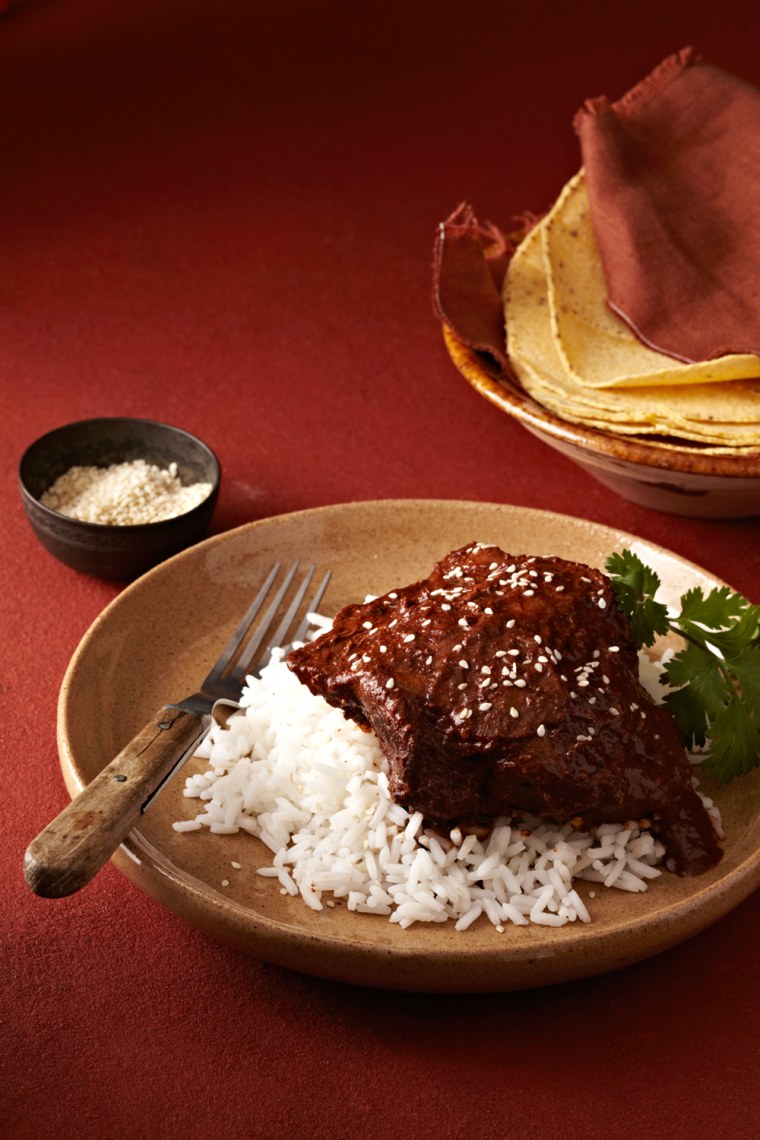 It all started when Lourdes Juarez met her husband, Pedro Ramos eight years ago. They dated, fell in love and got married. And then that's when the great debate began: whose side of the family makes the best mole? Juarez — whose father is from the Mexican state of Oaxaca — claims that her side of the family makes the celebratory dish best. And Ramos? He hails from Puebla, where his grandmother, he says, cooks up a mean pot of mole that outshines any semblance of competition elsewhere. The debate escalated within the Juarez-Ramos household until one thing became clear: the disagreement would have to be settled fair and square by unbiased food lovers — and thus, the La Feria de las Moles began.
This weekend marks the 5th year the free event has been held and more than 30,000 mole lovers are expected to attend the festival at Olvera Street in Los Angeles. With folkloric dancing, traditional music, performances and the chance to try more than ten different moles ranging from fire-engine hot to sweetly spiced, co-founder Juarez says that the debate may not be settled per say ("maybe mole originated in Puebla, but in Oaxaca we make it perfectly," she says) but the event has helped honor Mexican history through the celebrated national dish; so much so that LA Mayor Antonio Villaraigosa has declared this Friday "Mole Day."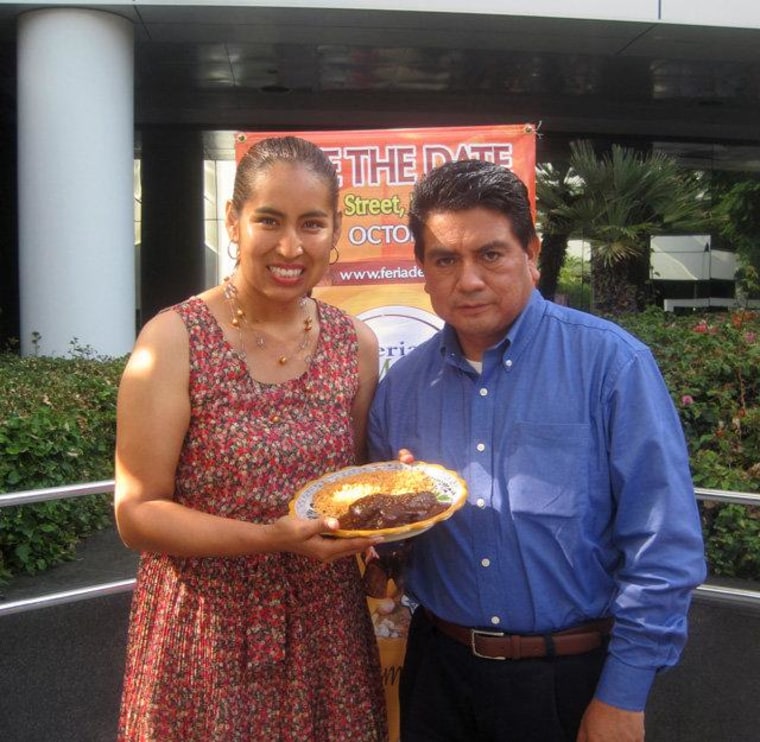 While mole recipes differ from family to family and by state in Mexico, they all have one thing in common: mole represents the heart of Mexican culture because it's served on the most special of occasions: weddings, baby showers and holidays. Mole — a sauce spiced with indigenous ingredients like chiles, cinnamon, clove and peppers, made sweet with chocolate and thickened with ground raisins, peanuts and almonds — is a sauce that dates back to the 1660s. And as with any culturally significant dish, there are many stories of its origin, but Juarez says that she loves the tale of humble nuns at the Santa Rosa Convent in Puebla, who, in anticipation of a visiting dignitary, hurriedly gathered nuts, chocolate and stale bread to make into a sauce served over meat — the very first mole.
Today, the most traditional of moles takes days to prepare, with each ingredient roasted and ground ahead of time before blended in to a slow-simmered sauce. Dozens of variations exist, including negro (black), rojo (red), coloradito (colored), mancha manteles (table-cloth stained), verde (green), amarillo (yellow), all called mole after the ancient Nahuatl name for salsa — molli.
"When people eat mole, they get the sense that what they're eating carries special meaning," says Juarez, whose family adds ground up animal crackers to their mole for an added sweetness and thickness in lieu of traditional tortillas.
"It's a traditional dish that preserves our culture — it may taste differently from cook to cook, but the heart is always there."
Here's Juarez' recipe for mole — a fairly traditional version that sings of Mexican culture and history.
Mole Poblano
Ingredients:
2 dried pasilla chilis
15 dried mulato chilis
8 dried ancho chilis
1 turkey, cut into pieces
2 sprigs parsley
3 cloves garlic
1 large onion, chopped
3/4 cup blanched almonds
1/2 cup seedless raisins
4 tablespoons toasted sesame seeds
1/2 bolillo (French bread or baguette), lightly toasted
1/2 teaspoon ground cloves
1/2 teaspoon ground cinnamon
1/2 teaspoon anise seeds
1/4 teaspoon freshly ground black pepper
1 corn tortilla, fried crispy and broken in small pieces
1 chipotle chilli
3 large tomatoes, peeled, seeded, and chopped
1 teaspoon sugar or to taste
1 teaspoon salt or to taste
1 1/2 squares unsweetened chocolate
1 cup lard
Directions:
One day before:
Toast the dried chiles. Remove the veins and seeds, and soak the chiles in salted water overnight.
The following day:
Place the turkey heart, gizzard and neck in a small saucepan and cover with 6 cups water. Add parsley, 1/2 cup onion and clove garlic. Cover and simmer about 1 hour. Strain stock and set aside.
Drain the chiles. Using a molcajete (mortar and pestle) or blender, combine the chiles, almonds, raisins, 2  tablespoons sesame seeds, bolillo (bread), cloves, cinnamon, anise seeds, pepper, tortilla and the remaining onion and garlic. Blend into a smooth puree and set aside.
Grind or blend tomatoes with chipotle until smooth.
Heat lard in a large skillet or pot over medium-high heat. Add turkey and brown on all sides. Add the tomato-chipotle mixture, and then add about 2 cups of the prepared stock. Simmer until most of the stock has evaporated. Add the chili puree and cook for a few more minutes. Add another 2 cups of stock and salt. Simmer until turkey is tender. Add more stock as needed. Add the sugar and chocolate. Cook until chocolate has melted.
Serve hot, accompanied with rice and warm corn tortillas. If desired, the remaining sesame seeds are for sprinkling on the mole when served.
More:
Taco recipes for National Taco Day
Meet the Latinco fried food masters at the Texas State Fair