In this special weekly feature, "Today" food editor Phil Lempert brings you recipes "stolen" (with permission) from notable restaurants across America. See how much fun you can have (and money you can save) by cooking these dishes at home.
THIS WEEK: Doc's Signature Trio: Baltimore Crab Cakes, Spice Rubbed Jumbo Prawns, Pan Seared Diver Scallops, Orlando, Fla.
It has been said that good things come in threes! That's definitely the case with Doc's Signature Trio at Doc's Restaurant in Orlando, Florida. Baltimore Crab Cakes, Spice Rubbed Jumbo Prawns, and Pan Seared Diver Scallops … a seafood lover's delight! There are several components to this recipe, but creating it all from scratch is well worth the effort! And, your guests will marvel at your culinary work of art!
About the chef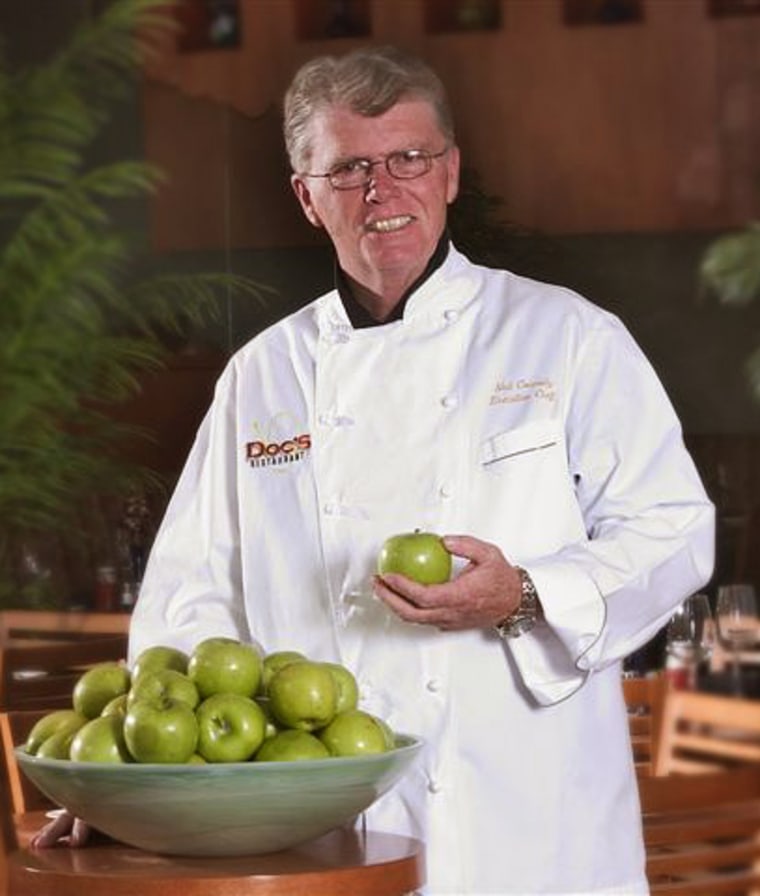 A distinguished chef with more than three douncesen culinary medals and awards to his credit, Neil Connolly has prepared cuisine at restaurants, country clubs and private galas among other venues. The Boston native implements his New England influence with Florida's bounty of fresh ingredients at Doc's Restaurant, the dining destination across the street from the Orlando Regional Medical Center.
Connolly, co-owner of the restaurant with orthopedic surgeon Dr. Thomas Winters, serves as the executive chef. He never attended culinary school, instead honing his craft in professional kitchens at restaurants, hotels and private clubs for more than 40 years. At the Culinary Olympics in Germany, Connolly earned four gold medals and a perfect score in the world competition. He was named a distinguished visiting chef at Johnson and Wales University. Connolly was inducted into the American Academy of Chefs, Confrie La Chaine des Rotisseurs Society, Verband der Koche Osterreichs, Landessektion Tirol Innesbruck Austria, and the Honorable Order of the Golden Togue Society.
Connolly's career advanced into an unexpected direction one night when he was executive chef at the Dunfey Hyannis Hotel. The general manager alerted him that a member of the Kennedy family had called. "He said that their personal chef was sick, and they wanted to see if I could cover a dinner party for 60 that night," Connolly explained. The impromptu dinner led to a 10-year stint as personal chef to America's version of the Royal Family.
Surprisingly, Doc's represents Connolly's first restaurant venture. His son, Sean Connolly introduced him to Dr. Winters, who was interested in opening a restaurant, Connolly excitedly accepted the opportunity. At Doc's, Connolly's commitment to using the freshest ingredients and making everything from scratch may be a reason why he has already made an impression on Central Florida's restaurant industry. "I believe in a fresh product presented artfully on the plate," Connolly said. "I think food must look wonderful as well as taste wonderful."
Connolly is preparing to release a cookbook in late 2005 titled, "Recipes From The Kennedy Kitchen," about his former role as the Kennedy family chef which will include photos of the Kennedy family, food images, stories and 150 of the family's favorite recipes.
Doc's Signature Trio is served at Doc's Restaurant for $16.00 This recipe is meant to serve two.
Spice Rubbed Jumbo Prawns Ingredients
Shrimp
2 large gulf shrimp, peeled and deveined1 tablespoon Cajun spice 2 tablespoon barbecue sauce (see recipe)2 slices pancetta (Italian bacon)
Stuffing
2 tablespoon cream cheese1/2 clove garlic, minced1/2 tablespoon chopped basil
Garnish
1/4 teaspoon black sesame seeds Baby green pea tendrilsBarbecue sauce (see recipe)
Barbeque sauce ingredients
1 cup of ketchup2 ounces brown sugar1/4 cup orange juice4 tablespoon honey1 tablespoon Worcestershire sauce1-1/2 tablespoon A-1 sauce1/2 tablespoon garlic1 tablespoon fresh ginger, chopped fineA dash of Tabasco1/3 cup cider vinegar
Sour melon sauce ingredients
1/4 honeydew, seeded, peeled, diced2 tablespoon yellow miso1/2 teaspoon sugar1 teaspoon rice wine vinegar1 ounce Midori liquor2 tablespoon  honeyBlack sesame seeds for garnish
Baltimore crab cakes Ingredients
6 ounce jumbo lump crab meat1 slice white bread, crust off, small dice1/4 teaspoon shallots, finely diced1/4 teaspoon chives, finely diced1 whole egg1 teaspoon mayonnaise1/4  Dijon mustard1/4 teaspoon lemon juiceSalt and pepper to taste2 tablespoon butter
Lobster slaw ingredients
2 tablespoon rice wine vinegar1/2 teaspoon sugar6 tablespoon canola oil1/2 cup napa cabbage, shredded1/2 ounces Maine lobster meat, dicedSalt and pepper to taste
Mustard remoulade ingredients
1 tablespoon whole grain mustard1 teaspoon mayonnaise1/4 teaspoon lemon juice1/4 teaspoon Dijon mustardA dash of TabascoA dash of Worcestershire
Pan seared diver scallops ingredients
1 scallop1 teaspoon seasoned flour (salt and pepper to taste)1 tablespoon whole butterWhite wine, to taste
Beurre blanc ingredients
1/2 teaspoon shallots, peeled, sliced1/4 ounces white wine vinegar1/4 ounces white wine1/2 teaspoon chopped garlic1/2 teaspoon pickled ginger, diced1 teaspoon key lime juice (or lime juice)5 black peppercorns1/4 ounces heavy cream2 ounces whole butter, room temperatureSplash of cold water1/4 teaspoon chopped chives
Potato basket ingredients
4 cup canola oil1/2 Idaho potato, shredded
Steal This Recipe® step-by-step Instructions:
Spice Rubbed Jumbo Prawns instructions
Preheat oven to 375 degrees.
1) Slice back of shrimp for stuffing2) Refrigerate until ready to stuff3) In blender, blend cream cheese, garlic and basil, refrigerate for 30 minutes4) Dredge shrimp with Cajun spice5) Stuff each shrimp with cream cheese mix6) Wrap each shrimp with pancetta, secure with toothpick7) Using char-broiler or grill, mark shrimp for 2 minutes each side8) Remove from grill. Brush with barbecue sauce (see recipe)9) Place shrimp in oven for 5 minutes, or until cooked through
Barbeque Sauce instructions
1) Using a mixing bowl, blend all ingredients well by hand2) Refrigerate until ready to use Yield 1 cup (Also great on chicken, beef, and pork)
Sour Melon instructions
1) Combine all ingredients in a blender on med-high speed until homogenized2) Set aside until ready to serve3) Garnish with black sesame seeds when serving
Baltimore Crab Cakes instructions
Preheat oven to 375 degrees.
1) In a bowl, whisk one egg2) Gently fold in all ingredients (except butter) until combined3) Shape crab cakes into 3 ounces patties4) In a hot sauté pan, add 2 tablespoon of butter5) Lightly brown crab cakes on both sides6) Remove from sauté pan7) Using a small oven pan, bake for 5 minutes or until done
Lobster Slaw instructions
1) In a bowl, combine all ingredients until well-blended, using a whisk2) Refrigerate until ready to serve
Mustard Remoulade Instructions
1) In a bowl, combine all ingredients using whisk until well-blended2) Set aside until ready to serve
Pan seared diver scallops instructions
1) Dredge scallop in flour2) In a hot sauté pan, add whole butter3) Lightly brown scallop on both sides4) Deglaze pan with white wine to taste5) Remove scallop from pan until ready to serve
Beurre blanc instructions
1) In a small saucepan, heat shallots, white wine vinegar, white wine, and whole peppercorns2) Reduce until sauce takes on a syrup consistency (less than 1 minute)3) Remove from stove 4) Strain through fine sieve into another pot 5) Add splash of cold water and room temperature butter while whisking constantly 6) When butter is incorporated, add chives, ginger and garlic Yield 2 ounces
Potato basket instructions
1) Using mandolin or vegetable slicer, shred potato using julienne blade 2) Heat oil to 350 degrees 3) Arrange shredded potato in a potato nest basket4) Deep fry until golden brown5) Remove potato nest, set aside until ready to servePlating instructions
1) In 375 degree oven, bring shrimp, scallops, and crab meat to temperature (3-4 minutes) 2) On hot service plate, apply 2 tablespoons sour melon sauce, potato basket, and slaw in three different locations on plate.3) Place shrimp on top of melon sauce and garnish with black sesame seeds and baby green pea tendrils 4) Place scallops in potato basket, pouring beurre blanc over scallops5) Place crab cakes over lobster slaw and add a dollop of mustard remoulade to the top of each6) Serve immediately
Doc's Restaurant 1315 S. Orange Ave. Orlando, Fla.32806 407-839-3627 www.docsrestaurant.com
Want to know more about Phil and food? Visit his Web site at .