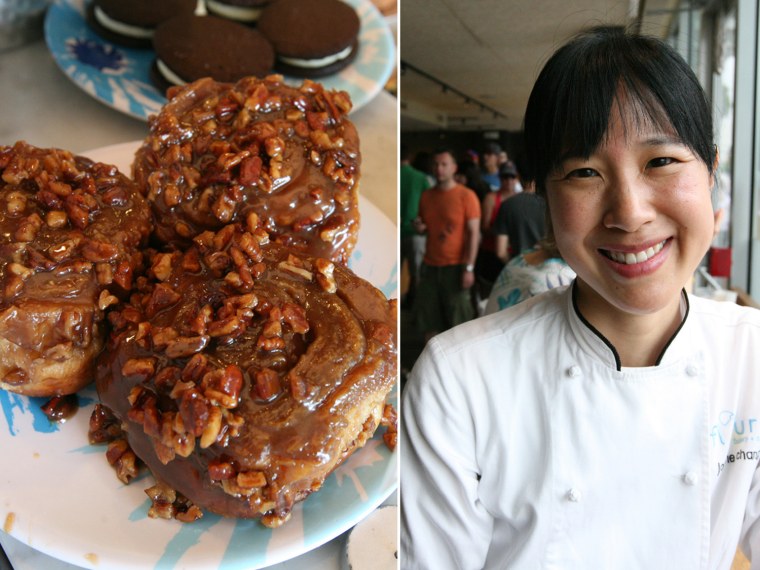 When Joanne Chang graduated from Harvard with a degree in applied mathematics and economics, she never guessed that she would become famous for her renowned, mouthwatering sticky buns.
On a recent sunny Saturday morning, I met Joanne at the Cambridge, Mass. branch of her bakery and café, Flour, (one of three locations in the Boston area) to talk about her radical career shift all those years ago, how she made the leap, and her advice to unsure yet eager young graduates with a passion for cooking.
"Eat dessert first," is the motto at Flour, scrawled prominently on a chalkboard inside. I spotted it immediately when I entered, walking past groups of friends gathered around tables laden with confections and coffee, laughing and conversing as they bit into old-fashioned sour cream coffee cake, cinnamon cream brioche, banana bread and, of course, Flour's nationally famous sticky buns.
After graduating in 1991, Joanne began work as a consultant at The Monitor Group, a strategy consulting firm. Two years passed, and as her colleagues were climbing the company ladder or going to get their MBAs, Joanne felt stuck, and her mind wandered to the kitchen. The rest is history, you might say. But Joanne's road to pastry goddess was far from what her then-colleagues might have referred to as risk-averse.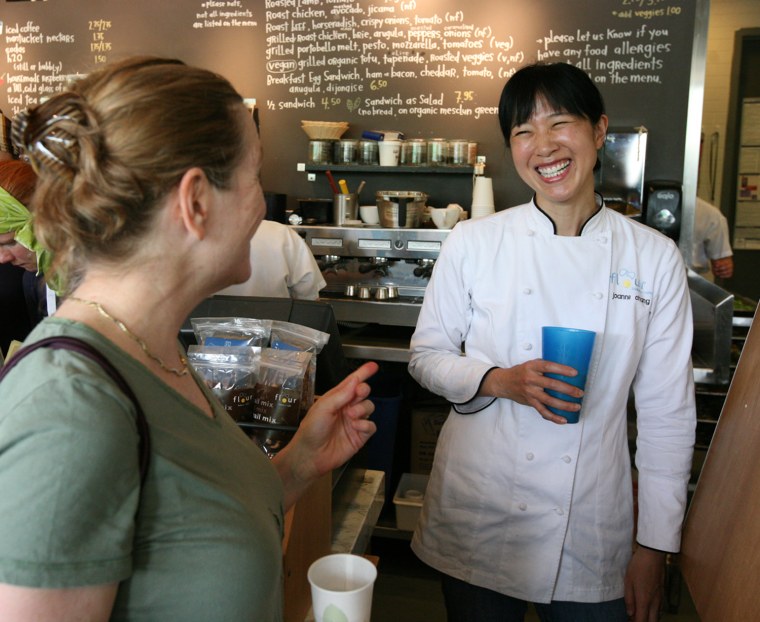 "When I first left consulting," she recalled, "I realized that in an entire year of working in a bakery, I would make as much money as what I got in just my bonus at the consulting firm."
Still, who needs a lucrative career when you can have a passionate one? Yet as Joanne explains, she never intended on making a career out of baking.
Simply needing a change, she calmed her financial fears by telling herself that she would take one "exploratory year" before deciding on a long-term profession. She'd always enjoyed baking — as evidenced by her mini-business with the Harvard campus grill selling "Jo's chocolate chip cookies" — but considered it merely a pleasant diversion.
But when she began work in a bakery, she instantly "felt at home." There was no turning back.
For the next five years, Joanne dedicated herself to learning her craft, throwing herself into the art of being a pastry chef and learning the brutal truth that when you turn a passion into work, it becomes just that: work.
She gained exceptional mentors along the way, to whom she attributes a great deal of her success, and by the time she opened her first Flour in 2000, she understood the weight of her endeavor, that "with money comes expectations."
Now that she has 115 employees and a Bobby Flay "Throwdown" championship under her belt, Joanne's products have gained fans near and far. The sticky buns craze was the catalyst for her book (there's a second book on the way) and an appearance on TODAY.
But my personal favorite Flour pastry is Joanne's pain aux raisins, a brioche breakfast pastry with golden raisins nestled inside its rolled folds and brushed with a thin layer of vanilla glaze.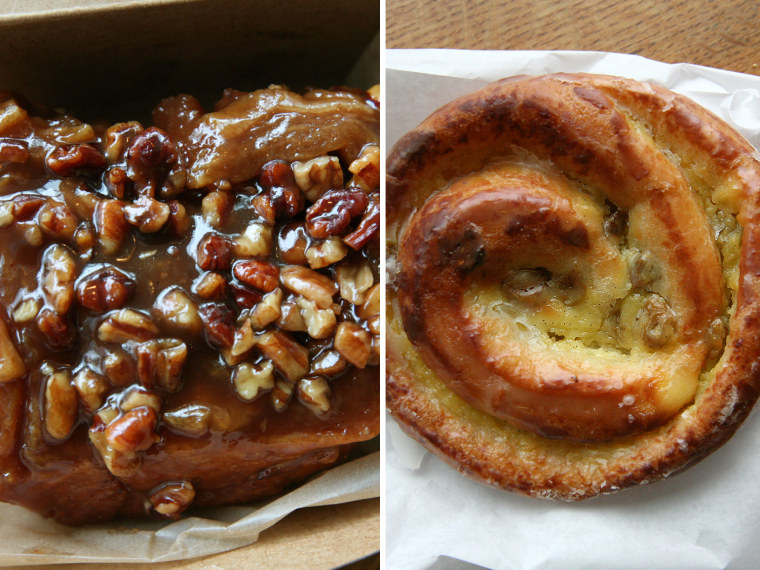 Today Joanne is a mentor to many young people facing the same questions she once had. Her advice leans toward tough love, because she has seen many employees with an idealized view of what it's like to work in a bakery, misinformed by television food shows.
She recommends finding a job or internship in what you think your passion is and to "put your head down, work quietly and quickly, don't ask a lot of questions, and offer to do whatever is needed."
But don't be fooled by her stringency; she just wants hopefuls to be prepared.
Joanne sees her seven-day work weeks pay off when she witnesses customers devouring her baked goods moments after they are set out. "I love the immediacy of it," she says of her job. "Dessert is personal, and can put a smile on someone's face in a moment, like few things can."
More from TODAY Food: