If you love to drink your dessert, you may be intrigued by a new beer concoction that's being tapped at the State Fair of Texas right now.
It's an American milk stout that comes with an Oreo cookie floating on top — plus, the cup is rimmed with an Oreo cream filling and chocolate Oreo bits.
A boozy, cookie-flavored creation? Sign us up.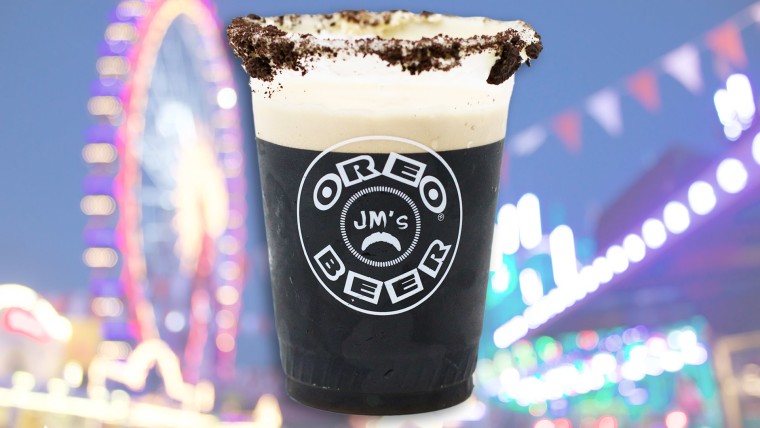 According to the State Fair of Texas, concessionaire James Barerra's Oreo Beer has flavors of vanilla, brown sugar, and cream with hints of roasted coffee. The overall effect is "pure bliss of milk chocolate fullness."
"I came up with the idea myself, based on items I already serve — fried Oreos and beer," Barerra told TODAY Food over email. "I use Nitro Milk Stout from Left Hand Brewing Company based out of Longmont, Colorado." Though you're not likely to find this creation at any restaurant, Barrera says he does plan on serving the cookie-infused brew at next year's State Fair of Texas, too.
Of course, this is not the first time the famous cookie has been combined with alcohol. The Veil Brewing Co. in Richmond, Virginia released a chocolate milk stout earlier this year that is aged on Oreo cookies. It even has icing chunks in the beer ... which we aren't quite sure about, but at least they're thinking creatively.
Reactions to the State Fair of Texas Oreo Beer have been mixed. People are definitely applauding the innovative idea, but some aren't totally impressed. "Surprisingly it wasn't THAT bad however it wasn't the best," one customer said on Instagram.
However, some absolutely loved the drink, with one fairgoer calling it amazing while another said it was tasty on a cold day.
The State Fair of Texas is running now through Oct. 22 at Fair Park in Dallas so if you happen to be in the area, stop by Barrera's stand to try out this buzzworthy concoction.
And if Oreo Beer isn't quite up your alley, there are plenty of other weird foods available at the fair including Deep Fried Chicken Noodle on a Stick, Funnel Cake Bacon Queso Burger, Pinot Noir Popcorn and the Tamale Donut.