Halloween is barely over but it looks like the winter holiday season has officially begun.
On Wednesday, Starbucks surprised morning coffee drinkers by bringing back their annual holiday cups.
Starbucks red cups have become a sign that it's time to switch from drinking pumpkin spice lattes to peppermint mochas, but it hasn't always been a smooth seasonal transition. In 2015, the chain got a ton of backlash when they launched plain red cups (without any signature symbols) prompting some to declare that the chain was trying to start a war on Christmas. But many maintained it was just a cup.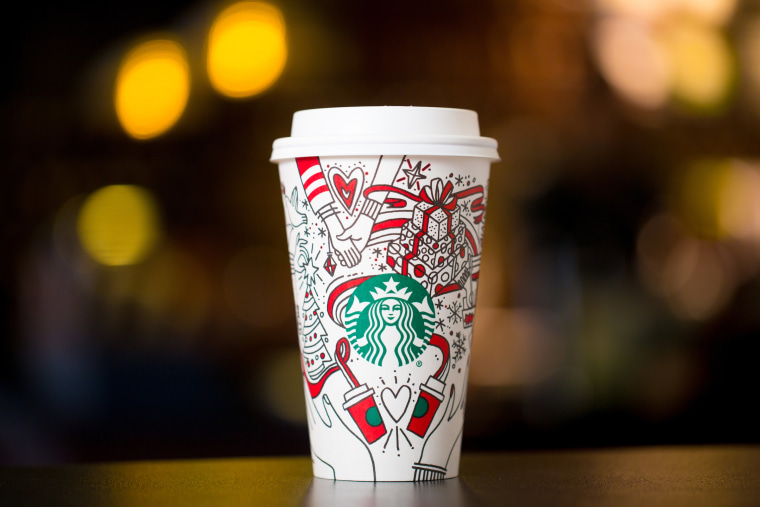 This year's cup, however, has plenty of holiday symbols — there are wrapped presents, Christmas trees and snowflakes — but it's definitely different because the cup itself isn't super colorful. The coffee chain has taken a nod from the viral adult coloring book trend so coffee drinkers can customize their own drinking vessels.
"This year's cup is intentionally designed to encourage our customers to add their own color and illustrations," Leanne Fremar, executive creative director for Starbucks, explained in a statement. "We love the idea of everyone making this year's cup their own."
While the base design features two red cups (a nod to Starbucks' holiday cups of yesteryear) connected with swirling ribbons and splashes of red and green, the coffee chain has left the rest of the cup black and white — so it can be an all-red cup if you want it to be, but it can certainly be something else if red just isn't your thing.
This year, Starbucks' coffee sleeves are also getting in on the holiday action with the seasonally appropriate theme of "giving good," a campaign to remind coffee drinkers to pay it forward to those who may be in need in their communities and beyond.
As for what to drink in those cups, three of the chain's signature holiday drinks — the Chestnut Praline Latte, the Caramel Brulée Latte and the Peppermint Mocha — are also making their return Wednesday. Seasons greetings to that!