A simple change in the design of Starbucks' holiday-themed cups has left critics and some Christians with a not-so-merry feeling. They claim it's yet another war on Christmas.
The company's decision to use minimalist red cups without the reindeer, Christmas ornaments and other holiday symbols that have been featured past years has sparked a viral campaign started by a former pastor in Arizona and criticism from some conservative groups.
MORE: Go off the menu with these 8 secret Starbucks drink ideas
Arizona "social media personality" Joshua Feuerstein posted a video on Facebook on Nov. 5 asking people to give their name as "Merry Christmas," forcing baristas to write it on the cups. The video has been viewed more than 12 million times and shared more than 400,000 times.
He also proposed the hashtag #MerryChristmasStarbucks to protest the cups while noting that he was entering a local Starbucks while wearing a Jesus-related shirt and legally carrying a gun.
"I think Christians are at a point that they are fed up with the PC police who are demanding that Christ, and Christmas, be removed from the public eye for concern that it might offend people,'' Feuerstein told TODAY.com. "This was never about boycotting a company, but rather making a statement that we refuse to be silent anymore. The vocal minority has bullied the silent majority for too long and now we simply say 'No More!'
"Again, this is not about a cup. This is about a much bigger war on Christmas that has seen nativity scenes taken down, Christmas trees not allowed in malls, and all in the name of political correctness. As consumers, we are saying that those who attempt to take Christ out of Christmas will be met with fierce opposition."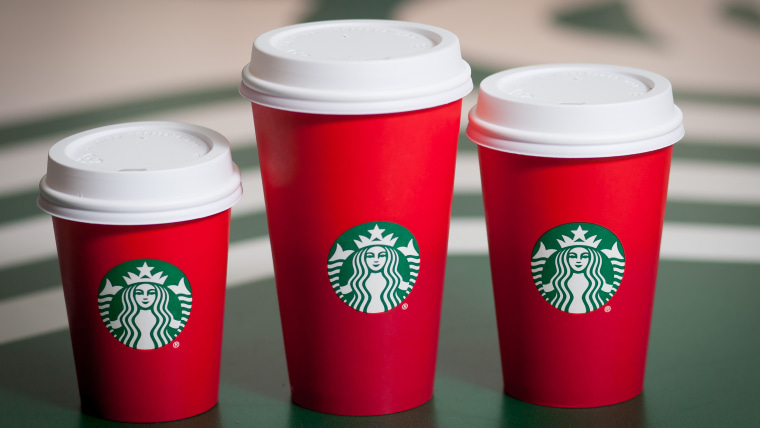 The company says the change was to allow customers to use their own creativity with the cups, which have had a holiday theme since 1997.
"Starbucks is inviting our customers to tell their Christmas stories in their own way, with a red cup that mimics a blank canvas,'' the company said in a statement to TODAY. "Over the past few years, our customers have been showcasing their work on Instagram, Twitter and Pinterest, and we even held a contest to support this creativity. This year's design is another way we are inviting our customers to create their own stories on our cups.
MORE: 4 'secret' Starbucks drinks and the correct etiquette when ordering them
"In response to the video, our core values as a company is to create a culture of belonging, inclusion and diversity. Each year during the holidays we aim to bring our customers an experience that inspires the spirit of the season and we will continue to embrace and welcome customers from all backgrounds and religions in our stores around the world."
Follow TODAY.com writer Scott Stump on Twitter.