Believe it or not, actor Seth Rogen smokes a lot of....brisket. You thought I was going to say something else. Ha! In this interview with TODAY Food, Rogen shares his unbridled enthusiasm for the meat, reveals how he satisfies his late-night cravings and waxes poetic about his current food obsession. (Editor's Note: Seth giggled throughout the conversation)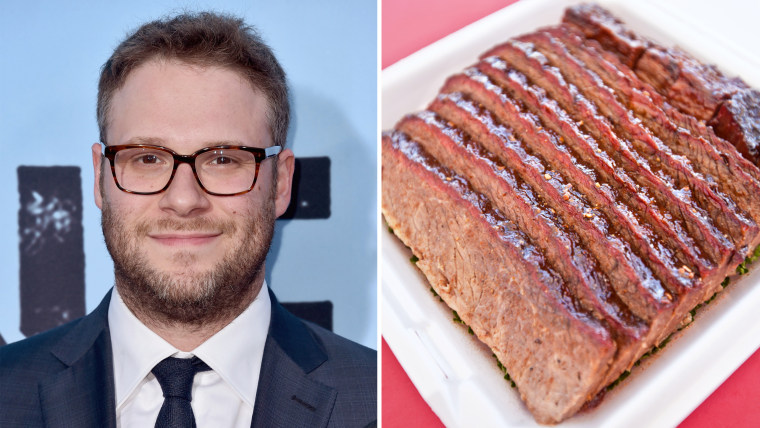 Here at TODAY Food, we're always psyched to see your social media posts about food, especially about your 13-hour brisket. Are you a big barbecue guy?
I cook a little, but I barbecue A LOT. I really like to barbecue ribs, steak and brisket. I have a Big Green Egg smoker and I use that quite a bit. I've been barbecuing for 10 years maybe. In Canada, there's not a lot of barbecue so I had to just teach myself (laughs). I just dove in and did it.
Do you have any special tips for perfect ribs or brisket?
It's just trial and error. You just have to try it a lot of times and get better and better at it I think. Brisket is the hardest thing to smoke. I make good brisket now, but it takes a lot of them to get it right. I watched every how-to video I could find. I found a brisket information video from Franklin Barbecue in Austin, Texas and I really tried to analyze it.
Are you for or against BBQ sauce?
If barbecue is really good, then it doesn't need sauce. Ribs and brisket are both good without sauce, but if I'm hosting a barbecue, I'll provide a good homemade Jack Daniel's whiskey BBQ sauce in case people want it. One of my best friends from growing up is a chef, so he helps me a lot with that kind of thing.
Do you have any favorite cookout sides?
Ahhhhh (groaning). Not really. I don't like sides (laughs). They just take away from the meat element of the meal, which is my favorite part. I like mac and cheese sometimes. The older I get, the less guilty I feel about not having sides.
Let's say it's 11:30 pm on a Wednesday night and you have the munchies....for some reason, what's your go-to late night snack?
I live near Canter's Deli in Los Angeles so I just go get food from there a lot. They have good chicken fingers and they're open 24 hours. There's no rhyme or reason to what makes a chicken finger good. Sometimes ones that seems gross are good and ones seems like they should be good are gross.
RELATED: Easy homemade chicken tenders
What's your current food obsession?
Lobster rolls are just coming to Los Angeles in a meaningful way. I've always liked them, but they've been hard to find. Now there are more and more of them, which is good. I live right near Connie and Ted's, a seafood place that I like, and they have good lobster rolls. Another seafood place called Cape Seafood & Provisions just opened and has pretty good lobster rolls too.
You spent eight years developing your upcoming animated comedy Sausage Party, that's all about food. The main character is a sausage named Frank and his love interest is a hot dog bun. What was the inspiration for Sausage Party?
It was mostly these Pixar movies that try to examine the secret lives of, you know, the things that surround us. The name "Frank" is a 100 percent phallic based joke (laughs). We started to think it would be fun to make a movie about the secret life of food, basically. The idea first came from thinking about what happens at a grocery store after all of the people leave. Then we realized that the food gets eaten probably, which is kind of messed up, so, we thought making a movie about food that realizes it's going to get eaten could be a funny idea.
So, what do you think your hunk of BBQ brisket would say to you?
It would not be pleased with me, I'll be honest. It has a slow death, a slow smoky death (laughs).