McDonald's, with its more than 13,000 locations in the U.S. alone, is known for being the first job many teens have, with many folks keeping the Golden Arches as their place of employment well into adulthood. Now, a statistic from the fast food giant serves as inspiration for a new initiative by the 68-year-old company,
On Oct. 11, McDonald's announced a project based on a surprising statistic: 1 in 8 Americans have worked at a McDonald's restaurant. McDonald's confirmed to TODAY.com that it surveyed a representative sample of American adults and found that 1 in 8 (just over, actually, at 13.7%) reported that they currently or formerly worked at a McDonald's restaurant.
According to the U.S. Census, the population in 2022 was more than 333,287,000 people, meaning that walking among us are more than 41,000,000 current or past McDonald's employees.
From astronauts like Katya Echazarreta to teachers, executives to small business owners, millions upon millions of folks got their start at the Golden Arches — including at least award-winning playwright.
In 2017, Tony, Emmy and Grammy-award winning Broadway composer Lin-Manuel Miranda tweeted about his inspiration for one of his many catchy tunes on the Great White Way: the song "Delivery" from "Working" is based on his days working delivery for McDonald's. 
Whether they continued their career within the Golden Arches or left the company for other venues, McDonald's is celebrating both former and current crew members who make up that expansive and diverse community with the launch of its new "1 in 8" initiative.  
McDonald's says that members of the 1 in 8 — which means anyone who has ever worked for the company in its history — will have access to special programming, opportunities to attend exclusive events, mentorships with notable alumni who've gone on to make an impact in their respective fields, reunions with former team members and more.  
"For 1 in 8 Americans, the McDonald's restaurant experience offers critical life skills and creates opportunities for meaningful work and connections," said Tiffanie Boyd, senior vice president & chief people officer at McDonald's in a press release. "Formally bringing this group together will give past and present crew members alike the chance to continue growing, building their networks and celebrating the special community they represent."     
On Oct. 11. McDonald's also honored the 1 in 8 with its first-ever Homecoming celebration in New York City. The event kicked off with a performance by the Brooklyn United marching band before welcoming a star-studded slate of former and current employees who shared their own personal stories and career advice.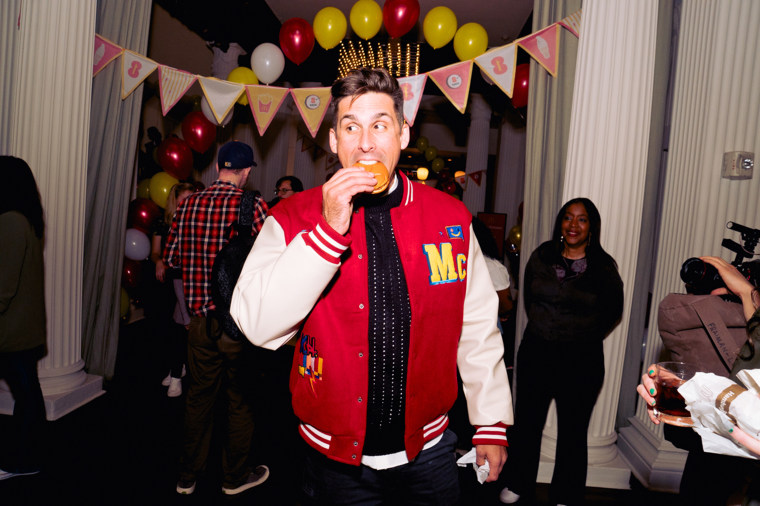 This panel included Peloton's Cody Rigsby, TV host, actress and entrepreneur Alejandra Espinoza, creative entrepreneur Kendall Hurns, McDonald's franchise owner Paul Hendel, who started as a crew member when he was 16 years old and now owns 31 restaurants and a Michelin-star chef.
Last on the list is Harold Villarosa, who hilariously recounted that his first job at McDonald's was a directive from his mother when he asked for sneakers at 15-years-old. (And yes, he did eventually buy them himself.)
Rigsby said his job at McDonald's was a lifeline for his family.
"I grew up in Greensboro, North Carolina, and me and my mom experienced homelessness many times in our lives," Rigsby said during the event to an audience filled with current and former employees of McDonald's. He added that he was a 12-year-old the first time he and his mom faced homelessness together.
"As we got into more permanent homes, we were without a car. So on my 16th birthday, I went to the McDonald's on Highpoint Road in Greensboro, North Carolina, and I put in my application and I got a job spot on that day," Rigsby said.
At the event, Rigsby details that for six months, he saved as much money as he could so he could buy his first car, adding that the job taught him punctuality, compassion and kindness while he saved up.
"For most 16-year-olds that's something they're just super proud of because they're buying their first car but that was a lifeline for me and my family," Rigsby said, acknowledging his mom as a single parent who didn't have transportation to work herself. "Some people might look at a job at McDonald's as just a job, but that was a literal lifeline for me and my family so I'm always grateful for that first opportunity."
At the event, Espinoza describes her 1 in 8 experience. Born in Mexico, she was 16 when her family moved to the San Diego area.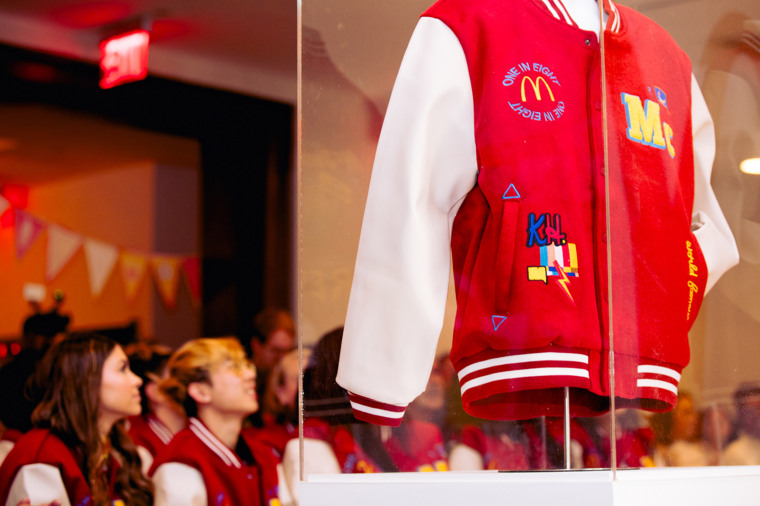 "I think we have a lot in common. We all didn't have a lot of money so we needed to get a job in order to pay the bills," Espinoza said to the crowd. "I remember the first thing I did was I gave my mom $200 with my first check … one of the most amazing things that I could have felt at that moment to know that I was able to help my family with something."
At the event, Robotic Minds Concept's designer and 1 in 8 member Kendall Hurns debuted his collaboration with McDonald's, a limited-edition 1 in 8 letterman jacket. To get their own, eligible folks can visit McDonald's 1 in 8 website to snag a jacket while supplies last starting Oct. 16 at 10 a.m. ET.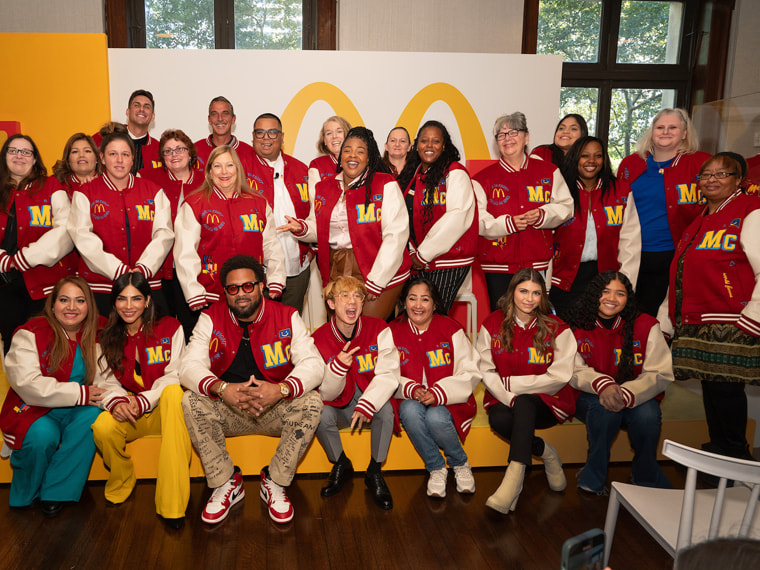 McDonald's notes that while many members of the 1 in 8 use the skills learned at McDonald's to succeed in different fields, others apply them to grow within the company as franchisees, management or corporate positions, including Myra Doria, U.S. national field president at McDonald's, who has been with the company for almost four decades.
"Reflecting back on my beginnings as a McDonald's restaurant employee 38 years ago, I'm proud to be a part of an organization that roots for and supports its people," she said. "It's special to have experienced first-hand the doors that the Golden Arches can open for a person."