This is a test of the emergency pizza system.
Domino's has announced a new promotion in which customers can get an "Emergency Pizza" for free.
Now, most people know that getting pizza is almost always an emergency, so what exactly is this deal?
Domino's "is introducing Domino's Emergency Pizza: a program that offers a free medium two-topping pizza to customers to use whenever they need it most," the company says in a press release.
"Perhaps you burned dinner, the power went out or maybe your in-laws just dropped in without notice — whatever your emergency situation, Domino's believes a free pizza can make anything better," said Kate Trumbull, Domino's senior vice president and chief brand officer.
"Why did we launch Domino's Emergency Pizza? With so much uncertainty in everyday life, we believe everyone needs a pizza pick-me-up at some point! The hardest part may just be deciding when to use your Emergency Pizza!"
How to get Domino's Emergency Pizza
Customers have to place a digital order online or a digital carryout order of $7.99 or more. Once the order is complete, customers qualify for the Emergency Pizza.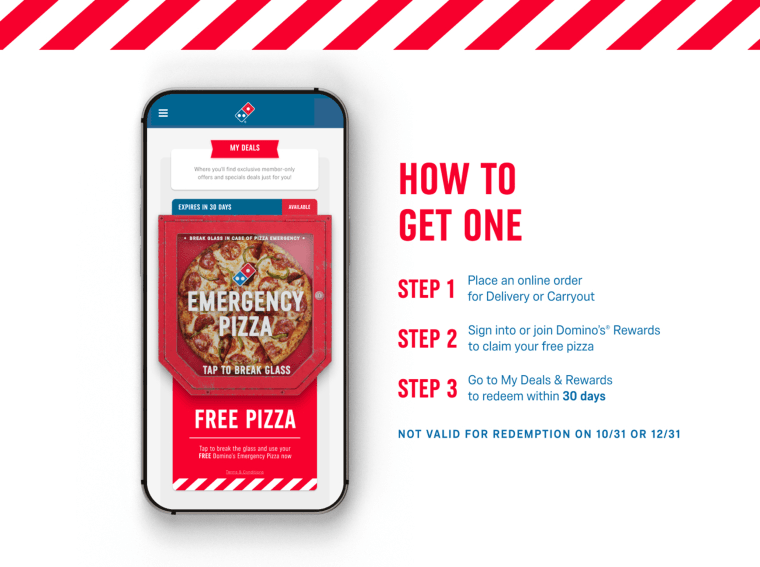 In order to get the pizza, customers have to sign in or sign up for Domino's Rewards within seven days. People can then redeem their pizza by clicking "My Deals & Rewards" under their Domino's Rewards account.
While ordering a pizza may not be an emergency right now, there is time for one to develop: Customers can earn the Emergency Pizza from now until Feb. 11, 2024.