Whether it's pens "for her" or beer made just for women, products that are similar to those marketed to men often cost more if they happen to be available in a pastel pink hue.
That price difference is known as the pink tax and it's a very real thing that costs women hundreds of dollars each year.
During a recent restaurant takeover, Burger King took on the issue by selling regular Chicken Fries for $1.69 — and "Chick Fries" in custom pink boxes for nearly double the price.
Customers presented with the same product costing a different price had some pretty hilarious reactions. The playful video showcases a bunch of bewildered responses from women being asked to pay over $3 for the same product in a brightly-colored box "because girls like pink s---!"
"Why are you charging me more, I ordered the same thing he did!" one woman exclaimed, gesturing to her male companion. Another woman asks to have her chicken fries taken out of the pink box so she can be charged the normal price. "Do you not like pink?" the cashier asks.
"I don't even want the fries anymore," says another exasperated female customer as she shakes her head.
The 60-second spot ends with customer interviews (one calls the pink tax "stupid") and a call to action for consumers to support the pink tax repeal act.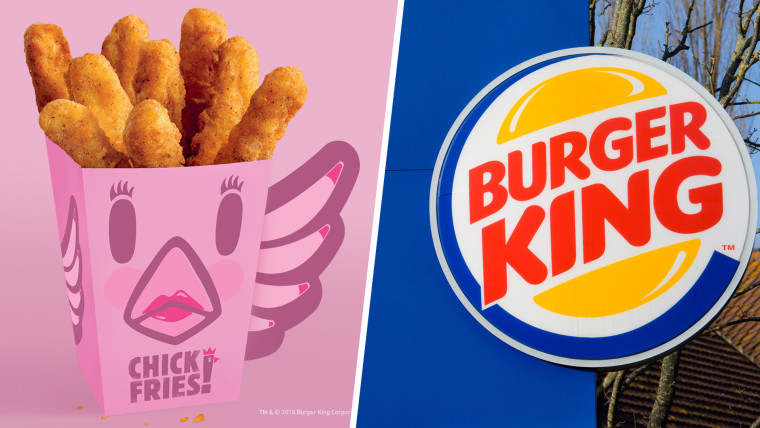 "Burger King restaurants welcome everyone, and we see Pink Tax as extremely unfair," Christopher Finazzo, President of Burger King North America, said in a statement. "We created this experiment with fan-favorite Chicken Fries to demonstrate the effect of Pink Tax and how everyone should pay the same for the same products — whether it's pink or not."
According to data from the New York City Department of Consumer Affairs, the "female" version of products (usually presented in pink or pastel-hued containers) cost up to 13 percent more than the same men's products. This includes items like razors, deodorant, body wash and even ear plugs. In April, a Pink Tax Repeal Act was introduced to congress in an attempt to penalize gender-based pricing discrimination.
Now, plenty of people are applauding the chain's efforts to bring attention to the problem.
Of course, Burger King isn't the first brand to use food to bring attention to the inequalities facing women when they buy products. In 2016, GirlTalkHQ took over a coffee shop in Toronto and charged women more than men for the same beverages.
And this is not the first time Burger King has attempted to tackle social issues through its food, either. In January, the chain released an ad about the importance of net neutrality. And in 2017, they released a social experiment spot about bullying, which received a lot of praise online.