Every parent has faced the temptation of the take-out menu after a long, chaotic day. But with these easy, no-cook recipes, you can whip up a meal your family will love in no time. Kelsey Banfield, mom and author of the "The Naptime Chef" blog, showed TODAY her go-to dishes for enjoying great food when crunched for time, like BBQ chicken rolls and no-bake strawberry cheesecake. 
Gazpacho

20 oz. (2 1/2 cups) regular tomato juice, divided
1 red bell pepper, seeded and quartered
2 scallions, trimmed and washed
2 garlic cloves
1 large cucumber, peeled and cut into 4 evenly sized pieces
3 medium plum tomatoes, seeded and quartered
1/3 cup red wine vinegar
1 tsp. kosher salt
1 tsp. freshly ground black pepper
1 tbsp. hot pepper sauce
2 tbsp. olive oil
3 limes, cut in half
Add 3/4 cup of the tomato juice, the red bell pepper, scallions and garlic to a large food processor fitted with a blade and pulse 3 to 4 times. Add the cucumber and tomatoes and pulse 3 to 4 more times, until all of the ingredients are coarsely chopped. Add the red wine vinegar, salt and pepper and pulse twice. 
Finally, pour in the remaining tomato juice, hot pepper sauce and olive oil. Pulse the food processor twice more. The vegetables should be finely chopped, but not liquefied.
Chill the gazpacho in a covered container in the refrigerator for at least two hours prior to serving. To serve, divide the gazpacho among 4 to 6 bowls. Squeeze the juice of half a lime over each bowl and stir it into each portion.
BBQ chicken rolls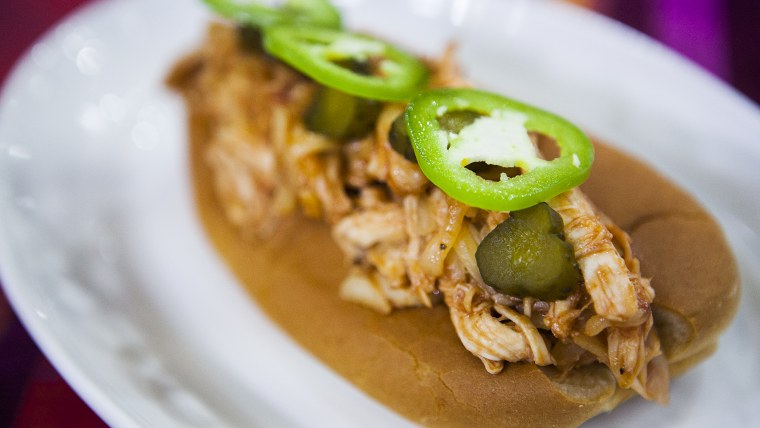 4 lb. rotisserie chicken (about 4 to 5 cups of dark and white meat), shredded
1 to 1 1/2 cups of your favorite barbecue sauce
1/2 cup pepper jack cheese, shredded
6 split-top hot dog buns

Optional mix-ins, like pickles, chopped jalapeños and chopped parsley
In a large bowl, toss the meat, barbecue sauce, cheese and mix-ins (if you used them). Scoop the mixture into the hot dog buns and serve.
Strawberry no-bake cheesecake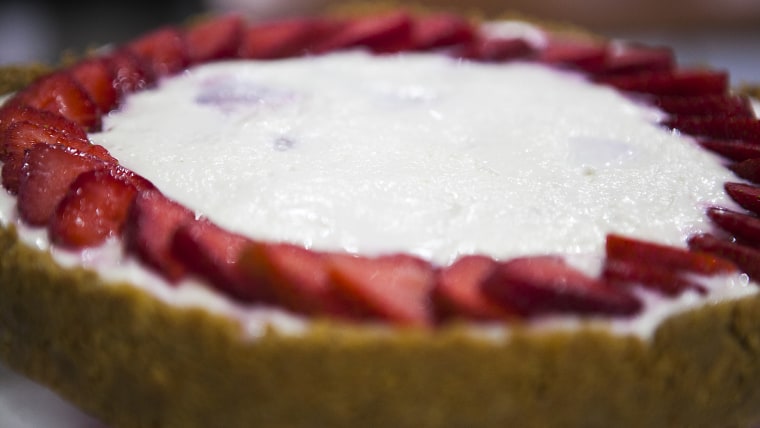 1 1/2 cups chopped strawberries
2 tsp. sugar
3 cups graham cracker crumbs
3 tbsp. granulated sugar
3/4 cup unsalted butter, melted
2 8 oz. packages cream cheese 
14 oz. can sweetened condensed milk
2 tbsp. lemon juice
Toss the strawberries with the sugar in a small bowl and place them in the refrigerator while you prepare the cake. 
To make the crust, combine the graham cracker crumbs, sugar and melted butter in a large bowl. Stir the crumbs until evenly moistened. Press the crumbs into a 10-inch springform pan so that it evenly coats the bottom and goes 1 inch up the sides. Chill the crust in the refrigerator while you prepare the filling
In an electric mixer fitted with a beater blade, beat the cream cheese, condensed milk and lemon juice until completely smooth. Gently fold the refrigerated berries into the cake. Spread it into the prepared crust and flatten the top with a spatula. 
Cover the pan with plastic wrap and refrigerate for at least 3 hours, or until firm. Before serving, remove the sides of the springform pan. Slice and serve.