A New York man has filed a class-action lawsuit against Taco Bell over what he says is too little filling in the chain's Crunchwraps and Mexican Pizzas.
On July 31, plaintiff Frank Siragusa, a resident of Ridgewood, New York, filed suit in the U.S. District Court for the Eastern District of New York over what he claims is "false advertising" about the amount of "beef and/or ingredients" contained in Taco Bell's Crunchwrap Supreme, Grande Crunchwrap, Vegan Crunchwrap, Mexican Pizza and Veggie Mexican Pizza.
The suit specifically refers to Taco Bell's photography of its own items, which often show artfully arranged sliced tomato and lettuce, evenly distributed dollops of sour cream or cheese sauce and heaps of ground meat with nary a crumble spilled from it. You know, food photography.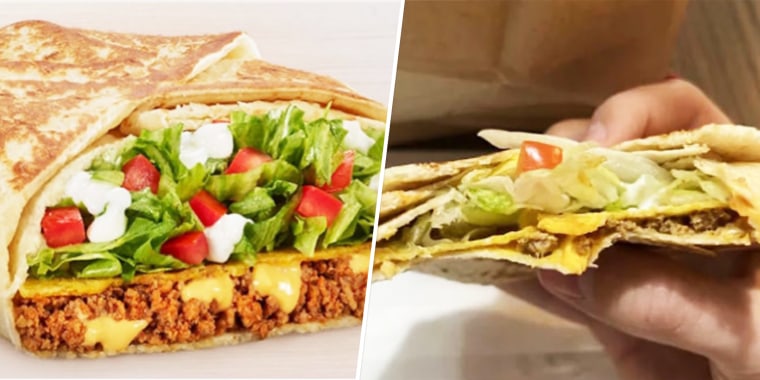 In this suit, all of the items mentioned feature either Taco Bell's seasoned beef or vegan seasoned beef along with a range of fillings and/or toppings, cheese, vegetables and sauces, which are referred to as "Overstated Menu Items" in the suit.
The suit describes the events Siragusa says led to the class-action filing: On Sept. 20, 2022, he purchased a Mexican Pizza at a Taco Bell located in Ridgewood, New York for $5.49 plus tax, and claims he did so because of the pictures Taco Bell uses to advertise its items.
"Plaintiff viewed Taco Bell's advertisements on the internet and at the store location before purchasing his Mexican Pizza and expected the Mexican Pizza that he purchased to contain a similar amount of beef and bean filling as contained in the pictures of the Mexican Pizza in Taco Bell's advertisements," the suit reads. "However, the Mexican Pizza that Plaintiff purchased contained approximately half of the beef and bean filling that he expected and looked like the images posted by other customers and cited herein."
The suit contains images of both Taco Bell's advertisements for each item next to a photo that purports to show an "actual item provided to customers," which appear to have smaller portions of beef and toppings.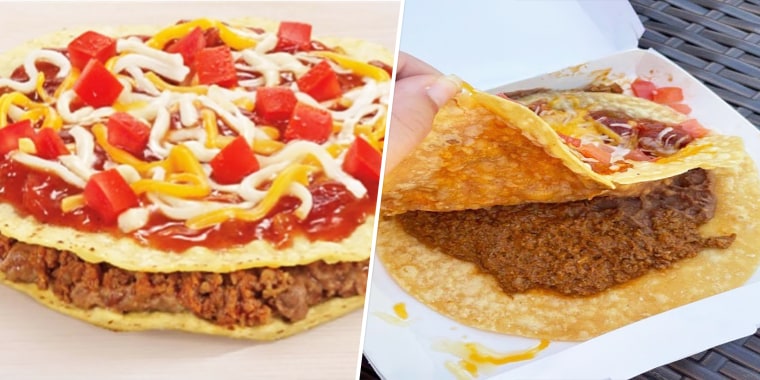 The suit states that Siragusa and members of the proposed class "received approximately 100% less than the amount of beef and ingredients that were advertised" and thus, got "less than what they bargained and/or paid for."
"If Plaintiff knew that the Mexican Pizza contained half of the amount of beef and bean filling as advertised, he would not have purchased the Mexican Pizza and/or he would not have paid the $5.49 price that he paid for the Mexican Pizza," the suit reads.
Taco Bell did not immediately respond to TODAY.com's multiple requests for comment.
The plaintiff, on behalf of himself and all other potential class members, seek to end Taco Bell's "unfair and materially misleading advertising," request that the chain present more accurate advertising, and pay "monetary, compensatory, statutory, and treble damages, interest, and attorneys' fees and costs, as well as statutory damages of $500 per unit purchased," according to the suit.
Which means, if Siragusa were to win this suit, if someone bought three applicable Vegan Crunchwraps "during the period between July 31, 2020, through the date of the final disposition of this action," they could be entitled to at least $1,500 in damages.
One of the attorneys representing Siragusa, Anthony Russo, filed a similar lawsuit in April 2022 accusing Burger King of false advertising, alleging that Whoppers are smaller in real life than they appear in advertisements. (Representatives for Burger King and its parent company, Restaurant Brands International, didn't respond to an request for comment from NBC News at the time.)
For Taco Bell, it's been a year full of litigation, as it recently won the battle against a rival over the trademarked phrase "Taco Tuesday," when the previous tradermark holder Taco John's announced it was giving up the fight to protect it.