America's biggest Mexican-inspired fast-food chain is seeking to cancel a competitor's decades-long trademark — and now, King James himself is joining the fight.
On May 16, Taco Bell announced it filed legal petitions to revoke a trademark on the phrase "Taco Tuesday." This action to "liberate" the phrase takes direct aim at the trademark holder, rival Mexican-inspired chain Taco John's, which has locations primarily in the Midwest and Mountain regions of the United States.
"Tacos have the unique ability to bring people together and bring joy to their lives on an otherwise mediocre day of the week: Taco Tuesday," wrote Taco Bell in a news release. "But since 1989, 'Taco Tuesday' has been registered as a trademark, creating potential legal consequences for those that want to use the phrase. And that's just not right."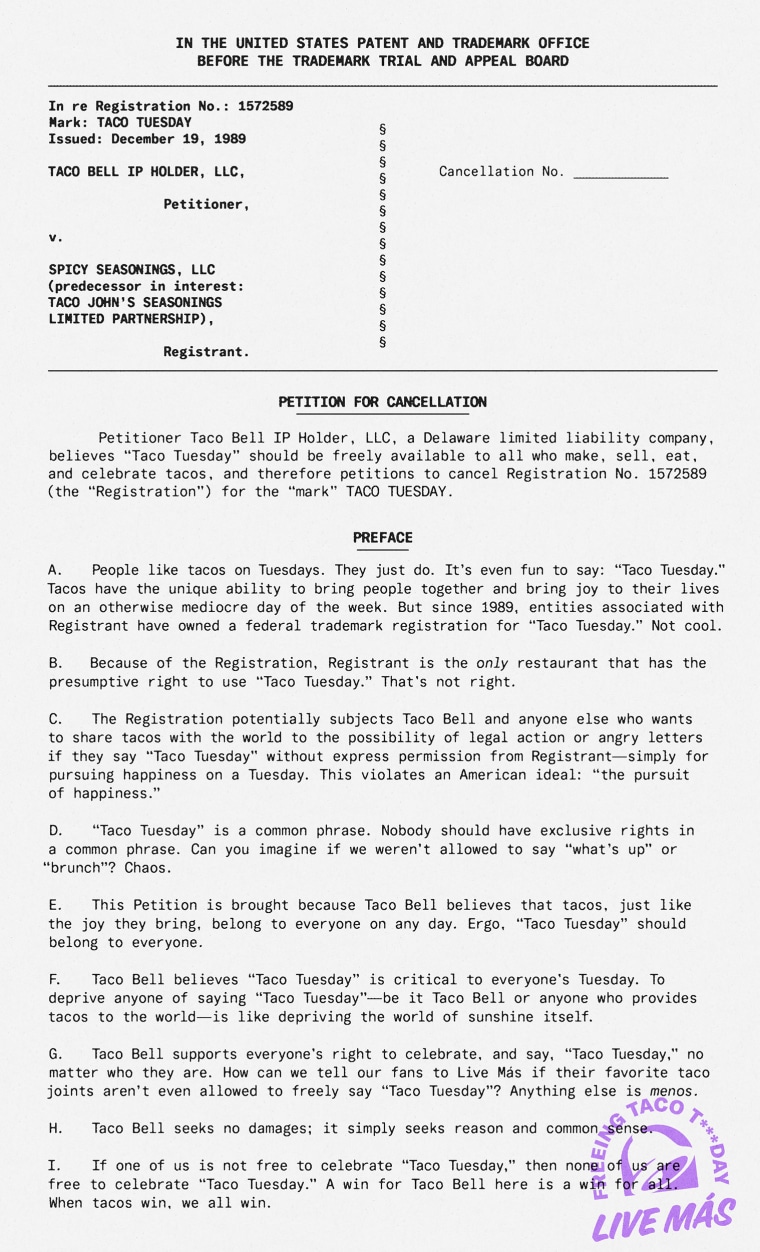 Taco Bell goes on to say it has filed legal petitions to cancel the federal trademark registrations for "Taco Tuesday" via the USPTO Trademark Trial and Appeal Board, which handles appeals involving applications to register marks, trial cases involving applications or current registrations and other matters.
"Taco Bell believes 'Taco Tuesday' should belong to all who make, sell, eat and celebrate tacos," Taco Bell writes. "How can anyone Live Más if they're not allowed to freely say 'Taco Tuesday?' It's pure chaos."
Taco Bell says it's not seeking damages or trademark rights for the "Taco Tuesday" phrase, but seeking to "liberate" it for "common sense for usage of a common term," essentially freeing any company to use the phrase as they please.
And then, on May 22,  Taco Bell announced that basketball great and longtime "Taco Tuesday" proponent LeBron James is joining the fight to release the phrase from its legal bind.
"'Taco Tuesday' is a tradition that everyone should be able to celebrate. All restaurants, all families, all businesses — everybody," James said in a press release. "'Taco Tuesdays' create opportunities that bring people together in so many ways, and it's a celebration that nobody should own."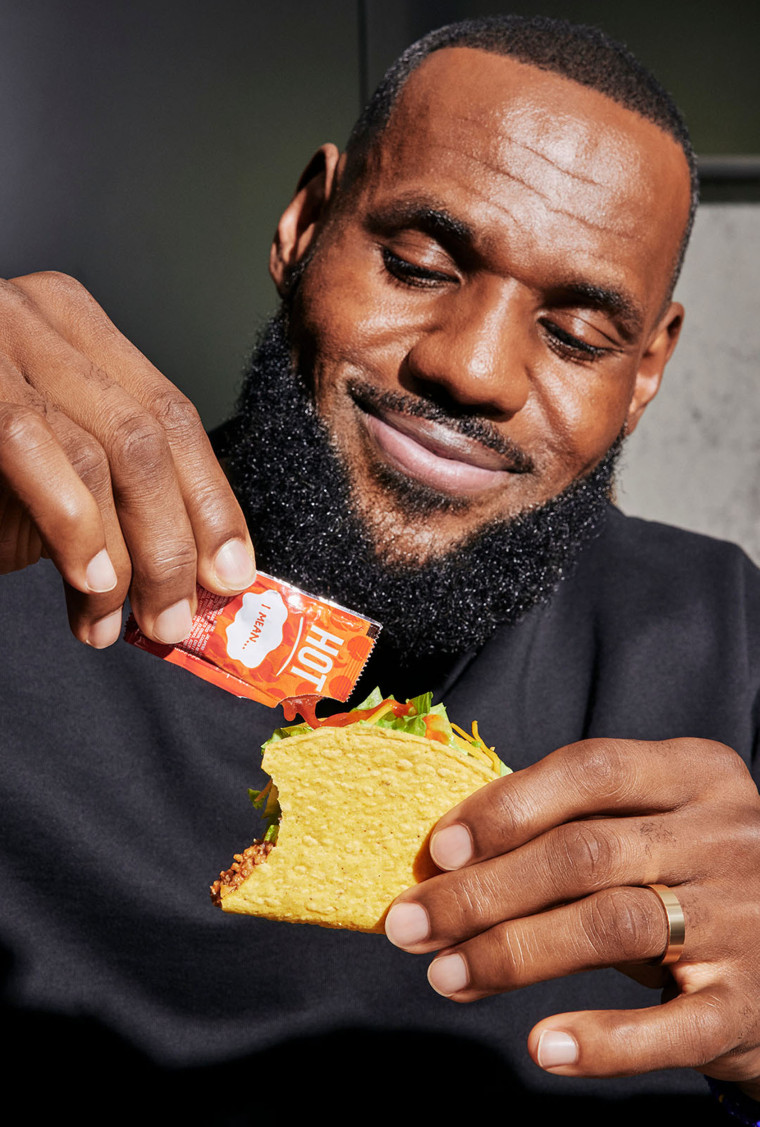 Lebron James's weekly taco night celebrations with family led to his attempted trademarking of "Taco Tuesday" in 2022, which was denied by the USPTO on the basis that "Taco Tuesday" is "a commonplace term." According to James's lawyer at the time, this outcome was the goal all along.
In addition to voicing his support for the cause, James is starring in a 30-second commerical titled "Taco Bleep," which takes aim at the phrase's legal ramifications in a comical way. The ad began airing on May 22.
Additionaly, the phrase "Taco Tuesday" — and who lays claim to its use — has quite the lengthy history. A September 2018 Thrillist article investigated the phrase's origin and found that the first true documented use of "Taco Tuesday" was all the way back in August 20, 1973, where the phrase "Stop in on Taco Tuesday" appeared in South Dakota's Rapid City Journal, later appearing as promotions for restaurants in Kansas and California in 1975 and 1976.
Still, Taco John's earliest Taco Tuesday — technically "Taco Twosday" — usage appeared on December 2, 1979, in Indiana's Longsport Pharos-Tribune, and from there was granted a trademark for the phrase in 1989, defending against others using that phrase in the time since.
In addition to its outlining its tortilla-wrapped litigiousness on a webpage dedicated to updates on the battle, Taco Bell has started a petition titled "Freeing Taco T***day" in support of its cause, as well as announcing plans to conduct a Reddit AMA (ask me anything) on May 22, where anyone can ask any questions about the liberation campaign.
In the other corner of this legal taco-based tumult, we have Taco John's, the trademark holders of "Taco Tuesday," who also released an official statement on May 16, reiterating that the chain has "proudly owned the Taco Tuesday® trademark since 1989."
"I'd like to thank our worthy competitors at Taco Bell for reminding everyone that Taco Tuesday® is best celebrated at Taco John's®," said Jim Creel, Taco John's CEO. "We love celebrating Taco Tuesday® with taco lovers everywhere, and we even want to offer a special invitation to fans of Taco Bell to liberate themselves by coming by to see how flavorful and bold tacos can be at Taco John's® all month long."
In addition to serving shade through registered trademark symbol usage, Taco John's CEO added, "No más, por favor!" in regards to the lawsuit.
Amid this sour (cream) fight between taco houses, Taco John's has also announced a special Taco Tuesday deal. For $2, Bigger Bolder Rewards Members can score two crispy or softshell tacos every day, all day, from today until May 31 through the chain's mobile app.
"When it comes right down to it, we're lovers, not fighters, at Taco John's®," Creel said. "But when a big, bad bully threatens to take away the mark our forefathers originated so many decades ago, well, that just rings hollow to us. If 'living más' means filling the pockets of Taco Bell's army of lawyers, we're not interested."
From now, the Trademark Trial and Appeal Board can take up to two years before it issues a decision, reports CNN. Taco John's has 40 days to file a response and, if the dueling chains can't reach an agreement, the case will move to a discovery period, the process of parties exchanging information before a trial. Then there would be a trial with arguments presented in front of the board's judges.
Taco Bell is asking its fans to show support for its liberation efforts by signing a "Freeing Taco Tuesday" Change.org petition.